Hugh Hewitt
| The Weekly Standard
| Thursday, December 4, 2003
CATHOLIC BISHOPS have been making noises about disciplining Catholic politicians who advocate for policies opposed to Church teaching. If you are an observant Catholic, don't get your hopes up.
On the Saturday following Thanksgiving, Los Angeles Times reporters William Lobdell and Theresa Watanabe filed a story full of quotes indicating resolve. "I get tired of hearing Catholic politicians say, 'I am personally opposed to abortion,' or whatever, 'but I can't impose my moral standards on everybody else,'" Bishop Joseph Galante of Dallas is reported as saying. "That's a weaseling-out."
The article dutifully reports Catholic opposition to a get-tough policy, quoting, among others, a Father George O'Brien as saying that "I think a greater scandal is for the church to be arrogant in judging others."
The reporting goes on to note the laundry list of well-known divisions within the community of American Catholics on matters of abortion, birth control, and the death penalty. The message is clear: If the bishops start calling Catholic politicians to account on their abortion policies, the bishops will have a lot of other controversies to police as well.
Which is why the bishops ought not to try and agree on a comprehensive policy of where or when to exercise discipline on high-profile Church members. Rather, they ought to try and get the obvious stuff done.
There are at least four levels of agreement or dissent by elected officials with Church teachings.
There are the observant--those who embrace and defend the Catechism. There are the silent dissenters, who adopt practices different from those taught but do not publicize those disagreements. There are the public dissenters, who not only break with Church teaching, but work against those teachings. And there are those who not only break with the teachings but who actively work to punish orthodox Catholics and exile them from public life.
The bishops ought to agree to at least defend the defenders of the faith against the attacks of this last group. That is, if a Catholic who is orthodox and observant in his or her beliefs comes under attack for those beliefs, especially by elected officials presuming to call themselves "Catholic" and gain the political advantage of so doing, then the bishops ought to at least rally around that public man or woman against the attacks.
Alabama attorney general William Pryor comes to mind.
Pryor is one of the president's judicial nominees who has been filibustered by the Democratic minority because of his "deeply held views," which is code for his Catholic beliefs. The Catholic lay group, the Knights of Columbus, has denounced the bigotry beneath the opposition to Pryor, and Republican senators used much of their recent lengthy debate to highlight Pryor's extraordinary credentials that qualify him for service on the Eleventh Circuit.
But the American Catholic bishops as a group have been silent on the Pryor nomination, thus emboldening Pryor's opponents and underscoring their own trepidation.
It isn't necessary to announce a comprehensive policy on the obligations of elected officials to adhere to Church teaching for the bishops to do justice to William Pryor. In fact, the ease with which Pryor's confirmation could be secured by action on the part of the bishops suggests that the bishops really are not concerned with the rights of the unborn or the rights of Catholic laymen to hold orthodox positions. A single motion passed by the bishops condemning the anti-Catholic bigotry of Pryor's opponents would end this shameful episode in the Senate's history.
Bishop Galante denounced "weaseling-out" among elected officials who profess to be Catholic. Given the bishops' record of silence on the nomination of William Pryor, that was an unfortunate choice of words.
Hugh Hewitt is the host of The Hugh Hewitt Show, a nationally syndicated radio talkshow, and a contributing writer to The Daily Standard. His new book, In, But Not Of, has just been published by Thomas Nelson.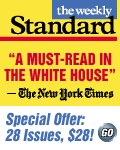 © Copyright 2003, News Corporation, Weekly Standard, All Rights Reserved.