Mark D. Tooley
| The Weekly Standard
| Friday, June 16, 2006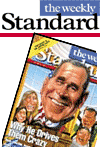 June 6, 2006
WHEN TWO FAIRFAX COUNTY POLICE OFFICERS were slain by a deranged teenager in mid-May, their funerals were both held at the 10,000-member McLean Bible Church in Vienna, Virginia, about 15 miles outside Washington, D.C.
Detective Vicky Armel, the mother of two young children, was a recent convert to Christianity and an active member at an evangelical church in Culpepper, Virginia. Master Police Officer Michael Garbarino was a faithful member of St. Mark Orthodox Church in Bethesda, Maryland. His priest presided over an Orthodox funeral service in McLean Bible's enormous auditorium, where 2,400 mourners had gathered, with over a thousand more seated in viewing rooms.
The funerals of both officers Armel and Garbarino were understandably public events, attracting thousands of grief-stricken friends and respectful strangers, along with politicians and civic leaders. Such funerals in the past may have been held at a cathedral or a traditional Gothic structure belonging to Episcopalians or Presbyterians, or perhaps a tall-steepled Baptist structure.
Instead, the funerals convened at evangelical and non-denominational mega-church, whose sprawling, shopping center-like campus includes a 2,500 car parking garage, 2 auditoriums, a book store, and a food court. Welcome to the new face of American Christianity, where dynamic mega-churches are increasingly prominent in public life.
MCLEAN BIBLE is located in Fairfax County, one of the wealthiest jurisdictions in America, and the blue part of a red state. Government employees and high-tech workers predominate. It's not Massachusetts, but neither is it the Bible Belt. The county has been governed by liberal Democrats for many years and supported John Kerry in 2004.
But mega-churches are not a phenomenon exclusive to red America or the deep South. They are most common in large and affluent suburbs and exurbs, appealing to families with frenetic schedules and eclectic spiritual needs that often do not fit with more traditional churches.
Officer Armel, who was 40, seems to have been a not untypical evangelical. She had recently joined the newly formed Mountain View Community Church in semi-rural Culpeper, Virginia, whose congregation meets in the local high school. Not raised in a church, Armel's pastor, Mark Jenkins, described her as having been skeptical of devout Christians. Jenkins, who presided at the funeral at McLean Bible, played a tape of Armel's Christian testimony that she shared at her own church last Easter Sunday. Large video screens, always common in mega-churches, flashed a large picture of Armel.
"My name is Vicky Armel," she said, "and if you told me last year that I'd be standing in front of hundreds of people talking about Jesus Christ, I'd say: 'You're crazy. Go to the insane asylum.'" She added: "My idea of a Christian was the little old ladies that came into the jail and the inmates took advantage of them. I didn't want to be like them."
Armel was led to Christianity by her fellow detective, Mike Motafches, who had given her sermon CD's from McLean Bible pastor Lon Solomon. She invited Motafches to attend her baptism in Culpepper.
No less honored than Armel was Detective Garbarino, age 53, who survived more than a week after the shooting but succumbed to his wounds, leaving behind a wife and two children. The Armels home-schooled their children and were both active in their community and in their church. At the funeral service at McLean Bible, a camera captured all the intricacies of the Orthodox funeral ritual and flashed it on the video screens. The ancient liturgy must have seemed movingly unusual in the auditorium of an evangelical mega-church.
MCLEAN BIBLE'S ROLE as the premier place of community worship in Northern Virginia would have shocked many just 20 years ago. It was founded in 1961, but did not really explode in membership until the charismatic Lon Solomon took over as pastor in 1980.
By the late 1990s, McLean Bible had outgrown its 900-seat auditorium in McLean and purchased the 43 acre campus of the National Wildlife Federation next to the booming Tysons Corner area. Thereafter it bought 5 additional acres of land. An initial 1,100-seat auditorium was built, only to be quickly overshadowed by a second, 2,400-seat auditorium, where six worship services are held every weekend. The thousands of cars coming and leaving, often to the consternation of neighbors, require a major police presence every Saturday and Sunday. Regular worshippers have included Ken Starr and Senators James Inhofe and John Thune, along with former Senators Dan Coats and Don Nickles.
McLean Bible may have a gloss of sophistication and political pull because of its locale in the Washington suburbs. But it is typical of hundreds of mega-churches across the country with its emphasis on biblical teaching, conservative morality, and personal transformation combined with a vibrant worship style and user-friendly facilities. There are some 1,200 mega-churches (churches with at least 2,000 regular worshippers) in the United States today, a number double what it was five years ago. With an average attendance of 3,500, that means over 4 million Americans attend mega-churches in a typical week.
Half of the mega-churches are in the South, but a quarter are in the West; California has more mega-churches than any other states. Half of all mega-churches are in new suburbs. A quarter of them are Baptist and one third of them are non-denominational. Six percent are Assemblies of God (Pentecostal) and 5 percent are United Methodist. In a report on mega-churches, the Hartford Seminary Research Institute explained that many mega-churches are nondenominational and most others often act as such, but that the vast majority do belong to a denomination.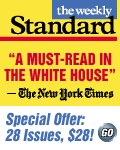 The average income of a mega-church is $6 million. According to the Hartford report, mega-churches do not emphasize money, as skeptics might imagine, though worshippers are encouraged to tithe. The mega-churches are more than simply Sunday extravaganzas and have "high spiritual expectations and feature serious orthodox beliefs and preaching." Contrary to liberal notions of Republican manipulation, most mega-churches are not overtly political and internalize a separation between the church and the politics of the worshippers. And most mega-churches intentionally attempt to be racially and economically inclusive.
Neither Detective Armel nor Officer Garbarinos belonged to McLean Bible Church. Garbarino was Orthodox and not evangelical. But the size, location, and reputation of the suburban mega-church made it the chosen locale for their funerals and the accompanying civic mourning. With their present rate of growth and focused appeal to busy suburban Americans, look for mega-churches to occupy an increasingly large share of America's religious and civic life.
---
Mark D. Tooley directs the United Methodist committee at the Institute on Religion and Democracy.
 
© Copyright 2006, News Corporation, Weekly Standard, All Rights Reserved.