Hugh Hewitt
| The Weekly Standard
| Wednesday, November 24, 2004
ON THE CUSP of the season of Thanksgiving, Hanukah, and Christmas--the days of generosity--there are two great passages from Charles Dickens's A Christmas Carol which deserve rereading, especially by the executives of Target Corporation:
"Scrooge and Marley's, I believe," said one of the gentlemen, referring to his list. "Have I the pleasure of addressing Mr. Scrooge, or Mr. Marley?"

"Mr. Marley has been dead these seven years," Scrooge replied. "He died seven years ago, this very night."

"We have no doubt his liberality is well represented by his surviving partner," said one gentleman, presenting his credentials.

It certainly was; for they had been two kindred spirits. At the ominous word, "liberality," Scrooge frowned, and shook his head, and handed the credentials back.

"At this festive season of the year, Mr. Scrooge," said the gentleman, taking up a pen, "it is more than usually desirable that we should suffer some slight provision for the poor and the destitute, who suffer greatly at the present time. Many thousands are in want of common necessaries; hundreds of thousands are in want of common comforts, sir."

"Are there no prisons?" asked Scrooge.

"Plenty of prisons," said the gentleman, laying down the pen again.

"And the union workhouses?" demanded Scrooge. "Are they still in operation?"

"They are, still," returned the gentleman, "I wish I could say they were not."

"The Treadmill and the Poor Law are in full vigour then?" said Scrooge.

"Both very busy, sir."

"Oh! I was afraid, from what you said at first, that something had occurred to stop them in their useful course," said Scrooge. "I am very glad to hear it."

"Under the impression that they scarcely furnish Christmas cheer of mind or body to the multitude," returned the poor gentleman, "a few of us are endeavoring to raise a fund to buy the Poor some meat and drink, and means of warmth. We choose this time, because it is a time, of all others, when Want is keenly felt, and Abundance rejoices. What shall I put you down for?"

"Nothing!" Scrooge replied.

"You wish to be anonymous?"

"I wish to be left alone," said Scrooge. "Since you ask me what I wish gentlemen, that is my answer. I don't make merry myself at Christmas, and I can't afford to make idle people merry. I help support the establishments I have mentioned--they cost enough: and those who are badly off can go there."

"Many can't go there; and many would rather die."

"If they would rather die," said Scrooge, "they had better do it, and decrease the surplus population. Besides--excuse me--I don't know that."

"But you might know it," observed the gentlemen.

"It's not my business," Scrooge returned. "It's enough for a man to understand his own business, and not to interfere with other people's. Mine occupies me constantly. Good-afternoon, gentlemen!"

Seeing clearly that it would be useless to pursue their point, the gentlemen withdrew. Scrooge resumed his labors with an improved opinion of himself, and in a more facetious temper than was usual with him.
Much later in the tale--after the spirits of Christmas past, present, and future had visited him as well as Marley in chains--Scrooge had a second chance:
He had not gone far, when coming on towards him he beheld the portly gentleman, who had walked into his counting-house the day before, and said "Scrooge and Marley's, I believe?" It sent a pang across his heart to think how this old gentleman would look upon him when they met; but he knew what path lay straight before him, and he took it.

"My dear sir," said Scrooge, quickening his pace, and taking the old gentleman by both hands. "How do you do? I hope you succeeded yesterday. It was very kind of you. A merry Christmas to you, sir!"

:Mr. Scrooge?"

"Yes," said Scrooge. "That is my name, and I fear it may not be pleasant to you. Allow me to ask your pardon. And will you have the goodness___" here Scrooge whispered in his ear.

"Lord bless me!" cried the gentleman, as if his breath were taken away. "My dear Scrooge, are you serious?"

"If you please," said Scrooge. "Not a farthing less. A great many back-payments are included in it, I assure you. Will you do me that favour?"

"My dear sir," said the other, shaking hands with him. "I don't know what to say to such munifi--"

"Don't say anything, please," retorted Scrooge. "Come and see me. Will you come and see me?"

"I!" cried the old gentleman. And it was clear that he meant to do it.

"Thank'ee," said Scrooge. "I am much obliged to you. I thank you fifty times: Bless you!"
THE TARGET CORPORATION has exiled the Salvation Army from its doors this year, and the Army will lose approximately $9 million in donations as a result. Many emails of protest have flowed into the Target headquarters, all of which have received the reply "Are there no prisons?" Well, not really. Instead they have received a vanilla response about the difficulty in maintaining an exception to the Target policy of non-solicitation.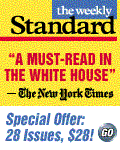 Wal-Mart has no problem maintaining the Salvation Army as an exception to its general rule of non-solicitation, perhaps because the Salvation Army's mission is so closely tied to the root of the celebration about to begin: The offering of kindness by strangers to a family in need. Perhaps as well the tradition of gift giving on which America's retail sector has grown large and prosperous having its origins in the celebration of Christ's birthday may also have something to do with Wal-Mart's decision, and with the angry reaction of former Target shoppers.
There is still time for Target to reverse its decision which, but for stubbornness of executives, would have been reversed last week as the backlash began and grew. Emails encouraging that change of heart may play the ghost of Christmas future in this update of Dickens's story. They should be directed to [email protected].
"I thank you fifty times: Bless you!"
---
Hugh Hewitt is the host of a nationally syndicated radio show, and author most recently of If It's Not Close, They Can't Cheat: Crushing the Democrats in Every Election and Why Your Life Depends Upon It. His daily blog can be found at HughHewitt.com.
---
© Copyright 2004, News Corporation, Weekly Standard, All Rights Reserved. Used with permission.