Russ Jones
| Christian Press
| Wednesday, October 1, 2014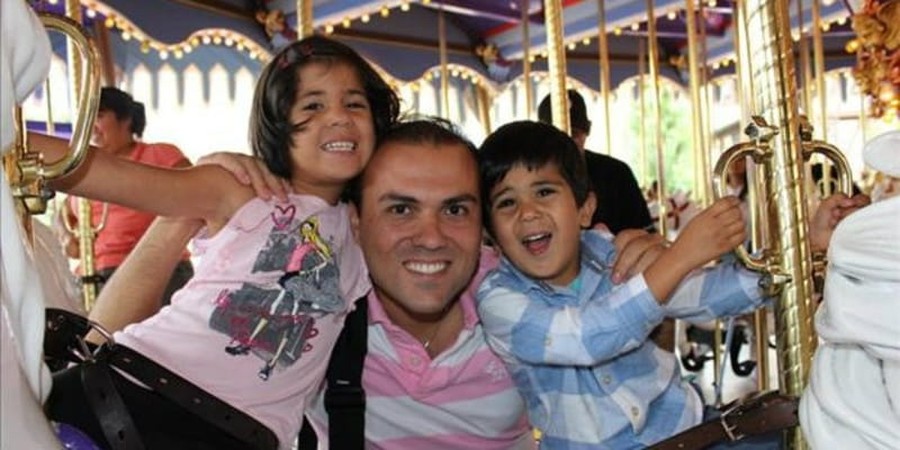 ---
Last week marked the two-year anniversary of the imprisonment of Pastor Saeed Abedini for his Christian faith. In 2012 Abedini boarded a flight to Iran and didn't return home.
Thousands of Christians gathered September 26 at more than 460 prayer vigils in over 30 countries around the world to mark the anniversary.
The Boise, Idaho resident is serving an eight-year prison sentence in the infamous Evin Prison after several failed attempts to seek his release on bail.
While many have prayed for the release of Abedini, few may know specific details about the man detained in an Iranian prison.
1. How Did Pastor Saeed Become a Christian?
Abedini converted to Christianity in 2000.
Saeed's, wife, Naghmeh [pronounced nog-MAY], maintains her husband become a Christian at age 20 after struggling with depression as a result of suicide bomber training he received from a radical Islamic terrorist organization.
"Christianity saved his life," Naghmeh said in an interview with Fox News.
Recruited during his high school years, Abedini trained at an area mosque. The more her husband sought the ways of the Muslim faith, the further in despair he fell, says Naghmeh.
"I always tried to do my best for God," Saeed says in a YouTube video, "but to be honest with you I did not have eternal peace in my heart."
Feeling alone and no plan for his future, he attended a Christian church in 2000 where he became so angry he wanted to kill the pastor because, of what he considered, to be false teaching.
But one night in 2000 Abedini claims God woke him up saying, "Saeed, Saeed -- I'm coming back soon. You've got to preach my gospel."
Looking around the room and finding know one, Saeed went back to sleep, but that same night the terrorist recruit heard God's voice two more times.
"For the first time in my life I felt the presence of the Lord," explains Saeed. "I saw a huge light in the room and the voice told me again, 'I am coming back soon. You've got to preach my Gospel.'"
As a result of that encounter, Saeed contends he was a different person the following morning.
2. What is the nature of Pastor Saeed's ministry?
Upon his conversion, Pastor Saeed started a house church in Iran. In 2002 he met Naghmeh in Tehran. Two years later Saeed and Naghmen married.
Saeed and Naghmeh left Iran in 2005 for the United States, where Naghmeh has lived since she was in the fourth grade.
In 2008, Abedini became an ordained minister in the U.S. Two years later he was granted American citizenship upon his marriage to Naghmeh, an American citizen.
Pastor Saeed has dual citizenship, but Iran does not recognize his American nationality.
Abedini had been living the past several years with his family in Boise, Idaho, where his wife grew up. The couple has two children and they are involved with the Calvary Chapel church in Boise.
Pastor Saeed is serving a sentence for his work among Iranian house churches in the early 2000s.
3. Why is Pastor Saeed Abedini in Prison?
In 2009, Pastor Saeed returned to Iran for a visit with his wife Naghmeh and their two children, Jacob and Rebekka.
After being arrested in the airport, Abedini agreed with authorities to cease all house church activities. In response, the government gave permission for him to come and go freely from Iran. At that time the Iranian government encouraged Saeed to do humanitarian efforts, like creating orphanages.
In 2012, Pastor Saeed returned to Iran to visit family and finalize the details of a government-approved orphanage. It was Pastor Saeed's tenth trip in four years to the Muslim nation.
July 28, 2012, Iranian Revolutionary Guards took Pastor Saeed off a bus at the border of Turkey and Iran, days before Saeed's planned return to the U.S. He was interrogated and put under house arrest at his parents' home in Tehran for alleged missionary activity performed nearly ten years earlier.
He was then subjected to a trial on charges related solely to his religious beliefs.
Judge Abbas Pir-Abassi Abedini of the Revolutionary Court Branch 36, sentenced Pastor Saeed to eight years in prison. Over the past two years he has endured periods of solitary confinement and brutal beatings, because of his Christian faith.
The official government report claims Pastor Saeed was sentenced for "threatening the national security of Iran" by planting Christian churches.
4. Who represents Pastor Saeed?
Naghmeh retains the American Center for Law and Justice (ACLJ) in July 2012, a constitutional and human rights law advocacy group based in Washington, D.C., and with offices around the world.
Since then ACLJ Saeed's case has been brought before numerous international groups including the United Nations Human Rights Council, which released a report documenting his arbitrary detention.
"The report details how Pastor Saeed was detained in Iran while finalizing the details of a government approved orphanage in July 2012, was subjected to a sham trial on charges related solely to his religious beliefs, and has spent nearly two years behind bars, enduring periods of solitary confinement and brutal beatings, because of his Christian faith," Jordan Sekulow of the American Center for Law and Justice said of the report adopted by the working group on Arbitrary Detention at its August 2013 session.
5. What role has the US government played in seeking Pastor Saeed's release?
The day after prayer vigils that marked the first anniversary of Pastor Abedini's imprisonment, President Barack Obama raised Saeed's case in his historic phone call with Iranian President Hassan Rouhani.
Earlier in the year, International Christian Concern expressed concern that, as an American citizen, Pastor Saeed, would be used as a bargaining chip in negotiations with Iran and six world powers (known as the P5+1).
"The continued abuse and imprisonment of Saeed Abedini is just further demonstration of Iran's systemic violation of fundamental human rights," said Todd Daniels, ICC Regional Manager for the Middle East. "We continue to urge for President Obama and Secretary of State John Kerry to stand up for the rights of an American citizen who is imprisoned solely for his faith and to secure his release prior to meeting any additional Iranian demands. It is urgent that the church continue to pray for Saeed, Naghmeh, and their family and to continue to raise its voice to call for his release."
In February, President Obama mentioned the imprisonment of Pastor Saeed at the National Prayer Breakfast in Washington, D.C. and called on Iran to release him so he can return to his family.
"We pray for Pastor Saeed Abedini. He's been held in Iran for more than 18 months - sentenced to eight years in prison on charges relating to his Christian beliefs. And as we continue to work for his freedom today, again, we call on the Iranian government to release Pastor Abedini so he can return to the loving arms of his wife and children in Idaho."
While Naghmeh appreciates President Obama's comments and U.S. Secretary of State John Kerry demanding her husband's release, she longs to see action from her homeland.
"I have to say it is frustrating. It has been two years. It seems like there are a lot of statements, but no action. What are we doing to get him home?" she said in an interview with Christian Press.
Naghmeh says that she has felt stronger support coming from countries other than the United States, which boosts her hope that her husband may soon be released from custody.
"It's encouraging because now it just isn't between the U.S. and Iran," said Naghmeh. "It's the whole world speaking out. Brazil, Canada, England and other European nations have been a great support."
Russ Jones is co-founder of Christian News Service, a content creation and news distribution firm. He's also a media consultant to a number of cause oriented campaigns and organizations. Russ has been a guest on such programs as the Mike Gallagher Show, the Dennis Prager Show, Bill Martinez Live and Sandy Rios in the Morning. He holds degrees from the University of Missouri-Columbia and a master's degree from St. Paul School of Theology. He is married to Jackie and together they have four children.
Photo: Pastor Saeed Abedini pictured with his children Jacob and Rebekka before imprisonment.
Photo courtesy: ecumenicalnews.com
Publication date: October 1, 2014