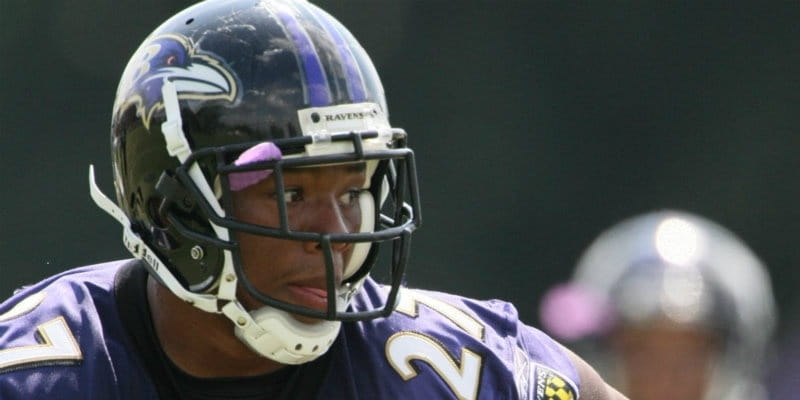 ---
Some National Football League players have had more off field issues that on the field action. Over the past two weeks, three NFL players have come under fire for abusive behaviors.
NFL Fumble #1: Ray Rice of the Baltimore Ravens punched his fiancé on a casino elevator, knocking her unconscious.
NFL Fumble #2: Minnesota Viking Adrian Peterson was accused of whipping his 4-year-old son with a tree branch. He was ultimately arrested and indicted by a grand jury on charges of reckless or negligent injury. Peterson was released on $15,000 bond.
NFL Fumble #3: Ray McDonald of the San Francisco 49ers was arrested for domestic abuse.
Research reveals that one in four women will experience domestic violence.
These recent events give rise to the 5 things Christians need to know about domestic violence in the NFL.
1. NFL Slow to Respond
Rice, 27, initially struck his then-fiancé Janay Palmer unconscious Feb. 15 on a casino elevator in Atlantic City. In July, Rice received a two-game suspension, but it wasn't until TMZ released a surveillance camera video showing Rice attacking his now-wife and was then released from the team and suspended indefinitely from the NFL.
Rice has since appealed his suspension.
Fans as well as advocates against domestic violence have expressed outrage at the NFL's initial response to Rice's aggressive behavior.
Experts maintain increased awareness and support surrounding this issue is needed given the frequency of incidents and the resulting grim consequences. Abuse victims, every day, suffer in silence.
For more than 10 years, pastoral counselor and author Kimberly Davidson has helped women recover from the pain of abuse. Davidson herself found restoration and brings a clear message of hope and recovery in her latest book 'Dancing in the Sonshine.'
"Abuse knows no boundaries," said Davison. "Millions of little girls are violated every day, and millions of women walk blindly into abusive relationships and traps. They hide deep traumatic wounds and need courage to heal."
Peterson's corporal punishment case has also elicited a limited response from the NFL. Wednesday the Minnesota Vikings said Peterson must stay away from team until his case is resolved.
National child abuse statistics find that every year more than 3 million reports of child abuse are made in the United States involving more than 6 million children.
The U.S. Department of Health claims more than four children die every day as a result of child abuse.
2. Calls to Domestic Abuse Hotlines Increase
According to the Wisconsin Radio Network, the National Domestic Violence Hotline has received a 72 percent increase in phone calls since the video of Rice was made public.
The Huffington Post reports that in a typical day the hotline receives 500 to 600 calls a day.
Katie Ray-Jones, the CEO of the hotline told the Huffington Post, "an outpouring of women saying they didn't realize this happened to other people."
Advocates in Connecticut contend calls to the states primary domestic hotline have increased by 1/3 since the Rice incident.
"Definitely there's just this heightened circumstance where people are wanting to talk to a certified counselor and to get help," Karen Jarmoc, CEO of the Connecticut Coalition Against Domestic Violence, told FOXCT. "We've never seen anything like this," said Jarmoc.
3. NFL Sponsors Speak Out
Advertisers who spend millions of dollars sponsoring NFL sporting events have put the NFL on notice.
Long time sponsor of the NFL Anheuser-Busch said in a statement:
"We are disappointed and increasingly concerned by the recent incidents that have overshadowed this NFL season. We are not yet satisfied with the league's handling of behaviors that so clearly go against our own company culture and moral code. We have shared our concerns and expectations with the league."
Other corporate sponsors have joined the chorus of concern.
Radisson issued the following statement Monday:
"Radisson takes this matter very seriously particularly in light of our long-standing commitment to the protection of children. We are closely following the situation and effective immediately, Radisson is suspending its limited sponsorship of the Minnesota Vikings while we evaluate the facts and circumstances."
4. National Leaders Call for Zero Tolerance
A bipartisan group of 16 Senate women wrote to National Football League Commissioner Roger Goodell Sept. 11 urging the league to institute a zero-tolerance policy for domestic violence.
"We were shocked and disgusted by the images we saw this week of one of your players violently assaulting his now-wife and knocking her unconscious, and at new reports that the NFL may have received this video months ago. Tragically, this is not the only case of an NFL player allegedly assaulting a woman even within the last year," the Senators wrote. "We are deeply concerned that the NFL's new policy, announced last month, would allow a player to commit a violent act and return after a short suspension. If you violently assault a woman, you shouldn't get a second chance to play football in the NFL."
The letter was signed by U.S. Senators Barbara Boxer (D-CA), Debbie Stabenow (D-MI), Kelly Ayotte (R-NH), Amy Klobuchar (D-MN), Patty Murray (D-WA), Jeanne Shaheen (D-NH), Kirsten Gillibrand (D-NY), Barbara Mikulski (D-MD), Susan Collins (R-ME), Heidi Heitkamp (D-ND), Dianne Feinstein (D-CA), Mazie Hirono (D-HI), Elizabeth Warren (D-MA), Tammy Baldwin (D-WI), Kay Hagan (D-NC) and Maria Cantwell (D-WA).
Church leaders have responded, too.
According to author and counselor, June Hunt, "In an abusive relationship, both partners bring emotional deficits into the relationship creating an unhealthy dynamic." She is the author of Domestic Violence: Assault on a Woman's Worth.
The victims of abuse are predominantly women -- 86% of the time. The big question maintains -- why do many of these women refuse to leave an abusive relationship? Why do they "stand by their man" even when there is video of a violent assault, a swollen face or bruises?
"She doesn't leave because of what she firmly believes and falsely feels," said Hunt. "She may feel she has no real worth or value or that she doesn't have a biblical right to leave. Many women who suffer abuse are disheartened, confused and distressed."
5. NFL Has History of Domestic Violence
USA Today and the U-T San Diego have produced an arrest database that reveals a long history of domestic violence within in the NFL. According to that report, 14 active players have previous domestic violence charges or accusations in their past.
There have been 89 separate domestic violence incidents since 2000, according to the report. Researchers believe the data is not reflective of what they believe to be an epidemic within the NFL. The report also uncovers that many of players with a history of domestic violence continued their careers in football.
Dr. Jim Denison of the Denison Forum on Truth and Culture says children are especially vulnerable in cases of domestic violence.
"Without help, girls who witness domestic violence are more vulnerable to abuse as teens and adults," said Denison. "Without help, boys who witness domestic violence are far more likely to abuse their partners and/or children as adults. Domestic violence costs more than $37 billion a year in medical and mental health treatment, legal work, law enforcement, and lost productivity."
Russ Jones is co-founder of Christian News Service, a content creation and news distribution firm. He's also a media consultant to a number of cause oriented campaigns and organizations. Russ has been a guest on such programs as the Mike Gallagher Show, the Dennis Prager Show, Bill Martinez Live and Sandy Rios in the Morning. He holds degrees from the University of Missouri-Columbia and a master's degree from St. Paul School of Theology. He is married to Jackie and together they have four children.
Photo: Baltimore Ravens running back Ray Rice
Photo courtesy: Flickr
Publication date: September 17, 2014