Will Maule
| ChristianHeadlines.com Contributor
| Thursday, January 9, 2020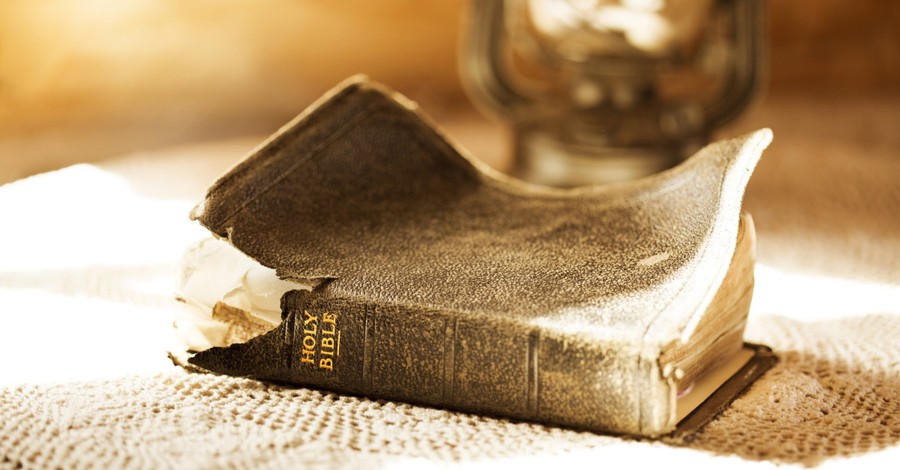 A complaint has been lodged with the University of Southern Maine after a defaced Bible was used as part of an art display.
Riley Harris was the USM student behind the installation, which featured a Bible with torn pages and Satanic images splashed across the face of Christ.
It was a Christian man, Charlie Flynn, who said he couldn't help but be disturbed by the display after being informed about it by his young daughter – she had noticed the bizarre piece on show outside a classroom after the family had attended a church gathering at the Wishcamper Center.
The Casco Bay Church of Christ is one of several religious groups that rent various spaces on USM campus grounds.
"This is someone's sacred text being desecrated, destroyed and displayed in a public place," Flynn said, according to Central Maine. "I couldn't help but feel no one's sacred text should be treated that way… I think it's very inappropriate and repugnant."
Harris defended his piece, titled "Unholy Bible: Very Revised Standard Edition," insisting that it was part of an art assignment that challenged students to "repurpose a book into something new."
"I was thinking a lot about questioning authority in general," Harris explained. "People question different types of authority, but for some reason, religious authority seems too taboo to question, so I thought I would give it a shot."
Jared Cash, the current vice president for enrollment management and marketing at the university, defended the artwork, noting that the university "supports freedom of speech rights for all students, affirmed and upheld by Board of Trustee System Policy 212."
According to the policy, as long as the expression of free speech does not "violate the law, defame specific individuals, genuinely threaten or harass others, or violate privacy or confidentiality requirements or interests," it is duly permitted on campus.
"Although the University System greatly values civility and expects community members to share in the responsibility for maintaining a climate of mutual respect, demands for civility and mutual respect will not be used to justify restricting the discussion or expression of ideas or speech that may be disagreeable or even offensive to some members of the University community," the policy continues.
That's not good enough for Flynn, who believes this is a classic case of double standards.
"If I saw a Koran with pig blood on it, I would certainly call someone, or a Torah with unclean foods on it," he explained. "This is a Bible with Satan's image put over Jesus' image and around Christmastime. I don't understand why that would be viewable in an institution of higher learning. This is USM, a school that services the community."
Photo courtesy: ©Getty Images/ClaudioVentrella, this is a stock image. To view the art project, click here.
---
Will Maule is a British journalist who has spent the past several years working as a digital news editor. Since earning a degree in international relations and politics, Will has developed a particular interest in covering ethical issues, human rights and global religious persecution. Will's work has been featured in various outlets including The Spectator, Faithwire, CBN News, Spiked, The Federalist and Christian Headlines. Follow him on Twitter at @WillAMaule.
---
---