Will Maule
| ChristianHeadlines.com Contributor
| Tuesday, April 21, 2020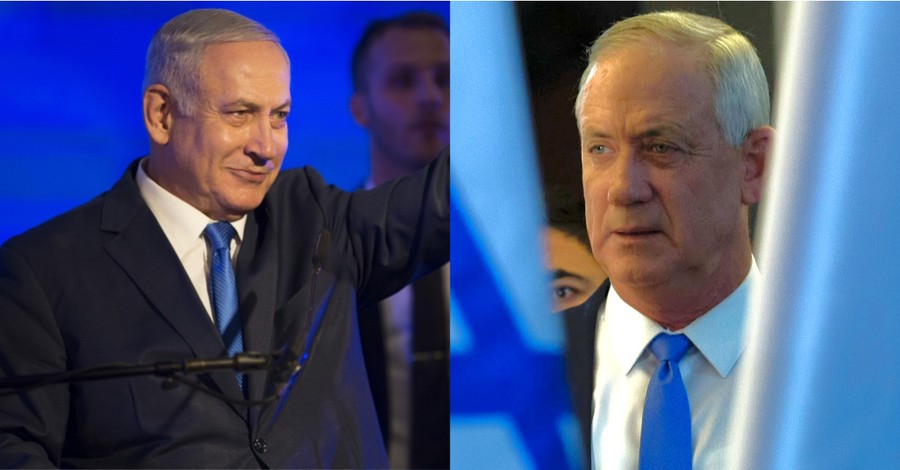 Israeli Prime Minister Benjamin Netanyahu and his political rival, Benny Gantz, have agreed to a historic power-sharing agreement which brings to an end a drawn-out season of electoral deadlock.
Under the terms of the unity agreement, which was finalized on Monday night, Netanyahu will take office as prime minister for a year and a half before Gantz takes the reins in October 2021.
According to the Times of Israel, the agreement will divide the government term into two parts: a six-month "emergency period" to prime the government for its fight against COVID-19, followed by a longer "unity period."
With three elections held in the space of less than a year, Israel has been floundering in a state of political paralysis. In April 2019, citizens were marginally in favor of Netanyahu's "Likud" party, with the incumbent Prime Minister receiving just 15,000 more votes than his rival. With Netanayahu unable to form a majority government, a follow-up election in September 2019 saw Gantz's centrist "Blue and White" party win by 38,000 votes. Gantz was also unable to form a government.
So, a third election was called for March 2, 2020, resulting in another slim victory for Netanyahu. Again, neither men were able to come to an agreement on the formation of a new government in the Knesset.
With both politicians being called upon to avoid a fourth election as the country battles coronavirus, this latest agreement may come as a huge relief to many weary Israelis.
"An agreement for the establishment of a national emergency government is now being signed by Prime Minister Binyamin Netanyahu and Blue and White (alliance) chairman ... Benny Gantz," the parties said in a joint statement following the agreement.
"I promised the State of Israel a national emergency government that will act to save the lives and livelihoods of Israeli citizens," Netanyahu tweeted afterward, with Gantz adding: "We have prevented a fourth election. We will protect democracy. We will fight coronavirus and care for all Israel's citizens."
The Israeli health ministry has confirmed 13,700 of Covid-19 and 177 deaths.
During Netanyahu's remaining time in office, Gantz will serve as Deputy Prime Minister and Defense Minister, before coming to power next fall.
Related:
Israelis Vote for Prime Minister in Unprecedented Third Election in a Year
Photo courtesy: ©Getty Images/Lori Mizrahi Stringer, ©Getty Images/Amir Levy/Stringer
---
Will Maule is a British journalist who has spent the past several years working as a digital news editor. Since earning a degree in international relations and politics, Will has developed a particular interest in covering ethical issues, human rights and global religious persecution. Will's work has been featured in various outlets including The Spectator, Faithwire, CBN News, Spiked, The Federalist and Christian Headlines. Follow him on Twitter at @WillAMaule.
---
---