Will Maule
| ChristianHeadlines.com Contributor
| Thursday, April 9, 2020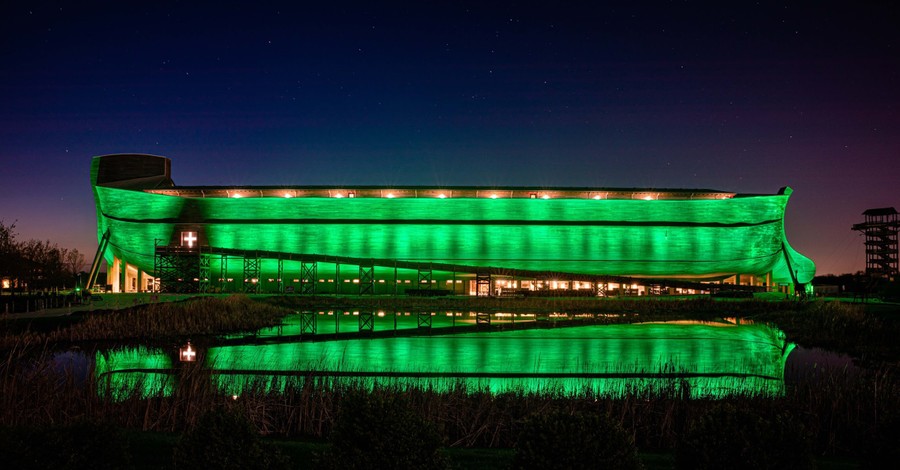 ---
Kentucky's Ark Encounter attraction has been lit up green as a way of honoring victims of coronavirus. The life-sized replica of Noah's Ark – which is operated by creationist ministry "Answers in Genesis" – took part in the gesture to "show compassion as the Bible instructs us," according to a post by the group.
In a video, co-founder Mike Zovath said the idea for lighting up the massive ark green was born following a conversation with Williamstown Mayor Rick Skinner.
"[It is] to show solidarity and compassion for Kentuckians, really," Zovath explained. "Other states might have other symbols of solidarity, but it's really to show we care about people in Kentucky and we're with everyone in the state. We're going to beat this together."
Gov. Andy Beshear has been the driving force behind the colorful tribute, even lighting up the Governor's Mansion and State Capitol building. "Green is the color of compassion, it's the color of empathy ... it lets people know that we are thinking about them, that we care about them, that we love every single Kentuckian around us," the governor said, according to Kentucky Today.
With the coronavirus spreading widely throughout the state, at the end of March, Beshear ordered the closure of all non-essential businesses – that includes the Ark Encounter, which welcomes around a million visitors per annum.
There are now over 1,300 confirmed cases of COVID-19 across Kentucky, with at least 73 deaths recorded.
"It is going to get tougher before it gets better," Beshear said on Twitter Wednesday, as he encouraged citizens to keep following the social distancing guidelines. "We know that there is an end. We just have to be strong enough to get there," he added.
New #COVID19 orders limit shopping to one adult per household, ban door-to-door solicitation https://t.co/nHQ1Pfhh9n pic.twitter.com/ZVSEvI7TVi

— Governor Andy Beshear (@GovAndyBeshear) April 8, 2020
With Easter Sunday fast-approaching, Beshear and Louisville Mayor Greg Fischer warned that any in-person religious gatherings could cause the infection rate to "blow up." As such, the advice from the officials is clear: stay at home and celebrate this wonderful Christian holiday with your immediate loved ones.
"People have celebrated Easter together as a tradition for generations, but the coronavirus doesn't care about traditions. … It just wants to infect as many people as possible," Fischer said at his Wednesday presser, according to the Courier Journal. "And gatherings — whether it's a Saturday night house party or Easter Sunday worship service — give the virus more opportunities to spread."
Photo courtesy: Answers in Genesis
---
Will Maule is a British journalist who has spent the past several years working as a digital news editor. Since earning a degree in international relations and politics, Will has developed a particular interest in covering ethical issues, human rights and global religious persecution. Will's work has been featured in various outlets including The Spectator, Faithwire, CBN News, Spiked, The Federalist and Christian Headlines. Follow him on Twitter at @WillAMaule.