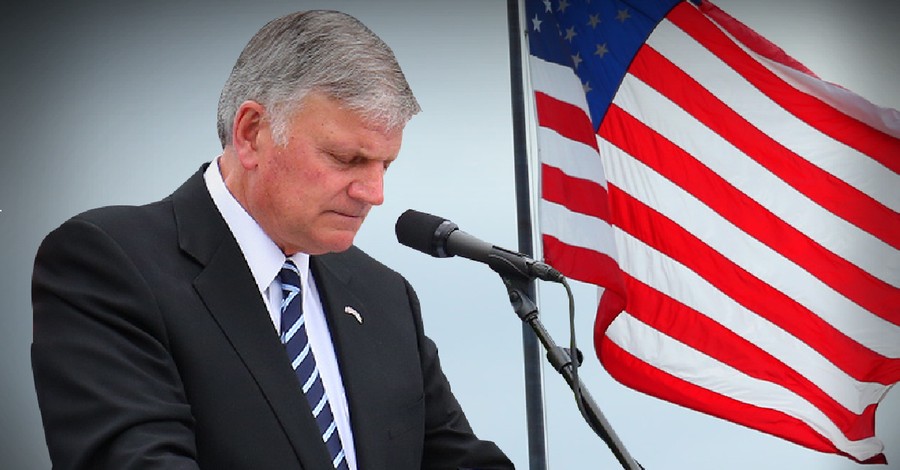 ---
On Friday, Evangelist Franklin Graham spoke with CBN News Senior Analyst David Brody regarding the current political atmosphere, his upcoming prayer march and the Democratic Party's socialist agenda.
Regarding the recent Democratic and Republican national conventions, Graham asserted that the Democratic Party is "opposed to faith."
"The Democrats are really, if anything, they are opposed to faith." Graham asserted.
Graham acknowledged that while his father, the late evangelist Billy Graham, was a lifelong democrat, even he saw the significant transformation within the Democratic Party as it became "a party of the left."
"It's a socialist party. They want socialism for this country," Graham argued, according to CBN News.
Graham also addressed the debate within the church between those planning to vote for President Trump's re-election based on their faith and those who take issue with his personality. As an example, Brody cited members of Graham's own family such as his daughter's outspoken support of the President, whereas his niece criticized evangelicals in an op-ed for their support of him.
"Well, I understand people have different opinions in the evangelical community. I'm not a spokesman for them," he contended. "I'm just one person and so there's a lot of opinions and ideas and views and unfortunately, people that don't know the president, some of them have negative views that they have gotten those views from a negative press that is controlled by the socialists and so they've kind of bought into that. And that's unfortunate," he said.
"But at the same time, I'm not a spokesperson. I'm just going to do what I believe God's called me to do. And I'm going to call things the way I see them," he added.
On September 26, 2020, Graham will be hosting a prayer march in Washington D.C. He pointed out that there will be no guest speakers as it will solely be focused on prayer for the nation.
"We're coming to pray … the only hope of this country is God. Donald Trump can't turn it around. Biden isn't going to turn it around. Only God can do this, okay? And we need God's help."
Regarding the current crossroads in the country, Graham explained the spiritual impact that it has on the church, particularly in dealing with government officials.
"Well, the changes that the left wants to make and taking us into socialism is going to affect the church," he said.
"The government will begin to tell the church, how they can be the church, and they'll close the church down in many places," Graham argued. "We see right now, because of COVID, the government trying to tell the church that they cannot meet and the Constitution gives us that freedom to do that, but because of COVID, they said, 'We can't meet.'"
Graham believes that God placed Trump in the White House in order to be a defender of religious freedom. The evangelist warned, however, that a "storm" of persecution is coming, especially if Biden wins in November.
"I'm just asking that God would spare this country for another four years to give us a little bit more time to do the work before the storm hits. I believe the storm is coming. You're going to see Christians attacked; you're going to see churches close; you're going to see a real hatred expressed toward people of faith. That's coming," he warned.
Photo courtesy: ©Billy Graham Evangelical Association
---
Milton Quintanilla is a freelance writer. He is also the co-hosts of the For Your Soul podcast, which seeks to equip the church with biblical truth and sound doctrine. Visit his blog Blessed Are The Forgiven.