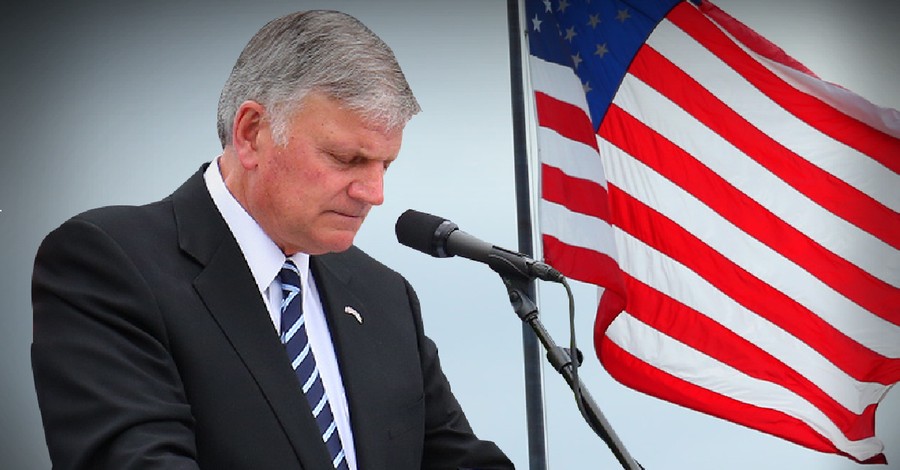 Evangelist Franklin Graham is calling for prayer as the trial for Derek Chauvin, the former Minneapolis police officer charged with the murder and manslaughter of George Floyd, comes to a close.
Graham, who leads Samaritan's Purse and the Billy Graham Evangelistic Association, wrote in a Facebook post on Sunday that regardless of what the jury decides, America needs God's help because we have "become so divided racially."
"It is God who said we should love one another as we love ourselves (Matthew 22:39), and that we are to treat one another as we want to be treated (Luke 6:31)," he said.
The evangelist also called for a prayer of repentance so that the nation would turn back to God.
"Join me in praying that this nation would turn to God in repentance and faith in His Son, Jesus Christ. It is through Christ that we can be reconciled with God—and with man," Graham wrote. "The Bible tells us, 'Be kind and compassionate to one another, forgiving each other, just as in Christ God forgave you' (Ephesians 4:32)."
Graham also called for prayers for compassion and peace amid threats of rioting in Minneapolis and several U.S. cities if Chauvin is acquitted.
"Pray for peace on our streets and for compassion for our fellow man. Pray for our law enforcement officers striving to serve in these difficult days, and pray for hurting and marginalized communities across this nation," he concluded.
At the present time, the jury has begun day two of deliberations in determining whether Chauvin is guilty of murdering Floyd.
Meanwhile, Congresswoman Maxine Waters (D-Calif.) came under criticism for urging protestors to "stay on the streets" if Chauvin is not declared guilty, the New York Post reports.
"We get more active, we've got to get more confrontational," she told protestors. "We've got to make sure that they know that we mean business."
In response to Waters' remarks, the judge presiding over Chauvin's trial suggested that it could lead to the whole case "being overturned" after Defense attorney Eric Nelson called him to declare a mistrial.
Hennepin County District Judge Peter Cahill, who denied the motion, told Nelson, "I'll give you that Congresswoman Waters may have given you something on appeal that may result in this whole trial being overturned."
"This goes back to what I've been saying from the beginning," he continued. "I wish elected officials would stop talking about this case, especially in a manner that is disrespectful to the rule of law and to the judicial branch and our function."
"I think if they want to give their opinion, they should do so in a respectful and in a manner that is consistent with their oath to the Constitution to respect a co-equal branch of government," the judge contended. "Their failure to do so, I think, is abhorrent, but I don't think it's prejudiced us with additional material that would prejudice this jury."
Photo courtesy: ©Billy Graham Evangelistic Association
---
Milton Quintanilla is a freelance writer and content creator. He is a contributing writer for Christian Headlines and the host of the For Your Soul Podcast, a podcast devoted to sound doctrine and biblical truth. He holds a Masters of Divinity from Alliance Theological Seminary.
---
---