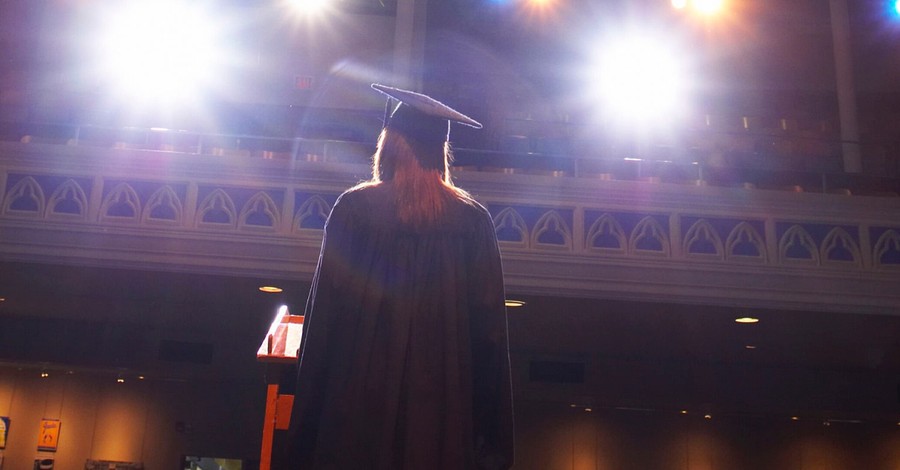 ---
A graduating high school student went viral this week after she denounced the state's latest abortion restrictions in her valedictorian speech.
Paxton Smith, the valedictorian at Lake Highlands High School in Dallas, Texas, delivered the speech on Sunday, The Christian Post reports. While Smith initially planned to "talk about TV and media and content", she switched her topic after Texas Gov. Greg Abbott signed a heartbeat bill into law last month. The law prohibits most abortions in the state once a baby's heartbeat is detected.
Smith lamented that the legislation, which will go into effect in September, will restrict abortions after six weeks of pregnancy regardless of whether it resulted from rape or incest.
"Most women don't even realize they're pregnant by then," she explained. "And so, before they have the time to decide if they are emotionally, physically, and financially stable enough to carry out a full-term pregnancy, before they have the chance to decide if they can take on the responsibility of bringing another human into the world, the decision has been made for them by a stranger.
"A decision that will affect the rest of their lives," she added.
"I have dreams and hopes and ambitions," the valedictorian said. "Every girl graduating today does, and we have spent our entire lives working towards our future. And without our input and without our consent, our control over that future has been stripped away from us."
She expressed concern that if her "contraceptives fail" or if she is raped, her "hopes and aspirations and dreams and efforts for my future will no longer matter."
"I hope that you can feel how gut-wrenching that is," Smith continued. "I hope you can feel how dehumanizing it is to have the autonomy over your own body taken away from you."
"I cannot give up this platform to promote complacency and peace when there is a war on my body and a war on my rights, a war on the rights of your mothers, a war on the rights of your sisters, and a war on the rights of your daughters," she asserted. "We cannot stay silent."
Smith's speech was praised by Hollywood celebrities and prominent Democratic politicians, including former presidential nominee Hillary Clinton.
"This took guts," Clinton tweeted. "Thank you for not staying silent, Paxton."
Former Texas Democratic Congressman Beto O'Rourke, who has made unsuccessful bids for the United States Senate and presidency, also extended praise to Smith.
"Paxton, thank you for having the courage of your convictions and inspiring Texas with your refusal to accept injustice as the price of participation in civic life," he wrote. "May we all use our place in this democracy to fight for what we believe to be right and follow your example!"
Two days after her speech, Smith shared her thoughts concerning the attention that her speech received.
"It feels great. It also feels a little weird," she told DMagazine in an interview. "Whenever I have opinions that can be considered political or controversial, I keep them to myself because I don't like to gain attention for that kind of stuff.
"But I'm glad that I could do something, and I'm glad that it's getting attention. It just feels weird for me personally, that I'm linked to the attention that the speech got."
When asked if there was anything else she wanted people to know, Smith urged people to "register to vote in the next election and to stay involved in local elections because those have more power than I think the media gives them credit for."
Smith plans on attending the University of Texas at Austin this fall.
Related:
Texas Governor Greg Abbott Signs Historic Heartbeat Bill into Law
Photo courtesy: ©Getty Images/Jupiter Images
Video Courtesy: Tim Rogers' YouTube Channel
---
Milton Quintanilla is a freelance writer. He is also the co-hosts of the For Your Soul podcast, which seeks to equip the church with biblical truth and sound doctrine. Visit his blog Blessed Are The Forgiven.