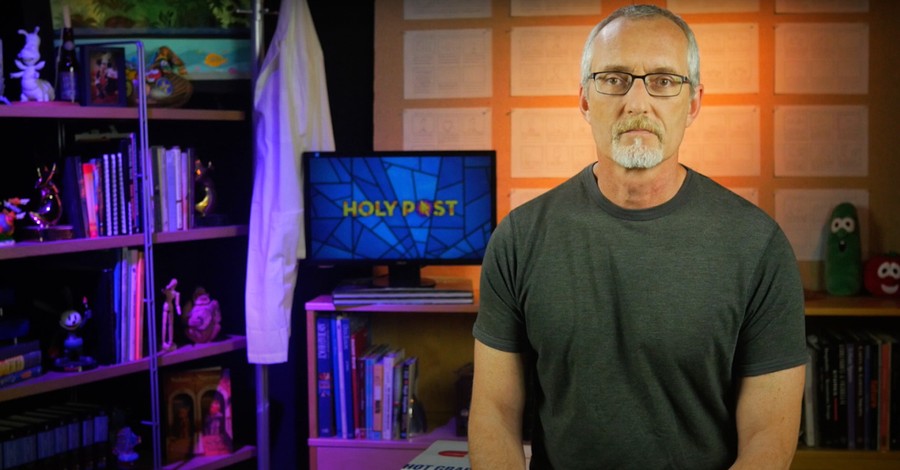 Phil Vischer, the creator of the popular Christian animated series VeggieTales and the voice of the show's character Bob the Tomato, offered a historical take on systemic racism in America in a new video.
Amid civil unrest over racial injustices in America, Vischer released a 17-minute video titled "Race in America" on his personal YouTube channel and on the Holy Post website in which he breaks down systemic racism.
With the abolition of slavery and the success of the Civil Rights Movement of the 1960s, Vischer argues that many may believe that we are living in a post-racial society.
"Heck, we even had a black president," Vischer adds.
"So why are people still upset? We're going to go through history and we're going to look at some data," the show creator starts.
Showing an image of two houses, he says, "These are two households in America, one is black, the other is white. Today the average black household has 60 percent of the income of the average white household, but only one 10th of the household wealth."
Vischer went on to note various benefits of having higher household wealth, such as funding schools, launching small businesses, stabilizing loss of income and helping families survive unexpected divorce or unemployment.
"What's amazing about this number is that there are lots of extremely wealthy African Americans: movie stars, pop stars. … And there are a lot of extremely poor white families; think of Appalachia and other parts of rural America," he said.
Still, he argued, "Even when we factor all that in, the average black household still has only one 10th, the wealth of the average white household," he continued.
The video went on to breakdown post-emancipation laws, including vagrancy laws which made it a crime for black men to be unemployed, Jim Crow segregation laws, redlining, banking and homeownership discrimination, GI Bill bias, the war on drugs, the militarization of police departments and the broken prison system.
Vischer asserted that the racial injustice in the U.S. was not accidental but that "it happened by policy" as "we, the majority culture, told them [black people] where they could live and where they couldn't."
He added, "Then we moved most of the jobs to the places we told them they couldn't live. When the predictable explosion of unemployment and poverty resulted in a predictable increase in drug use and crime, we criminalized the problem," he continued.
"We built $19 billion of new jails and sold grenade launchers to the police."
The result, he noted, is that white born American males have a "one in 23 chance of going to prison in his lifetime" while black born males have a "one in four" chance.
"And that is why people are angry," Vischer asserted.
While Vischer shared that he does not know how to fix these issues, he noted that he does know a great place to start.
"I'm just here to ask you to do one thing. It is the thing that begins every journey to a solution for every problem. What am I asking you to do? Care!", Vischer concluded.
Vischer's now-viral video has been watched more 750,000 times across multiple platforms since its release.
Photo courtesy: Phil Vischer
Video courtesy: Phil Vischer
---
Milton Quintanilla is a freelance writer and content creator. He is a contributing writer for Christian Headlines and the host of the For Your Soul Podcast, a podcast devoted to sound doctrine and biblical truth. He holds a Masters of Divinity from Alliance Theological Seminary.
---
---