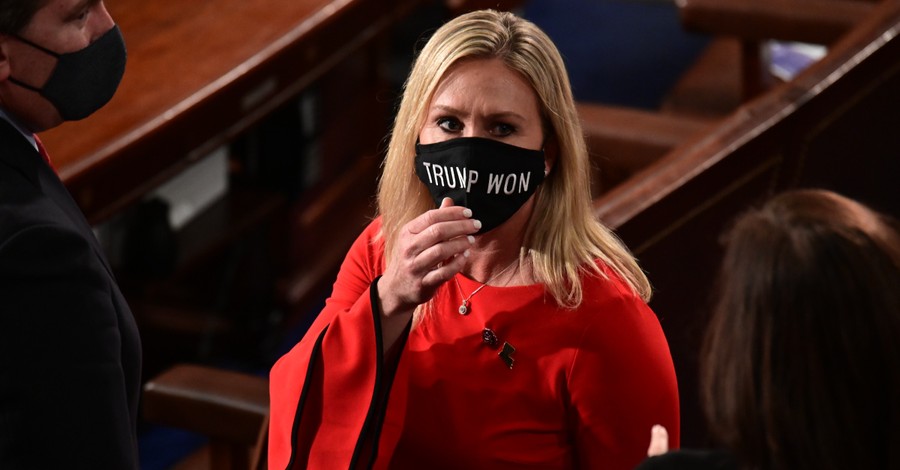 ---
On Thursday, House Democrats, along with 11 Republicans, voted to remove freshman Congresswoman Marjorie Taylor Greene (R-Ga.) from her two House Committee roles.
According to Fox News, the effort to remove Greene came after she espoused conspiracy theories and violence before being elected last November. In a 230–199 bipartisan vote, the House voted in favor of Green's removal. Fox News reports that all House Democrats and 11 Republicans voted for Green's removal.
The 11 Republicans who voted for Greene's removal were Reps. Adam Kinzinger of Illinois, Nicole Malliotakis of New York, John Katko of New York, Brian Fitzpatrick of Pennsylvania, Fred Upton of Michigan, Carlos Gimenez of Florida, Mario Diaz-Balart of Florida, Chris Jacobs of New York, Young Kim of California, Maria Elvira Salazar of Florida and Chris Smith of New Jersey.
Greene was ousted from the Committee on Education and Labor and the House Budget Committee after House Republicans voted her in last month after she was sworn into Congress.
Rep. Jim McGovern, D-Mass., the chairman of the House Rules Committee, spoke out on Greene's past remarks and attacked Republicans for "becoming the party of violent conspiracy theories."
"Serving on a committee isn't a right. It's a privilege. When someone encourages violence against a member, they should lose that privilege," McGovern contended.
"The party of Lincoln is becoming the party of violent conspiracy theories," he added. "And apparently, the leaders of the Republican Party in the House today aren't going to do a damn thing about it."
Many GOP members denounced Green's previous remarks, which included QAnon conspiracies and claims that mass school shootings were staged. Additional claims suggested that the Pentagon was not hit by a plane during 9/11, endorsing violence against prominent Democrats and espousing anti-Semitic and anti-Muslim views.
On Thursday, Greene delivered a floor speech, saying that she regrets her past remarks and clarified that the 9/11 attacks and school shootings were not a hoax.
"These were words of the past, and these things do not represent me," she said. "They do not represent my district, and they do not represent my values."
Photo courtesy: ©Getty Images/Pool
---
Milton Quintanilla is a freelance writer. He is also the co-hosts of the For Your Soul podcast, which seeks to equip the church with biblical truth and sound doctrine Visit his blog Blessed Are The Forgiven.