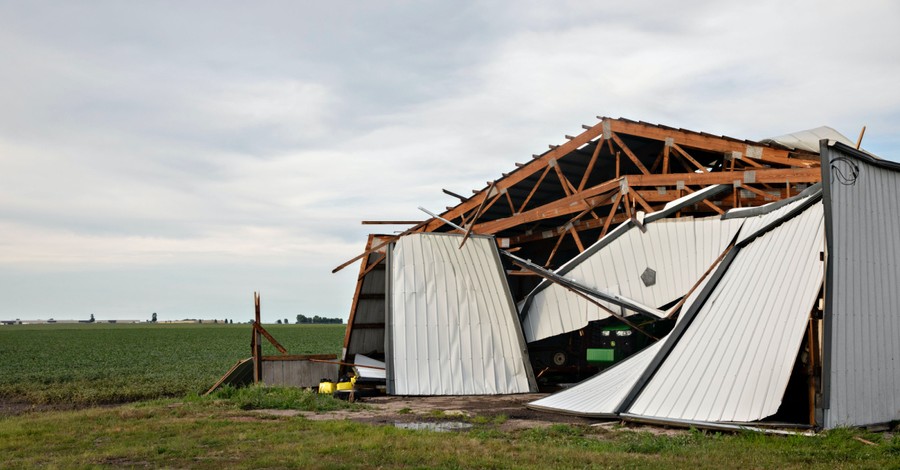 ---
President Trump is extending federal assistance to the people of Iowa after a brutal windstorm that hit the state last week inflicted severe damage to buildings, crops and farmland. At least four people were killed in the storm as well, the Seattle Times reports.
According to The Christian Post, Trump met with Iowa Gov. Kim Reynolds and other officials in a roundtable discussion on Tuesday concerning recovery efforts.
"All Americans are united in grief and prayer for the precious life that was lost," Trump said.
"When you look at the severity of the damage and how widespread it is — and especially in Linn County that you're in right now, it's been a blessing that we haven't had any more loss of life than we've had," Reynolds added.
A Federal Emergency Management Agency (FEMA) spokesman told the Associated Press that Trump approved the public assistance portion of Reynold's request. This portion of her request will secure about $45 million disbursed across 16 counties and will go toward debris removal and repairs to government buildings and utilities.
The FEMA spokesman noted that Trump had yet to approve a request for individual assistance for 27 counties, including $82.7 million for homes destroyed or with major damage, $3.77 billion for agriculture damage to farmland, grain bins and buildings and $100 million for private utility repairs.
Trump, however, told Iowa officials at Tuesday's meeting that he will provide the individual assistance.
According to the AP, the derecho storm hit Iowa on August 10, bringing in hurricane-like wind gusts that exceeded 100mph. Reynolds noted that the storm destroyed or extensively damaged 8,200 homes and 13 million acres of corn, which is about a third of Iowa's cropland.
Cedar Rapids Mayor Brad Hart explained that the disaster aid was essential as the storm impacted tens of thousands of homes. Additionally, Iowa's citizens are unable to afford the expenses from the storm as their insurance cannot cover it.
"Almost every one of our almost 60,000 homes and businesses had some kind of damage. That's how widespread it was. Most of the city didn't have power for a week. I still don't have power at my home, and there's about maybe another 20-, or 30-, or 40,000 people that are still waiting for power to come back up in Cedar Rapids," Hart said.
Last week's storm also delivered extensive damage to houses of worship, The Gazette reports. River of Life Associate Pastor Marcus Bratsch explained that he felt the church building tremble as the wind tore off the roof from the sanctuary. At the time Bratsch, a church elder, a mail carrier, and some people had walked near the church when the storm hit and sought refuge.
"I have never been through anything like that in my life," Bratsch said. "The church isn't about a building, it's about God's people. We can take comfort through that. There is pain there, too. My wife and I got married" in that sanctuary."
The storm also damaged the First Assembly of God Church, which is a few blocks down the River of Life Church.
Two-thirds of the roof was torn from the building, while the sanctuary was soaked by the heavy downpour.
According to First Assembly Pastor Brian Pingel, the storm caused $2.5 million in damage to his church.
On Sunday, both churches held a combined service, as churchgoers met in a tent in the First Assembly parking lot.
Photo courtesy: ©Getty Images/Daniel Acker/Stringer
---
Milton Quintanilla is a freelance writer. He is also the co-hosts of the For Your Soul podcast, which seeks to equip the church with biblical truth and sound doctrine. Visit his blog Blessed Are The Forgiven.