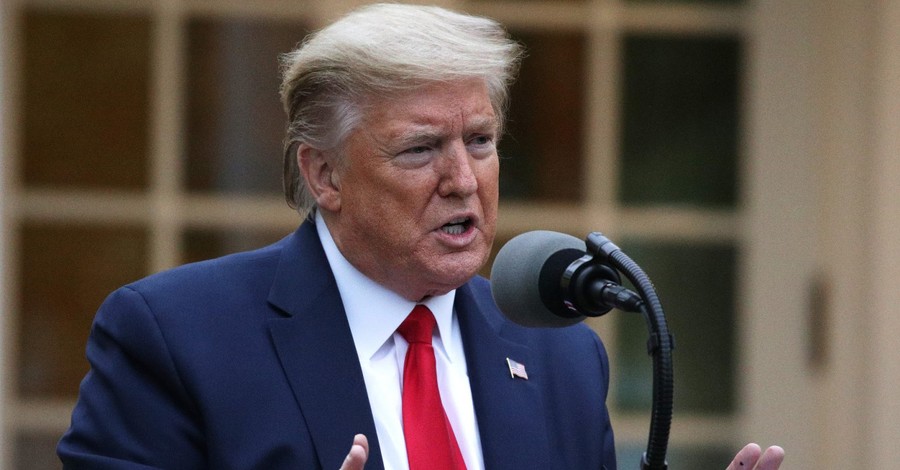 ---
On the 20th anniversary of the September 11, 2001, terrorist attacks, former President Donald Trump called Americans to pray for the nation in tribute to all those who lost their lives that day.
According to CBN News, Trump made the remarks in a pre-recorded message during worship leader Sean Feucht's "Let Us Worship" rally at the National Mall on Saturday.
"It is an absolutely profound honor to address all of you gathered at the National Mall on this very solemn day of remembrance and prayer as our nation commemorates the 20th anniversary of the terrorist attacks of September 11, 2001 ... a terrible day," Trump said.
"Two decades after nearly 3,000 Americans were murdered at the World Trade Center, the Pentagon, and a field in Western Pennsylvania, we honor the memory of every innocent soul killed in the September 11 attacks," he continued. "We cherish their legacy, and we reaffirm our everlasting vow to never forget."
Trump also paid tribute to all the first responders who rushed to help those in need, especially the many who sacrificed their lives in the process.
"The heroism of the NYPD, the FDNY, the fire department, the police department, the port authority police as well as the first responders at the Pentagon and so many others will live on in our national memory for all time," he said.
The former president also commemorated New York City Fire Department Chaplain, Father Mychal Judge, who raced inside the World Trade Center when the first plane hit.
According to video testimony, Judge was seen praying as he stood in front of a large window as some people jumped from the Twin Towers to their deaths. Moments later, he died when the South Tower collapsed.
Trump also recounted Judge's words to firefighters a day before his death.
"'You do what God called you to do. You show up, you put one foot in front of the other. You get on the rig, and you go out, and you do the job which is a mystery'," Trump quoted the late Chaplain as saying. "'You have no idea what God has called for you. You have no idea where you're going, and in some cases, you don't know why, but He needs you. He needs me, He needs all of us'," Trump continued.
The former president went on to say that Judge's words are a reminder that God is "the ultimate answer to the evil that we see here today as thousands of Americans gather on the Mall to pray for our beloved nation and to pray for one another."
In closing, Trump called on Americans to continue to pray for one another despite their differences.
"Your faith is a force that our enemies can never, ever extinguish," Trump said. "Your love of God, family, and country is more powerful than any adversaries' hatred, or malice, or scorn."
"So as we remember those Americans we lost two decades ago, we return again and again to the same simple prayer that was heard echoing all across our land in the days after the September 11 attacks. God bless our first responders. God bless our service members. God bless the memory of all who died on 9/11, and God bless America," he concluded.
Related:
Sean Feucht's 'Let Us Worship' Tour Heads to D.C. for 'Day of Prayer for America' on 9/11

Photo courtesy: ©Getty Images/Alex Wong/Staff
---
Milton Quintanilla is a freelance writer. He is also the co-hosts of the For Your Soul podcast, which seeks to equip the church with biblical truth and sound doctrine. Visit his blog Blessed Are The Forgiven.