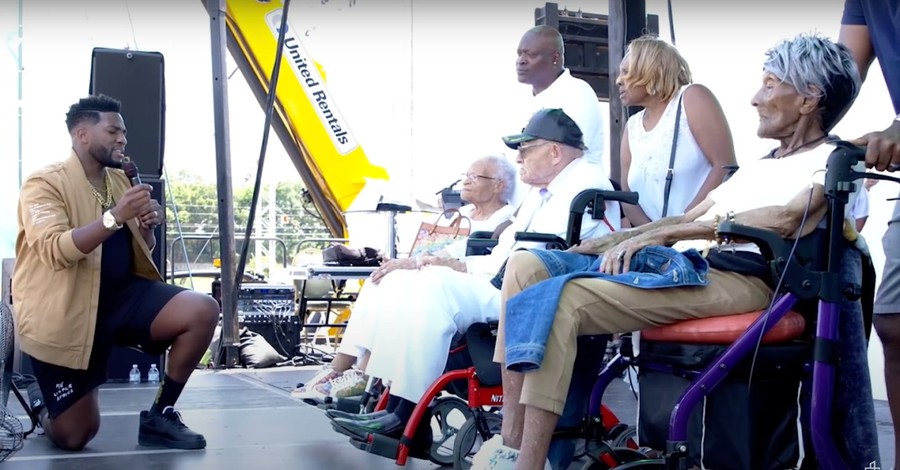 During a sermon on Sunday, Transformation Church Pastor Michael Todd gave away $200,000 checks in reparations towards the three of the only living survivors of the Tulsa Massacre, one of the deadliest race riots in U.S. history.
The Tulsa Race Massacre, which happened 100 years ago this month, is considered to be one of the deadliest race riots in history. In 1921, a white mob attacked a black Tulsa neighborhood over a period of 18 hours from May 31 to June 1, leaving hundreds dead and thousands homeless.
"Reparation is not a political word. Reparation is not a word that your left-wing friends or your right-wing friends have coined," Todd explained. "Let me give you the definition of reparations. 'The action of repairing something that was devastated.' Reparations mean that somebody is going to take up the mantle and actually put into action the process of repairing something that was destroyed."
According to The Christian Post, Todd then cited Joel 2:25, which reads: "And I will restore to you the years that the locust hath eaten, the cankerworm, and the caterpillar, and the palmerworm, my great army which I sent among you."
Todd, whose church is based in Bixby, Oklahoma, asserted that God will provide reparations and called on the church to be the first to take action.
"Reparations is not coming from them," he said, referring to the government.
Todd noted that he told his team to find "every living survivor" of the Tulsa Race Massacre, in which they managed to find the last three survivors for Sunday's service.
"Thank you for living a life that survived the devastation," the pastor told the survivors. "Thank you for appearing before Congress. Thank you."
"I'm a young black man who took over a church from a white man who built it in North Tulsa. That couldn't have happened if you all didn't survive," he asserted. "Today, we can't restore everything that has been stolen from you. But today, we can put a seed in the ground,"
Todd gave the survivors $200,000 each, which is the median price of a house in Tulsa, Oklahoma.
"It's reparations season, and change starts in the Church," he declared as the church applauded.
On Sunday, Transformation Church donated a total of $1 million to the massacre survivors and nonprofit organizations. The church also gave away $50,000 to the Terrance Crutcher Foundation, $50,000 to Build in Tulsa, $100,000 to One Race Movement and $100,000 to Greenwood Cultural Center.
Related:
Hundreds Attend Interfaith Service at Historic AME Church on 100th Anniversary of Tulsa Race Massacre

Photo courtesy: ©Transformation Church Screenshot
Video courtesy: ©Transformation Church
---
Milton Quintanilla is a freelance writer and content creator. He is a contributing writer for Christian Headlines and the host of the For Your Soul Podcast, a podcast devoted to sound doctrine and biblical truth. He holds a Masters of Divinity from Alliance Theological Seminary.
---
---