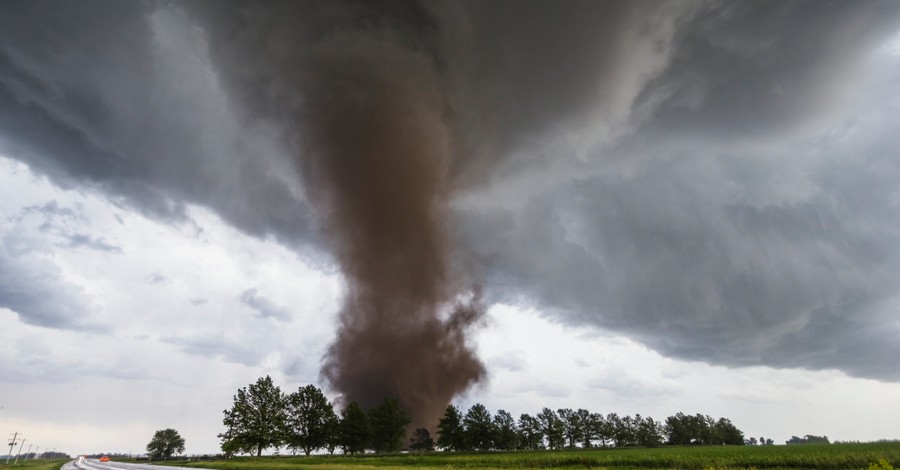 Three people were killed, and dozens were injured when a tornado struck the town of Perryton, Texas, on Thursday.
According to The National Weather Service in Amarillo, the tornado made landfall in the area shortly after 5 p.m. on Thursday. Later that evening, locals reported two people missing.
Perryton Fire Chief Paul Dutcher noted that at least one person was killed in a mobile home park after it took a "direct" hit from the tornado. Dutcher added that at least 30 trailers were damaged or destroyed.
CBN News reports that the town, which is home to more than 8,000 people and is about 115 miles (185 kilometers) northeast of Amarillo, saw damaged mobile homes and pickup trucks slammed against mounds of rubble in residential areas.
Downtown Perryton was also affected by the storm, with about two blocks of businesses, including an office supply store, a floral shop, a hair salon and the town's Main Street taking damage. Further, a minivan was reportedly pushed into the outer wall of a theater.
A few hours after the storm struck the area, broken windows were being boarded up.
The Ochiltree County Sheriff's Department had enforced a curfew from midnight to 6 a.m. Friday due to downed power lines and other potential dangers due to low visibility.
"I had seen the tornado do some pretty serious destruction to the industrial part of town," Storm chaser Brian Emfinger told Fox Weather. Emfinger also noted that he saw the tornado ravage through a trailer park.
"Unfortunately, just west of there, there is just mobile home, after mobile home, after mobile home that is completely destroyed," he added.
According to the poweroutage.us website, close to 50,000 customers were without electricity in Texas and Oklahoma following the storm.
On Thursday, Texas Gov. Greg Abbott said he had called on the state Division of Emergency Management to provide assistance in several areas ranging from traffic control to restoring water and other utilities.
Texas and other Southern states reaching Florida remain under heat advisories on Thursday and were forecast into the Juneteenth holiday weekend with temperatures increasing to 100 degrees Fahrenheit (38 degrees Celsius), with a real feel of 110 degrees Fahrenheit (43 degrees Celsius).
The tornado marks the second day in a row that severe storms have struck the Southern part of the U.S.
Photo courtesy: ©Getty Images/Mike Hollingshead
---
Milton Quintanilla is a freelance writer and content creator. He is a contributing writer for Christian Headlines and the host of the For Your Soul Podcast, a podcast devoted to sound doctrine and biblical truth. He holds a Masters of Divinity from Alliance Theological Seminary.
---
---