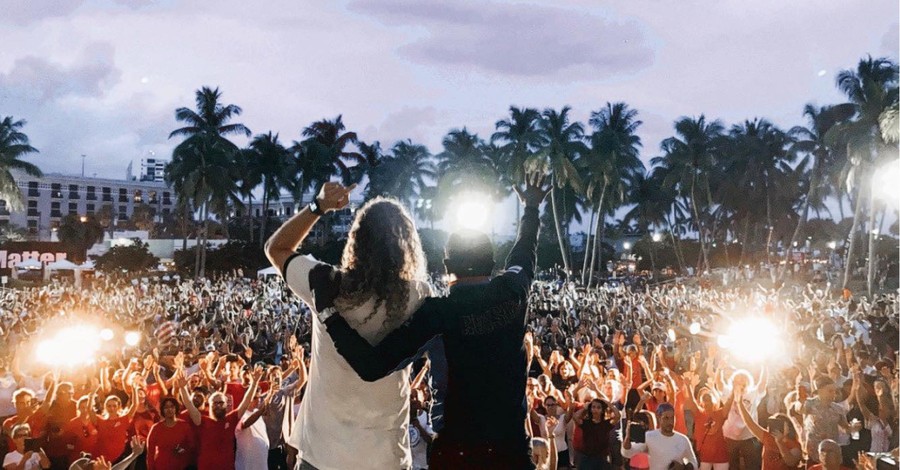 Over the weekend, worship leader and activist Sean Feucht continued his "Let Us Worship" tour across two Florida cities as thousands of Christians poured out their hearts and souls before the Lord.
According to CBN News, the tour first met on Saturday evening at Lake Eola Park in Orlando. While Saturday's forecast was rainy, that did not stop believers from attending.
In a post on Instagram, Feucht noted how people were giving their lives to the Lord, including drug addicts and prostitutes.
"Last night drug addicts and prostitutes off the streets were running to the altar to get saved!! The harder it rained, the more God kept pouring His Spirit out!!" Feucht wrote.
As one woman gave her life to Christ, she vowed that "she'll NEVER BE A PROSTITUTE ON THE STREETS AGAIN!!!!" he added. "ITS HARVEST TIME IN AMERICA!!!!!"
On Sunday, the tour continued in West Palm Beach at the Meyer Amphitheater where thousands more experienced a powerful move of God.
The city, however, had blocked off the stage forcing Feucht and his band to assemble the event on the ground, according to a video by Feucht. The worship leader also noted that the tour had met in 11 cities across the nation in 10 days.
"We're all so undone by the explosion of the miraculous we experienced! Bodies healed, marriages restored, salvations, baptisms and FIRE!!! I'll never forget it!" the worship leader wrote.
"Every night I ask the Lord while testimonies pour in 'Can this get any better?' and then it just KEEPS GETTING BETTER!" Feucht continued. "The resistance, sacrifice, weariness are all NOTHING compared when He shows up and saves, heals, and lights our hearts on Fire!"
Feucht also released a full concert film of his "Let Us Worship" tour in Sacramento, California that was held on Sept. 6. He noted that an estimated 12,000 people were in attendance.
According to Feucht's itinerary, the next stop on the tour will be in Texas, from October 2-4.
On Tuesday, Feucht also announced that he received approval for the tour to meet at the National Mall in Washington D.C. on Sunday, October 25.
"Just 9 days before the election we're gonna lift up the name of Jesus over America together! LETS SEE A SHIFT IN OUR NATION!!!" exclaimed Feucht.
Related:
12,000 People Gather for Worship Service at California State Capitol
Supernatural Revival Ensues at George Floyd Memorial Site
'Riots to Revival' Event Brings Baptisms and Worship to Kenosha, Wisconsin
Thousands of Christians Gather in Portland for 'Riots to Revival' Worship Event
Photo courtesy: Sean Feucht Facebook
---
Milton Quintanilla is a freelance writer and content creator. He is a contributing writer for Christian Headlines and the host of the For Your Soul Podcast, a podcast devoted to sound doctrine and biblical truth. He holds a Masters of Divinity from Alliance Theological Seminary.
---
---