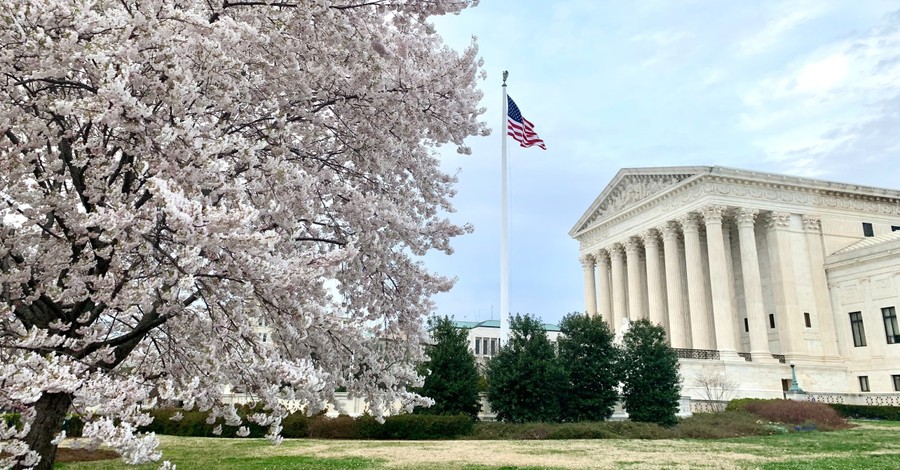 The U.S. Supreme Court will hear oral arguments today by a former Washington high school football coach who was fired in 2015 for praying on the field after games.
The case involves Joseph Kennedy, who has been embroiled in a years-long legal battle with Bremerton School District after he was fired from his coaching position in 2015. First Liberty, a Texas-based law firm representing Kennedy, is asking the Supreme Court to reverse a decision by a lower court that allowed the district to fire him.
"No teacher or coach should lose their job for simply expressing their faith while in public," Kelly Shackelford, President and CEO of First Liberty, said in a statement. "By taking this important case, the Supreme Court can protect the right of every American to engage in private religious expression, including praying in public, without fear of punishment."
Paul Clement, the former U.S. Solicitor General, a partner at Kirkland & Ellis LLP and a volunteer attorney at First Liberty, will be arguing before the nine justices.
"We look forward to presenting the Coach's case, which goes to the heart of the First Amendment, to the Justices," he said.
"Six years away from the football field has been far too long," Kenney added. "I am extremely grateful that the Supreme Court is going to hear my case and pray that I will soon be able to be back on the field coaching the game and players I love."
The nation's highest court had initially turned down Kenney's appeal in 2019, sending the case back to the lower courts. But, as Christian Headlines previously reported, the Supreme Court announced in January that it would hear Kennedy's argument after all.
Kennedy, an eighteen-year Marine veteran, began coaching at the Bremerton School District in 2008. For the next seven years, he made it a practice to take a knee and pray silently on the field after football games.
As reported by ABC News, the district did not know about his spiritual practice until 2015 and told Kennedy he must stop praying with students. Kennedy, however, argued that he never asked anyone to pray with him. Kennedy was also believed to have prayed with the team in the locker room before games.
Earlier this month, Kennedy filed his final brief with the Supreme Court.
"Today, nearly eight years after being fired for praying by himself at the 50-yard line after a football game, Coach Kennedy filed his final brief with the U.S. Supreme Court," Hiram Sasser, executive general counsel for First Liberty Institute, said in a statement.
"No one should be forced to choose between their faith and their livelihood," Sasser contended.
The court is expected to make a decision before taking off for its summer recess.
Related:
State Can Ban Pre-Game Prayers at Football Championships, Judge Rules
Supreme Court to Hear Case of Christian Football Coach Fired for Praying on the Field

Photo courtesy: Bill Mason/Unsplash
---
Milton Quintanilla is a freelance writer and content creator. He is a contributing writer for Christian Headlines and the host of the For Your Soul Podcast, a podcast devoted to sound doctrine and biblical truth. He holds a Masters of Divinity from Alliance Theological Seminary.
---
---