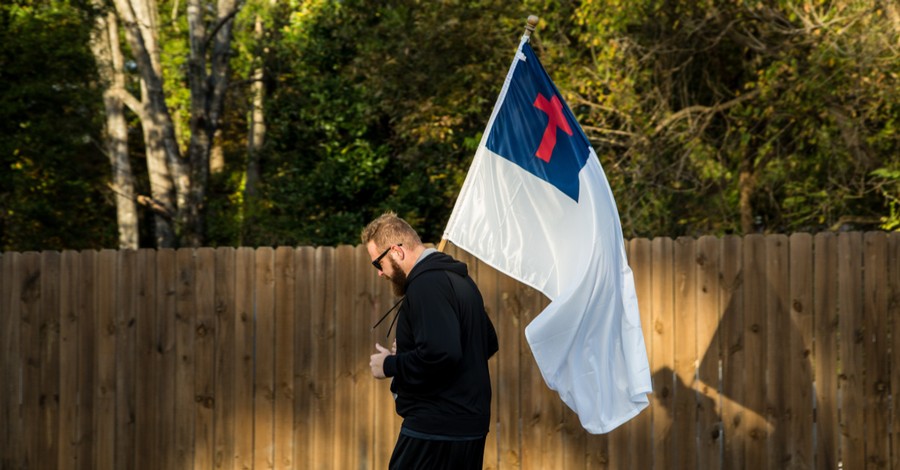 The Supreme Court is set to rule on a case that could result in wide-ranging implications on the issues of free speech and religious freedom.
Earlier today, the nation's highest court heard oral arguments in Shurtleff v. City of Boston. The case was born when the city of Boston, Massachusetts, rejected Boston resident Hal Shurtleff's application to fly a flag outside Boston City Hall because it is described as a "Christian flag." Shurtleff is accusing the city of violating the First Amendment right of free speech.
In 2017, Shurtleff and his Christian civic organization, Camp Constitution, asked the city for a permit to raise the Christian flag in honor of Constitution Day and Citizenship Day (September 17). Between 2005-2017, Boston had permitted the raising of 284 flags by private organizations on a third flagpole outside of city hall. The previously permitted flags had all celebrated other countries, cultures, and causes. The Christian flag was reportedly the only flag the city rejected.
In turn, Shurtleff sued Boston. Now his case has been taken up to the Supreme Court.
Representing Shurtleff is Liberty Counsel, a religious freedom organization devoted to protecting Christian values.
"This case is so much bigger than a flag. It really involves whether the government can open a forum for a lot of different voices and then shut the door for Christian viewpoints," Liberty Counsel Founder and Chairman Mat Staver told CBN News.
While Boston describes the third flagpole as a "public forum," the city's lawyers were expected to argue that the case is about government speech. In other words, the flagpole speaks on behalf of the city of Boston.
"That defies logic because Boston allows two competing Chinese organizations or individual groups to put opposite flags, both of the Chinese community, one pro-China, one anti-China, the other one pro-communism, the other one anti-communism," Staver explained.
"Boston cannot be pro-China one week, anti-China the next, pro-communism one week, anti-communism the next," he continued. "That's classic free speech in a public forum; that's not the speech of Boston."
Shurtleff's case has drawn the support of some unlikely allies, including the Biden administration and the American Civil Liberties Union (ACLU), a group that typically opposes religious displays on government property.
Related:
Suit: Boston Bans Christian Flag but Approves 284 Other Ones
Photo courtesy: Phil Thep/Unsplash
---
Milton Quintanilla is a freelance writer and content creator. He is a contributing writer for Christian Headlines and the host of the For Your Soul Podcast, a podcast devoted to sound doctrine and biblical truth. He holds a Masters of Divinity from Alliance Theological Seminary.
---
---