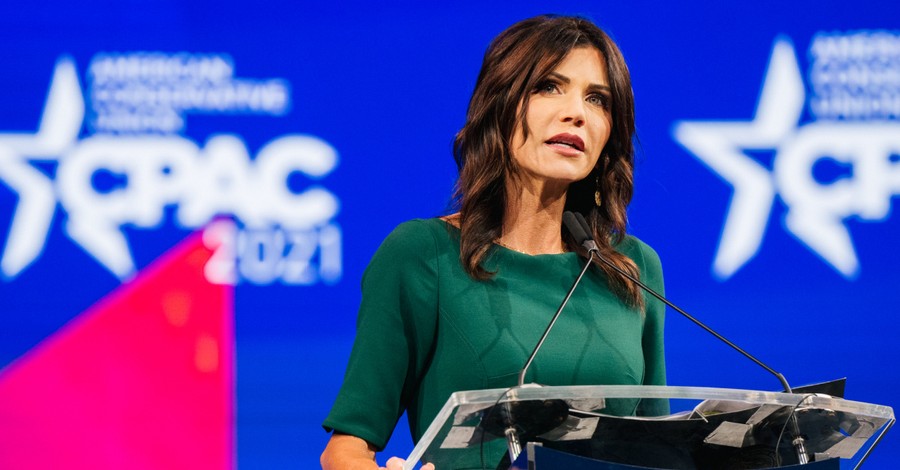 South Dakota Republicans blocked Governor Kristi Noem's proposed heartbeat bill that would ban abortions after a heartbeat is detected.
According to Fox News, the state's Republican lawmakers argued that the bill could "jeopardize" their chances of ultimately outlawing abortions in South Dakota.
Pro-life Republican House Speaker Spencer Gosch explained that the wording in the proposed legislation could intrude with a Planned Parenthood legal battle linked to a decade-old law requiring women to go to crisis pregnancy centers before getting an abortion.
The law, however, was stopped years ago and Noem has sought to take the case up to the U.S. Supreme Court.
Dale Bartscher, director of South Dakota Right to Life, said that "We were not in support of the governor's original draft language." He also noted, however, that the group would like the bill to return with revisions.
Noem, who proposed the bill during her State of the State Address last month, expressed disappointment that her heartbeat bill was not granted a hearing.
"Every single life is precious and deserving of our protection – but apparently, South Dakota legislators think otherwise. They denied to introduce my bill to protect unborn lives once a heartbeat can be detected," the conservative governor wrote in a Twitter thread on Wednesday.
It grieves me that they would take this unprecedented action at this time based on the advice of one out-of-state lawyer.

National pro-life leaders believe that now is the time to have this sort of protection in law to save lives. (2/)

— Governor Kristi Noem (@govkristinoem) February 2, 2022
Noem called the decision "unprecedented," saying that it was based on the advice of an out-of-state lawyer. She also cited the Texas Heartbeat Act, which outlawed abortions after six weeks of pregnancy, and that the nation's high court allowed, despite pushback from abortion advocates and the Biden administration.
Noem pointed out that until now, state legislators have almost always given every bill a hearing. Her bill was the first in decades to be rejected.
"To our knowledge, this is the 1st time in decades that a bill has been denied a hearing. South Dakota deserved to have a hearing on a bill to protect the heartbeats of unborn babies," Noem added. "We can hear heartbeats at six weeks, but I'm disappointed this bill was not granted a hearing."
"My focus is on ensuring that we are protecting as many South Dakota lives as possible," she concluded.
Noem also addressed the situation in a video, saying that she had been working on the bill for months and argued that the language would help build the case to overturn Roe V. Wade.
Last year, she signed several pro-life bills, such as banning abortions on babies with down syndrome and outlawing telemedicine abortions.
Related:
South Dakota Gov. Signs Bill Banning Abortions of Down Syndrome Babies
South Dakota Gov. Kristi Noem Signs Executive Order Blocking Telemedicine Abortions

Photo courtesy: ©Getty Images/Brandon Bell/Staff
---
Milton Quintanilla is a freelance writer and content creator. He is a contributing writer for Christian Headlines and the host of the For Your Soul Podcast, a podcast devoted to sound doctrine and biblical truth. He holds a Masters of Divinity from Alliance Theological Seminary.
---
---