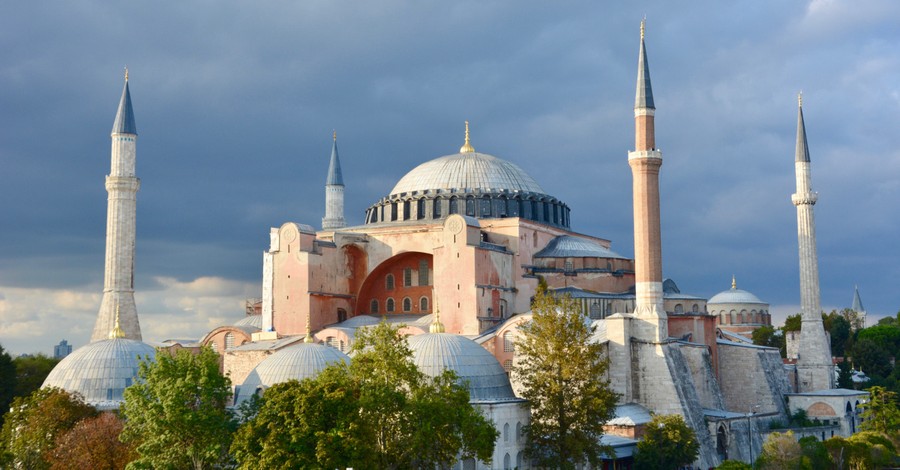 Hagia Sophia, a museum known for its religious roots in Christianity in Istanbul, Turkey, will become a mosque. Many political and religious leaders have expressed outrage over the controversial decision.
According to the Christian Post, the Hagia Sophia was erected as a Greek Orthodox Church in A.D. 537. The cathedral would go on to bear tremendous religious and historical significance as it was considered to be the seat of Eastern Christianity for 900 years until its subsequent transformation into an Ottoman mosque in the 15th century after Istanbul was captured by Sultan Mehmed II, the Conqueror.
Then in 1934, all worship at Hagia Sophia was banned as it was turned into a museum by Mustafa Kemal Ataturk, the founder of modern Turkey.
BBC News reported that the decision to turn the Hagia Sophia back into a mosque was made after a court ruling that took away it's museum status.
Turkey's President Recep Tayyip Erdogan defended the decision at a press conference last week, stating the country utilized its sovereign right.
"Like all our mosques, the doors of Hagia Sophia will be wide open to locals and foreigners, Muslims and non-Muslims," he added.
Erdogan also noted that starting July 24, Muslims will be allowed to begin praying inside the building.
Despite its transition to a Mosque, Turkish officials asserted that Christian symbols will not be removed.
Turkey's President was criticized over the decision as a distraction from the COVID-19 pandemic, which has ravaged the country's economic system.
According to a statement by Culture Minister Lina Mendoni, the ruling over the iconic building was an "open provocation to the civilised world."
"The nationalism displayed by President Erdogan ... takes his country back six centuries," she said.
The court ruling "absolutely confirms that there is no independent justice" in Turkey, she added.
According to CBN News, churches in the orthodox community also lamented the decision, including Greek and Russian Orthodox churches.
"The reaction of the orthodox community was ignored. For the Orthodox church, Hagia Sofia is as important as St. Peter's Basilica in Rome for Catholics," said Metropolitan Hilarion, spokesman of the Moscow Patriarchate. "The church was built in the 6th century and was devoted to Christ the Savior. For us, it has been and will always remain the church devoted to Christ."
"Now with this move, Erdogan is once again asserting Islamic supremacism and domination on Turkey's ethnic and religious minorities," Aykan Erdemir of the Foundation for Defense of Democracies added.
According to an Arabic Facebook post, Erdogan stated that the "revival of the Hagia Sophia is a sign towards the return of freedom to the al-Aqsa mosque" in Jerusalem.
The post also stated that Hagia Sophia's transformation "is a greeting from our heart to all cities from Bukhara to Andalusia."
Bukhara is in modern-day Uzbekistan and Andalusia is today's Spain. Both names refer to the Islamic goal of reclaiming lands previously under its rule.
Erdogan believes that what happened in Turkey is the starting point of what is to come in the future.
"This is just one of many steps he has taken and will continue to take to socially engineer Turkey into a majoritarian, authoritarian, and sectarian regime." Erdemir noted. "And this will have repercussions beyond Turkey in the Middle East, that many other supremacists sectarian state and non-state actors who would like to impose their will on ethnic and religious minorities.
"So, I would expect other [forced] conversions of religious heritage minority sites in the Middle East and beyond," he added.
Hagia Sophia draws over 3.7 million visitors each year, making it Turkey's most popular tourist site.
Photo courtesy: ©Adli Wahid/Wikimedia Commons/Creative Commons
---
Milton Quintanilla is a freelance writer and content creator. He is a contributing writer for Christian Headlines and the host of the For Your Soul Podcast, a podcast devoted to sound doctrine and biblical truth. He holds a Masters of Divinity from Alliance Theological Seminary.
---
---