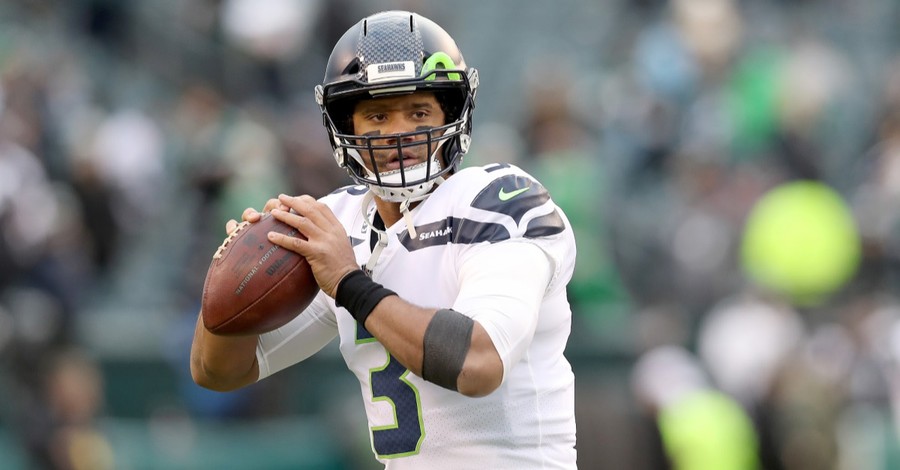 ---
Seahawks quarterback Russell Wilson, who recently became the fastest quarterback to reach 100 wins, made sure to attribute glory to Jesus Christ for the achievement.
Wilson, who is a devout Christian, scored three of the Seahawks' four touchdowns in defeating the San Francisco 49ers 28-21 on Sunday. According to CBN News, he went on to post a chart on Twitter where he praised the Lord after he was ranked as the fastest quarterback to reach 100 wins during his NFL career.
"Jesus ... YOU get ALL the Glory," he tweeted.
In a post-game press conference on Sunday, Wilson commended his teammates and addressed his ambition to be victorious in every game.
"That's why I play the game, is to win. Just to be in great company with some amazing players in the history of this game … it's pretty special."
Citing his father's example, Wilson stressed the importance of hard work to the next generation of athletes who look to him for inspiration.
"I think back to my Dad - when he used to wake me up in the morning - and before, I didn't really want to wake up that early," Wilson recalled. "He used to try to wake me up at 5:15, 5:30 in the morning and he'd knock on my door and say 'Son, you want to be great?' every day," Wilson recalled. "I started answering the call, you know. I tried to be up earlier than him."
"To any young kid out there too, I think about the hard work," he continued. "Hard work pays off. You have to put the work in. There's no mistaking hard work. I think back to my mom and my dad. They both demonstrated so much faith and they believed in my brother, my sister and I so much that they always encouraged rather than discouraged."
As Christian Headlines previously reported earlier this year, Wilson accepted the NFL's Man of the Year Award during the Super Bowl pregame show Sunday. He also offered a brief speech which focused on his late father, who passed away in 2010, while paraphrasing from 1 Corinthians 13:4-8.
"To America, to the world, 'love is patient, love is kind.' Love changes things. The great Walter Payton once said, 'We are stronger together than we are alone.' Dad, I think Walter was right," Wilson said at the time. "To the young boy or girl who has a dream, who wants to make a difference, remember this one thing: 'Love always protects, always trusts, always hopes, always perseveres.' Love changes things."
Photo credit: ©Getty Images/Rob Carr/Staff
---
Milton Quintanilla is a freelance writer. He is also the co-hosts of the For Your Soul podcast, which seeks to equip the church with biblical truth and sound doctrine. Visit his blog Blessed Are The Forgiven.