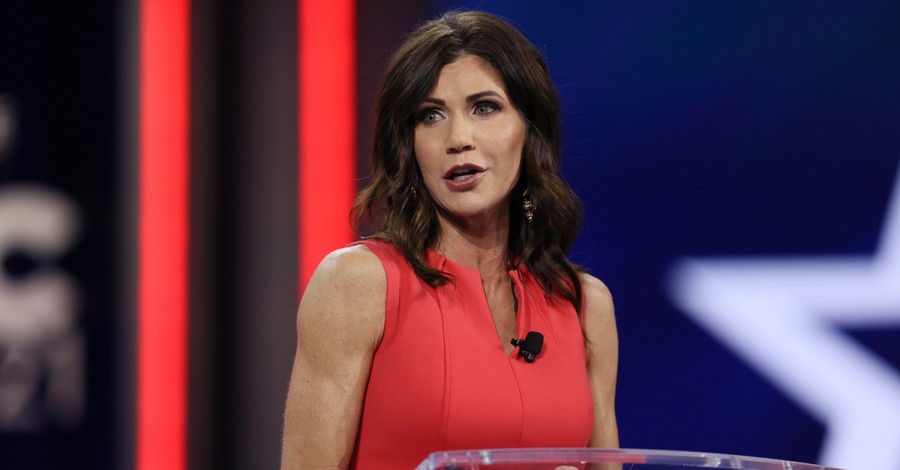 ---
South Dakota Governor Kristi Noem announced the creation of a multi-state coalition designed to protect women's sports from having to incorporate transgender athletes.
Noem had recently come under fire from conservatives after she called for a "style and form" revision of the Women's in Fairness Sports Bill, which she had previously promised to sign after the state Senate passed it earlier this month.
During a press conference on Monday, the Republican governor explained that she had been in talks with legal scholars over the bill who informed her that it would likely bring on legal action by the National Collegiate Athletic Association (NCAA), an organization overseeing over 1,000 American colleges and universities.
According to The Christian Post, Noem noted that "South Dakota's chances of winning a lawsuit against the NCAA are very low," according to the legal experts.
For instance, the NCAA could take punitive action against the state, such as withdrawing from tournaments and preventing South Dakota athletes from playing in the association's leagues if she signed the current bill.
"We could pass a law, then we could get punished, then we could face expensive litigation at taxpayer expense, and then we could lose," Noem warned. "We'd have nothing but a participation trophy."
In response, Noem announced the formation of a coalition called DefendTitleIXNow.com, which will "consist of athletes, leaders and everybody who cares about protecting women's sports."
"Once we have enough states on board, a coalition … big enough where the NCAA cannot possibly punish us all, then we can guarantee fairness at the collegiate level," she contended.
Noem also called on other state governors and attorney generals for their support. She noted that the new coalition seeks to bring together athletes from all competition levels, including professional and high school athletics.
At the present time, Oklahoma Gov. Keven Stitt has "indicated his support" for the coalition, according to Noem. She added that Mississippi Gov. Tate Reeves, who recently signed a bill banning transgender males from female sports, would also be joining.
Noem's press conference also featured special appearances by other supporters of the coalition, including former NFL players Herschel Walker and Jack Brewer, as well as female athletes who live in South Dakota.
Photo courtesy: ©Getty Images/Joe Raedle/Staff
---
Milton Quintanilla is a freelance writer. He is also the co-hosts of the For Your Soul podcast, which seeks to equip the church with biblical truth and sound doctrine. Visit his blog Blessed Are The Forgiven.