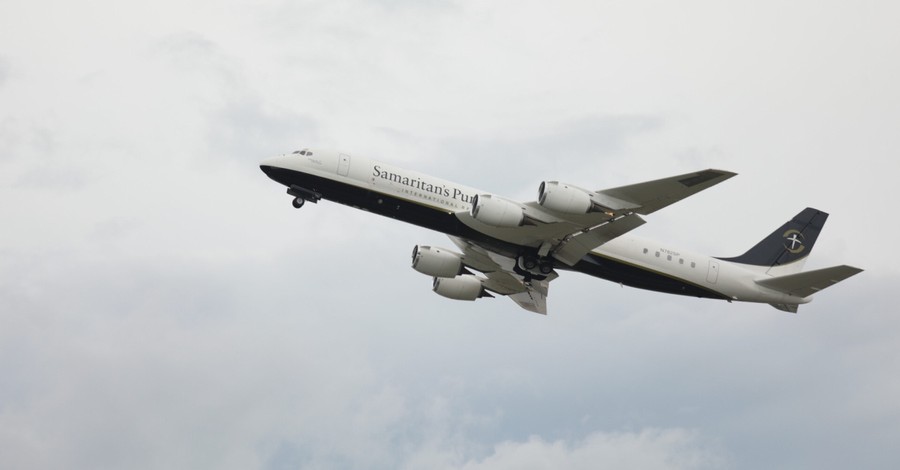 On Sunday, Evangelical Christian humanitarian aid organization Samaritan's Purse airlifted 28 Ukrainian refugees to safety in Toronto, Canada, from Poland.
The organization used one of its DC-8 cargo planes to carry grandmothers, mothers and children of all ages.
Natalia, who is eight months pregnant, shared that it has been a difficult and emotional journey for her and her family.
"It has been so hard. We were preparing for our new baby, and then we had to put our whole life in a suitcase," Natalia explained. "We did not know where we would go. We just ran away. Then God gave us mercy when we were found by Samaritan's Purse. We can have hope again," she said.
As reported by CBN News, Natalia and the other Ukrainians on the flight have family members in Canada that they will be staying with as the war rages on in Ukraine.
Evangelist Franklin Graham, the president of Samaritan's Purse, has visited Ukraine twice since the war began, including delivering a special Gospel message on Easter Sunday.
"God bless these people who have been through so much and had to leave everything behind except what they could carry," he said during the final clearance for the airlift. "They are desperate and hurting. We need to continue to pray for the people of Ukraine and do everything we can to help them."
In a post on Twitter, he shared a video of the airlift.
Watch as our @SamaritansPurse DC-8 and team carried out a special mission with Ukrainian refugees… pic.twitter.com/Iqke2cAfvc

— Franklin Graham (@Franklin_Graham) May 16, 2022
Samaritan's Purse, based in Boone, North Carolina, has been conducting operations in Ukraine and its surrounding countries since Russia invaded Ukraine on Feb. 24. So far, the organization has set up an emergency field hospital in the besieged country and has conducted 13 airlift missions to deliver over 330 tons of relief supplies.
Samaritan's Purse doctors and nurses are also working at multiple medical facilities across Ukraine. Collectively, they have tended to over 8,700 patients.
Further, Samaritan's Purse has provided more than 1,433 tons of food to Ukraine and Moldova and 17,500 backpacks for children.
Related:
U.S. to Accept 100,000 Refugees from Ukraine
How Christian Aid Groups Are Helping in Ukraine
'God Save Ukraine': Christian Leaders React to Russian Invasion
Samaritan's Purse to Set Up Emergency Field Hospital in Ukraine
Evangelist Franklin Graham Delivers a Special Easter Message from Ukraine

Photo courtesy: ©Samaritan's Purse, used with permission.
---
Milton Quintanilla is a freelance writer and content creator. He is a contributing writer for Christian Headlines and the host of the For Your Soul Podcast, a podcast devoted to sound doctrine and biblical truth. He holds a Masters of Divinity from Alliance Theological Seminary.
---
---