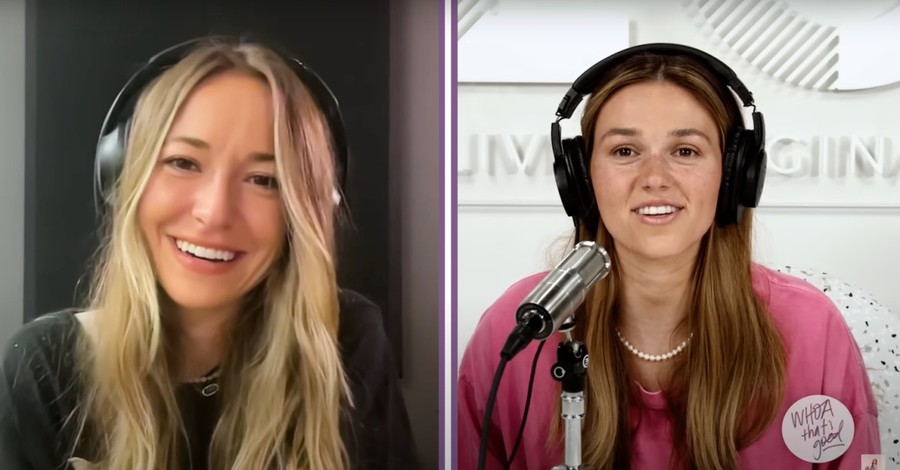 Sadie Robertson Huff recently sat down with Grammy Award-winning Christian artist Lauren Daigle to discuss mental health and share advice on trusting in God amid panic attacks.
On the Aug. 31 episode of Huff's Whoa That's Good podcast, Daigle shared her struggle with anxiety and panic attacks.
"To know joy is to know sorrow. And to know joy is to know pain. To know joy is to know depression because you know what God has brought you through," Daigle started.
"I only say this to say I went through a series of panic attacks — like legitimate, probably should have gone to the hospital — panic attacks, and some of them happened on airplanes. I'm saying this to say, for anybody who's in the process of that right now ... it is real. …," Daigle shared.
"You feel like you're crazy. You do wonder what is going on, like, 'I feel like something else is taking over my body.' But these are the things that I really feel like the Lord has brought me through," she continued.
Daigle further shared what helped her deal with the panic attacks, including breathing exercises, reciting Scripture, and reminding herself that God is in control.
"God created the world. It says that He 'breathed the world into existence. He breathed life.' If I am feeling like I'm dying — that's what a panic attack is; it's a fight-or-flight response — if I'm feeling like I'm dying, but I have access to the King of Kings and the Lord of Lords who created this world with breath, I'm going to say, 'Alright, God, I'm going to breathe. I'm going to breathe through this moment because you can give me life in this moment," Daigle shared.
"But I'm not going to just breathe. I'm going to take on the role of the Spirit and say, 'God, let Your Holy Spirit minister to me in the process of this craziness,'" she continued.
"Then I would say, 'God, make me courageous. Give me boldness. Make me courageous in the midst of my fear.' Because courage isn't just looking at fear and being like, 'I'm going to figure out the shortcut.' Courage is saying, 'Even being afraid, I'm going to continue to move forward.'"
According to The Christian Post, Huff, of "Duck Dynasty" fame, opened up about her battle with anxiety and shared how she's been able to help her 2-year-old daughter, Honey, whenever she feels anxious.
"I'm so thankful that you share that. Truly, because I've been through that, and those tips have been so helpful," Robertson told Daigle.
"Those are the exact things I'm teaching Honey right now. She's 2 years old, but she already gets anxious. And her two Bible verses that she knows now are 'Fear not, for I'm with you,'" she continued.
"The other day [Honey] started getting scared in her room, and I heard her say, 'Fear not, for I am with you.' And she said, 'There's no monsters.' And it was so sweet. And then, she'll go, 'The joy of the Lord makes me strong.' And she does that when she's sad. … I'm already giving her those tools. … Even now, when she says that, it shifts her mind."
Daigle previously took a five-year hiatus from music to focus on her mental health before returning in 2021 to work on her new album. Despite initial feelings of anxiety, Daigle managed to use the creative process to work through them.
"[God] always talks about renewing your mind," she said. "And I realized, through the process of making this record, how vital that is. I know that anxiety attacks and panic attacks and fear are taking over mental health. We hear that talked about all the time. But there's something that comes with renewing your mind.
"I was in a space where I really needed to finesse that in my life. … And so, I say all that to say that the process of making this record was very restorative and redeeming. I started the process of writing with so much fear, with so much intimidation, feeling like I had just experienced whiplash because my whole career just came to a screeching halt," she continued.
"This record God used to rejuvenate me and to remind me of the pure things, remind me of the good things, remind me of the things that actually matter, not just according to the industry, but according to the Kingdom," Daigle concluded.
Listen to Daigle's new self-titled album here.
Photo courtesy: ©Sadie Robertson Huff YouTube Channel Screenshot
Video courtesy: ©Sadie Robertson Huff YouTube Channel
---
Milton Quintanilla is a freelance writer and content creator. He is a contributing writer for Christian Headlines and the host of the For Your Soul Podcast, a podcast devoted to sound doctrine and biblical truth. He holds a Masters of Divinity from Alliance Theological Seminary.
Related podcast:
The views and opinions expressed in this podcast are those of the speakers and do not necessarily reflect the views or positions of Salem Web Network and Salem Media Group.
Related video:
Thumbnail courtesy of Canva.com Stock footage courtesy of soundstripe.com
---
---