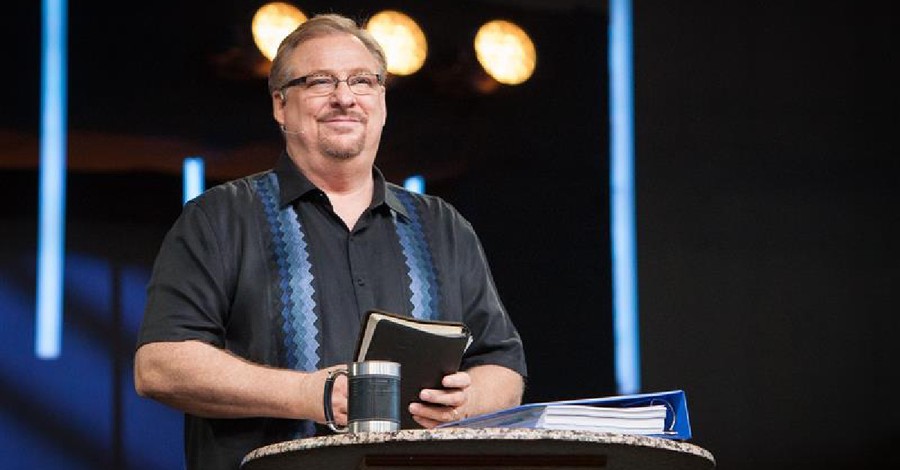 Pastor and bestselling author Rick Warren recently shared some health challenges he has faced in the current season of his life.
"I've been in a two-year battle with an autoimmune disease," Warren told host Ed Stetzer and co-host Daniel Yang on the Stetzer ChurchLeaders Podcast. "It's not life-threatening. It won't even last. It lasts between three to five years. But without getting into all the details, the bottom line is it leaves my muscles, all my major muscles in pain pretty much 24 hours a day."
Warren, who co-founded Saddleback Church in Lake Forest, California, in 1980 with his wife, Kay, shared that his condition has challenged his current ministry goals, including wanting all people worldwide to have access to a church and the Bible in their mother tongue. He also wants every person to hear the gospel directly from another person, beyond the media, and for people around the globe to be prayed for by name at least one time in the next 10 years.
"It's tough walking, working, but it hasn't changed the way that I think," he said. "And the problem is I sometimes feel like I am this brain on fire and I'm in a wheelchair. I'm not [actually] in a wheelchair, but the bottom line is, it's difficult to move around."
"I do believe, as Scripture says, my times are in his hands, and I want to be directly in the center of the will of God. I don't want to get ahead of his will. I want to get behind his will. I want to be at the pace that he wants," he continued. "And so everything that happens in our lives is Father-filtered. That's really part of what's in the book, too, is that nothing can come into my life without the Heavenly Father's permission."
As reported by Church Leaders, Warren stressed the importance of trusting God and seeking our dreams, which is further discussed in his new book, "Created to Dream."
"The Bible says you'll have all kinds of trials," the pastor said. "Don't be surprised at this. This is no accident. It moves to prove your faith. God loves to turn crucifixions into resurrections."
"While you're working on the dream, God is working on you," he continued. "God is more interested actually in what you're becoming than he is in what you're doing."
"God's will is like a scroll. He unrolls a little bit [at a time]…You're not going to ever see a map of your whole life," Warren said. "I've discovered that timing is everything. It really, really is everything. And God can do more in three months in his timing than I can do in 10 years of my planning."
Warren is the author of the bestselling book, "The Purpose Driven Life" and recently published his first book in 10 years titled, "Created to Dream: The 6 Phases God Uses to Grow Your Faith."
In 2022, he stepped down as lead pastor at Saddleback after four decades of ministry.
Photo credit: ©Saddleback Church
---
Milton Quintanilla is a freelance writer and content creator. He is a contributing writer for Christian Headlines and the host of the For Your Soul Podcast, a podcast devoted to sound doctrine and biblical truth. He holds a Masters of Divinity from Alliance Theological Seminary.
---
---