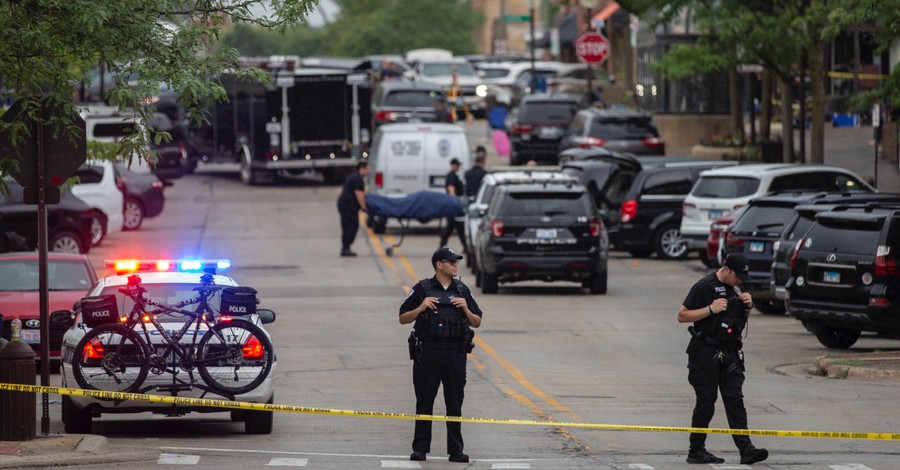 Police have arrested a man suspected of killing at least six people during an Independence Day parade in Highland Park, Illinois, on Monday.
According to USA Today, authorities named 22-year-old Robert E. Crimo III as a person of interest in the mass shooting at a parade celebrating the 4th of July holiday.
"This individual is believed to have been responsible for what happened," Lake County Deputy Chief Christopher Covelli said.
On Monday evening, a North Chicago police officer spotted and briefly chased Crimo, who was driving a silver Honda Fit. He was arrested just before 7 pm, about 5 miles north of the shooting site. Police also recovered a high-powered rifle at a rooftop, where Crimo carried out the mass shooting at around 10:14 am.
"This doesn't necessarily mean this is over, but we are certainly encouraged that we have a person of interest," Highland Park Police Chief Lou Jogmen said.
The shooting, which took place shortly after the parade began at 10 am, left six people dead and dozens injured. Among those killed was a Mexican national, according to Roberto Velasco, Mexico's director for North American affairs, on Twitter.
Footage posted to social media shows people fleeing the scene as the event was disrupted by gunfire in Highland Park, a suburb 25 miles north of Chicago on Lake Michigan that is home to about 30,000 people. Numerous lawn chairs, wagons and bicycles were left scattered along the parade route.
"Our community was terrorized by an act of violence that has shaken us to our core," Highland Park Mayor Nancy Rotering said. "On a day when we came together to celebrate community and freedom, we are instead mourning the tragic loss of life."
Several witnesses detailed what transpired during Monday's mass shooting.
"When everything started happening, we thought it was the Navy saluting the flag. Shots rang out. I grabbed my kid and ran," Alexander Sandoval, a 39-year-old contractor, told USA Today.
"They looked scared. They were panicking. You never see those things here. It's a quiet place," said 28-year-old Manuel Rangel, who saw dozens of people run past his house.
Sharon Genest, 70, who was at the parade with her 8-year-old granddaughter, shared that band members suddenly dispersed and ran as gunfire rang out.
"I was only two blocks away. And when they said 'run,' you run. But everybody started to panic,"
she said. "There was a little pandemonium."
As reported by WGN News, Crimo went by the name "Awake The Rapper" and posted videos foretelling violent acts, including him dramatizing a school shooting and an animation of him lying in a pool of blood following a confrontation with police.
Roterberg told the outlet that she knew the suspect because his father unsuccessfully ran against her for mayor in 2019.
Crimo is also believed to have had mental health issues stemming back to middle school. Some sources have noted that he struggled in school and described him as a reclusive student. When the district offered him resources and help, Crimo's parents reportedly declined and offered to homeschool him instead.
In the wake of Monday's mass shooting, officials in more than 10 communities near Highland Park canceled other celebrations. The Chicago White Sox, which initially had a postgame fireworks show Monday, held a moment of silence for the victims and their families.
"The entire Chicago White Sox organization expresses our deepest sympathies to the families and friends of the innocent victims of today's horrific shooting and all of those who have been affected by this tragedy," the team wrote in a statement.
Photo courtesy: ©Getty Images/Jim Vondruska/Stringer
---
Milton Quintanilla is a freelance writer and content creator. He is a contributing writer for Christian Headlines and the host of the For Your Soul Podcast, a podcast devoted to sound doctrine and biblical truth. He holds a Masters of Divinity from Alliance Theological Seminary.
---
---