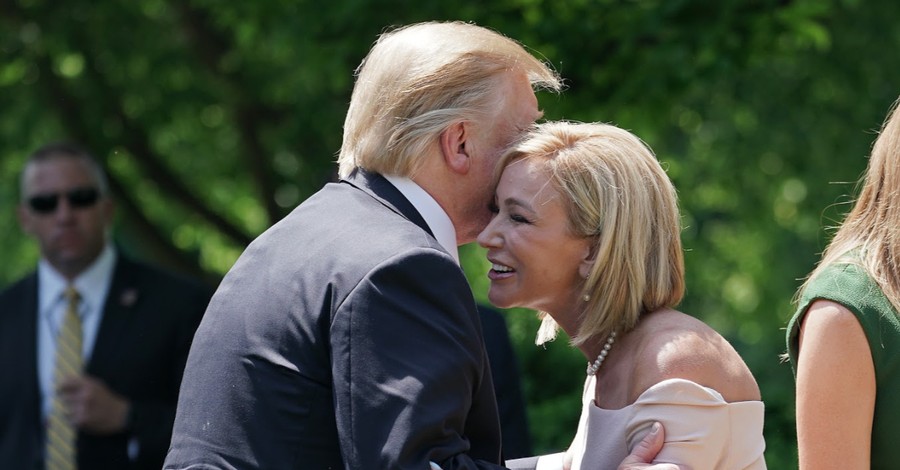 Paula-White Cain, the spiritual advisor to President Trump and the president of Paula White Ministries, is making the case for why she believes Christians should give President Trump a second term.
White-Cain's case for Trump is part of a new series by Ed Stetzer for Christianity Today that will offer cases on both sides of the political spectrum as Christians make their votes in the 2020 election.
White-Cain starts her article by explaining that she has personally known the president for over 19 years.
"I've seen him firsthand as a father, a husband, a leader, a businessman and now the President of the United States of America," she wrote.
"I also recognize most people have secondhand information that mischaracterizes the man I know. Therefore, I will talk about the "good fruit" (or what we call in politics – "policy") that has come from this "good tree" – President Trump."
In making her case to Christian voters, White-Cain highlighted Trump's first term policies and accomplishments.
She argued that President Trump has delivered on his promise to appoint originalist judges to the Supreme Court "who would protect our religious freedoms and not legislate from the bench." In Trump's first term, he has appointed over 200 judges along with 3 Supreme Court justices.
"He has flipped three of the Circuit Courts and given us a supermajority on the Supreme Court," she added.
White-Cain also praised Trump for being "all in" on the pro-life agenda" as over sixty million children have been aborted across the nation.
She added that Trump was the first president to speak at March for Life, a pro-life rally, and that he expanded the Mexico-City policy, which prohibited over $9 billion of taxpayer-funded abortions on foreign grounds.
Regarding national and international support of religious freedom, White-Cain asserted that it represents "the very heart of President Trump's domestic and foreign policy."
Through executive orders, Trump has mandated religious freedom training to all State Department employees "and granted hundreds-of-millions of dollars" to pro-religious freedom programs, including in Iraq and Syria.
White-Cain also cited Trump's "astonishing" foreign policy record including his signing of the historic Abraham Accord, moving the Israeli Embassy to Jerusalem, ending America's foreign wars, "and defeating ISIS while ending the reign of the arch-terrorists Soleimani and Al-Baghdadi."
Additionally, Trump has "negotiated peace between Kosovo and Serbia and - just this week - announced a new agreement with Sudan bringing it into the modern world alongside its own peace with Israel," White-Cain wrote.
White-Cain went on to note that through Trump's economic policies, he has been able to build "the largest economy in American history." She added that under his administration there has been "record homeownership and record low unemployment for women and people of color."
White-Cain also highlighted Trump's strengthening of minority communities and the promotion of social justice, including his signing of the First Step Act, which has released thousands of Americans from prison.
Trump has also "provided permanent funding for historically Black colleges and universities," she added.
White-Cain claimed that Trump has done more in the area of social justice "than any other," including "the religious left," who constantly call for social justice reform.
Moreover, White-Cain noted that Trump has "significantly, regularly reached across the aisle with a problem solvers mentality" despite resistance from the Democrats.
"That's why so many of [his] policies aren't traditional, Republican policies, and it's why evangelicals have found in this President someone who promotes much more of what they support than those who came before," she continued.
White-Cain concluded her article contending that Trump "isn't ashamed of America" and he is willing to fight for all Americans, including those who dislike him.
"He believes America is still the brightest light on the global horizon and— despite our flaws— we should never reject our identity," she said.
Despite criticisms of Trump's personality, White-Cain stressed that policies are what elections are truly about.
"They are about policies and policy is character when you do what you say you will and—especially—when those policies are righteous," she concluded.
Photo courtesy: ©Getty Images/Chip Somodevilla/Staff
---
Milton Quintanilla is a freelance writer and content creator. He is a contributing writer for Christian Headlines and the host of the For Your Soul Podcast, a podcast devoted to sound doctrine and biblical truth. He holds a Masters of Divinity from Alliance Theological Seminary.
---
---