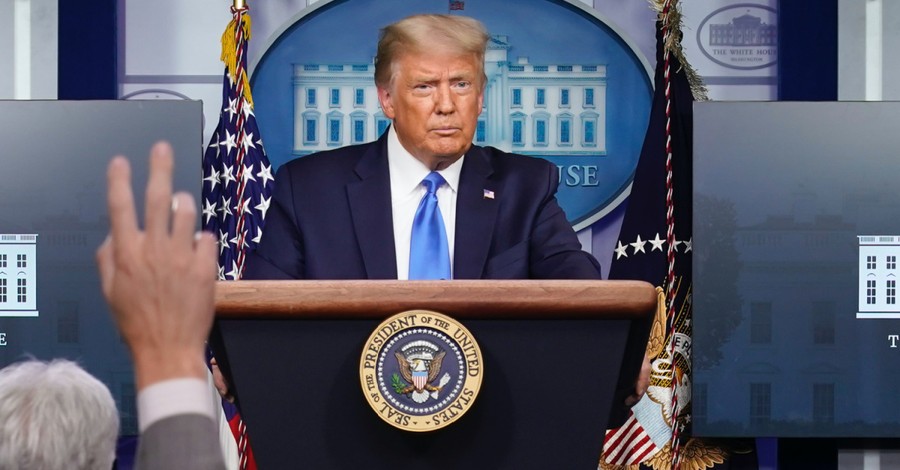 ---
One pastor recently claimed that prophets who prophesied a victory for former President Donald Trump in the 2020 election have the power to call him back to the White House "for three terms."
Pastor Robin Bullock, founder of Alabama's Youth Force Ministries Church International and host of the weekly "prophetic" YouTube program The Eleventh Hour, made the claim during his sermon at a Tuesday church service, Newsweek reports.
Leading up to the election, a number of self-professing prophets, including Bullock, prophesied a consecutive second term win for Trump. When the prophecies fell short, however, prophets, such as Jeremiah Johnson, have issued public apologies for their inaccuracy.
Yet Bullock still holds to his claim asserting that Trump is still "the rightful president", despite not presently holding public office.
In a clip posted by Right Wing Watch, Bullock asserts that prophets need to start using "prophetical authority", adding that "we've got to come up now to another level and start speaking with authority. Not just declaring, speaking with authority."
"And the Lord is going to give you words to warn people and speak to people in high-ranking positions. Whether you think they're listening or not, they're listening," he continued.
"The stage is set," Bullock said. "But you're going to have to pray for the rightful president, whether he wants to walk back into this or not. You must pray that he wants to do it, because God won't make him do anything. Is it his will? Yes. Is he the president? Yes. That's why he could just walk right back in, and God will supernaturally move things out of the way."
Bullock added that it was evident Trump was still president just by listening to him speak.
"Even now the rightful president, Donald J. Trump, will hold a rally, and you can tell he's still the president," Bullock said. "All you have to do is listen to him. He's the president."
"We're gonna have to start publicly talking about that he's the president. I know they will say, 'Really? Why would you say that in public?' Because he is!" Bullock declared.
"Don't mess with us, Satan. Don't mess with us, corrupt political regimes. Don't mess with God's people like that, because I'm going to tell you something: If you mess with us, we'll call him back for three terms. Don't mess with us," he concluded.
Photo courtesy: ©Getty Images/Joshua Roberts/Stringer
---
Milton Quintanilla is a freelance writer. He is also the co-hosts of the For Your Soul podcast, which seeks to equip the church with biblical truth and sound doctrine. Visit his blog Blessed Are The Forgiven.