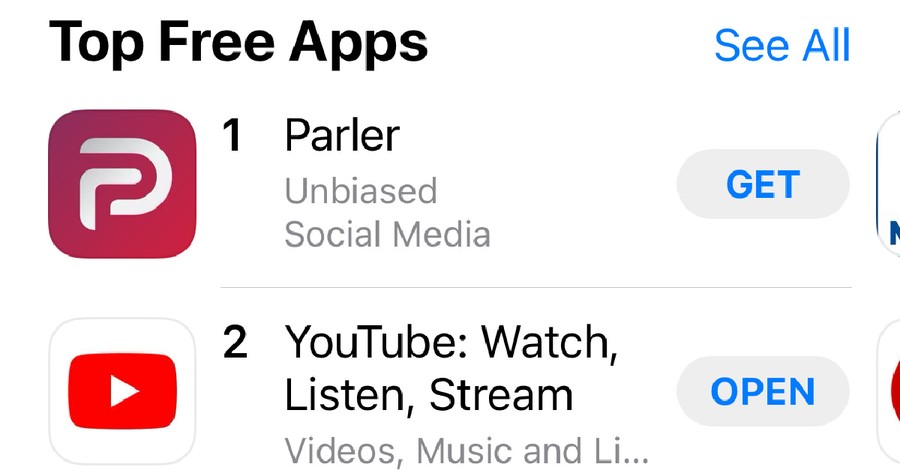 ---
Many conservatives and Trump supporters are opting for the conservative-leaning social networking platform called Parler as an alternative to Twitter and Facebook due to the latter two's increasing censorship and suppression of free speech, CBN News reports.
Launched in 2018, Parler is described as a "free speech" platform that supports equality and religious freedom.
In the past week alone, the platform saw a surge of downloads following the 2020 election as its users feel like Twitter, Facebook and the mainstream media have unfairly called the election in favor of Joe Biden.
On Tuesday, Parler CEO John Matze wrote a letter as he thanked the Parler community for joining the platform in massive numbers.
"Over 5 million individuals were active on Parler yesterday, an 8-fold increase from daily activity just a week ago," Matze noted. "Our session activity has increased by well over 20 times during the same period.
"Facebook and Twitter's suppression of election information was a catalyst, causing many people to lose their trust," he added. "But the movement away from these platforms was already well underway. Many of you have been activists alongside us, calling out the lack of transparency and unjust, biased policies of our competitors, as part of the Twexit and Erasebook campaigns we launched earlier this year."
Due to increasing big tech censorship throughout the year, many conservatives, pro-lifers and White House affiliates are flocking to Parler.
Prior to the 2020 election, CBN News reported that an advertisement put out by the pro-life organization Susan B. Anthony List had been censored by Facebook, despite the factual content presented within the ad.
One of the lines of the ad reads, "Biden and Harris support abortion up to the moment of birth, all at taxpayer expense. And they promise to nominate only pro-abortion judges."
Last month, White House Press Secretary Kayleigh McEnany claimed that Twitter locked her account until she deleted a tweet of a New York Post story about Hunter Biden's foreign business dealings.
Donald Trump Jr. had also been restricted by Twitter over the summer after sharing a video about COVID-19 and medical interventions.
As of Thursday morning, Parler topped the list of free apps on Apple's mobile app store.
Photo courtesy: Apple Store Screenshot
---
Milton Quintanilla is a freelance writer. He is also the co-hosts of the For Your Soul podcast, which seeks to equip the church with biblical truth and sound doctrine. Visit his blog Blessed Are The Forgiven.