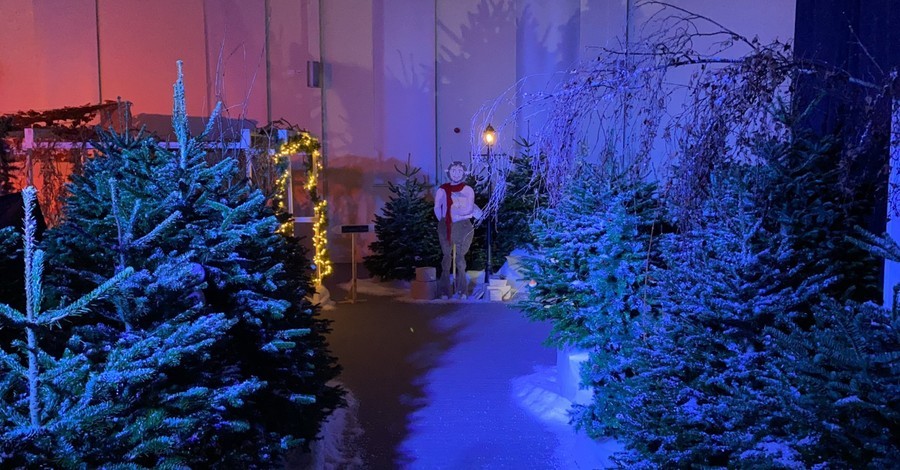 In an effort to share the Gospel of Jesus Christ, Cornerstone Church in Nottingham, England is bringing the world of Narnia to life this Christmas season.
The church, which usually seats 600 people, turned its auditorium into a snowy forest featuring characters from the classic children's book, Narnia: The Lion, The Witch and The Wardrobe, by C.S. Lewis.
The doors of the church resemble a wardrobe as it leads visitors into a passageway of fluffy coats. Once inside the church, people can walk through a room with 35 trees covered in snow while offering children activities at different stops as the story progresses. Characters from the story include Aslan the lion, the White Witch, and a life-sized Mr. Tumnus.
The Narnia Experience also offers Turkish Delight, a sugary treat that the Witch offers Edmund Pevensie, one of the four Pevensie children who all serve as the main protagonists in the story.
Kathryn Jackson, who works at Cornerstone, told Premier Christian News about her idea to share the Good News through the Narnia Experience.
"The world of Narnia is quite broken at the start, it's quite bleak and that's a bit like 2020, but then there's joy and there's hope because Aslan comes and he brings light and resurrection," Jackson explained. "And we just really wanted to tell that story, to tell the biblical narrative – that there is joy and there is hope – in a creative and really COVID-secure way."
She added how it makes the most of a bad situation in light of churches being limited in their gatherings.
"Because doing acts of worship are not very participatory at the moment, you can't sing, you can't really do very much, we wanted to do something where children could come and have quite a creative experience of worship," she continued.
Jackson explained how church members participated in the Narnia themed auditorium by creating snowflakes, Mr. Tumnus, as well as paper mâché lions and sleighs.
The turnout so far has been a success, to the point where the church had to extend the number of visiting hours due to its popularity.
Colin Webster, who serves as a pastor and worship leader at the church, noted in a post on Twitter that over 1,000 people have already booked a visit to the "Narnia Experience," which began on Dec. 18 and will end on Dec. 29.
"Great evangelistic opportunity in these difficult times," he wrote on Twitter. "Fantastic to see so many folks from the congregation using gifts to create this."
Over 1000 people booked in to our Narnia Experience which starts tomorrow and continues till 29th Dec. great evangelistic opportunity in these difficult times. Fantastic to see so many folks from congregation using gifts to create this. pic.twitter.com/AIBEwr5dl0

— Colin Webster (@colinwsongs) December 17, 2020
Jackson explained that members of the church family were thrilled and that there was "more than one grown-up who shed a tear."
Despite a tumultuous year, Jackson hopes that, through the church's efforts, people will be reminded of an "eternal hope and a glorious future" this Christmas season.
"Even if you live somewhere where unfortunately there are Tier 4 restrictions, or your Christmas plans have just been thrown into disarray, there is eternal hope and a glorious future awaits and I think that feels quite tangible when you're in there," she concluded.
Photo courtesy: ©Colin Webster Twitter
---
Milton Quintanilla is a freelance writer and content creator. He is a contributing writer for Christian Headlines and the host of the For Your Soul Podcast, a podcast devoted to sound doctrine and biblical truth. He holds a Masters of Divinity from Alliance Theological Seminary.
---
---