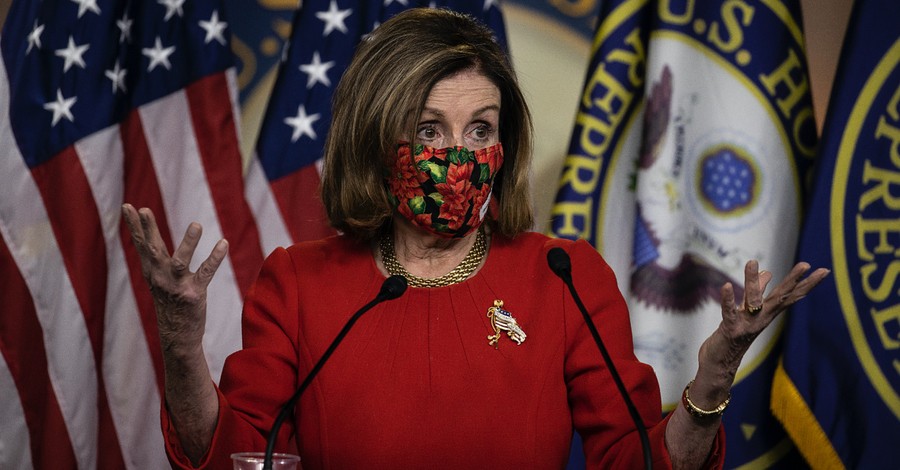 ---
During a segment on MSNBC on Tuesday, House Speaker Nancy Pelosi broke her silence on the Archbishop of San Francisco's decision to bar her from receiving Communion because of her support for abortion.
Pelosi, a professing Catholic, appeared on a segment on MSNBC's Morning Joe with host Joe Scarborough on Tuesday after Scarborough delivered a monologue about how "disconcerting" it is to see a ban on communion "over a political issue that Jesus never once mentioned in the Gospels." Scarborough was referring to abortion.
He claimed that Christ refused to talk about abortion even though it was "both a political and a philosophical issue in Ancient Greece and in Rome when Jesus was alive."
Citing Scripture, the MSNBC host explained that Christ "told his disciples in Matthew 25 that we would be welcomed into the kingdom of heaven if we gave water to the thirsty, fed the hungry, clothed the poor, and brought hope to the hopeless.
"We were to lead with forgiveness and love," he added.
After Scarborough completed his monologue, Pelosi was invited on the air. It was then that she criticized people "who side" with the church on abortion.
"Thank you for referencing the Gospel of Matthew, which is sort of the agenda of the church that is rejected by many who side with them on terminating a pregnancy," the House Speaker said.
She seemed to take a shot at the Communion ban the San Francisco Archbishop issued against her on Friday. The archbishop said Pelosi is not permitted to receive Communion until she retracts her support for abortion.
"This decision taking us to privacy and precedent is very dangerous in the lives of so many of the American people and again not consistent with the Gospel of Matthew," she said.
As reported by Faithwire, Pelosi told Scarborough that she comes from a largely pro-life family and that she respects differing opinions on abortion except for when it's forced on others.
"What is important for women to know, and families to know, that this is not just about terminating a pregnancy," she said. "These same people are against contraception, family planning, in vitro fertilization. It's a blanket thing, and they use abortion as the frontman for it while they try to undo so much."
She also said that the church seems to employ a double standard when it comes to abortion in comparison to the death penalty.
"I wonder about the death penalty, which I am opposed to," Pelosi said. "So is the church, but they take no action against people who may not share their view."
According to Fox News, Pelosi reportedly took Communion on Sunday in Washington D.C.
The Roman Catholic Archdiocese of Washington, D.C., does not currently plan to deny pro-choice politicians from taking Communion.
Related:
Pelosi's Archbishop Bars Her from Communion over Abortion Stance: It's a 'Grave Moral Evil'

Photo courtesy: ©Getty Images/Tasos Katopodis/Stringer
---
Milton Quintanilla is a freelance writer. He is also the co-hosts of the For Your Soul podcast, which seeks to equip the church with biblical truth and sound doctrine. Visit his blog Blessed Are The Forgiven.