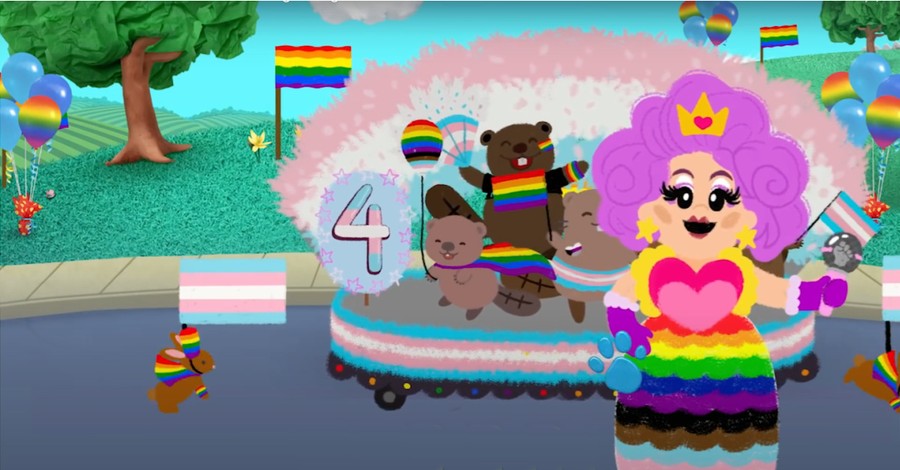 ---
In honor of this year's Pride Month, Nickelodeon's Blue's Clues & You released an animated music video featuring a drag queen singing along with gay, transgender, and non-binary animals during a parade for Pride Month.
According to CBN News, the song follows the melody of "The Ants Go Marching" as the drag queen, whose name is Nina West, urges the show's young audience to celebrate gay, lesbian, pansexual, transgender, non-binary, and bisexual parents. The lyrics of the song were also changed to cater to the LGBTQ community.
The animals comprised multiple LGBTQ families as they waved rainbow and other striped flags.
"All families are made differently, they love each other so proudly," West sang while holding a microphone with the "black power" fist symbol on it.
In a post on Instagram last weekend, West wrote, "Is there a better way to kick off Pride Month than with my pal, Blue?! No way! Singing and dancing in the streets celebrating Pride is so much fun, especially with all of our new friends!"
West is best known for appearing in the 11th season of the television series RuPaul's Drag Race.
The video was released just days prior to Pride Month, which runs annually in June. Critics of the video warned how children are being targeted by gender confusion and sexualized themes.
For instance, the video featured a trans-identified beaver family, as online commentators noted that one of the beavers appeared to have scars on its chest, apparently resulting from a double mastectomy surgery.
In an email to The Christian Post Monday, the author of the book Desist, Detrans, & Detox: Getting Your Child Out of the Gender Cult and the co-founder of the recently-formed Partners for Ethical Care, Maria Keffler, described the move by Blue's Clues as "disappointing and disturbing".
"Pre-adolescent children do not nor should not have explicit knowledge about or driving interest in sex or gender identity," she contended. "Ethical professionals who work with children have long recognized that when young children are conversant about sexual behaviors, this is strongly suggestive of having been introduced to such material by adults who do not have the child's best interests at heart."
Keffler also noted that the "well-documented tactic that child sexual predators employ when grooming a child for sexual abuse is to introduce sexual topics and materials to the child who is being targeted."
"Blue's Clues' introduction of sex and gender material indicates either a troubling lack of understanding about the basics of child psychological development or that the show's writers and producers intend to groom children toward early and developmentally inappropriate encounters with sex and gender topics," she claimed.
Keffler told The Christian Post that it is time to recognize the dangers of gender ideology and how it results in experimental medicalization and surgeries.
"No child is born in the wrong body, and how dare anyone suggest that they could be," Keffler asserts. "Blue's Clues, sadly, is no longer a trustworthy partner to parents."
As Christian Headlines previously reported, Blue's Clues released an alphabet song in February featuring references to LGBTQ pride.
Photo courtesy: Blue's Clues & You/Nickelodeon
Video courtesy: Blue's Clues & You
---
Milton Quintanilla is a freelance writer and content creator. He is a contributing writer for Christian Headlines and the host of the For Your Soul Podcast, a podcast devoted to sound doctrine and biblical truth. He holds a Masters of Divinity from Alliance Theological Seminary.