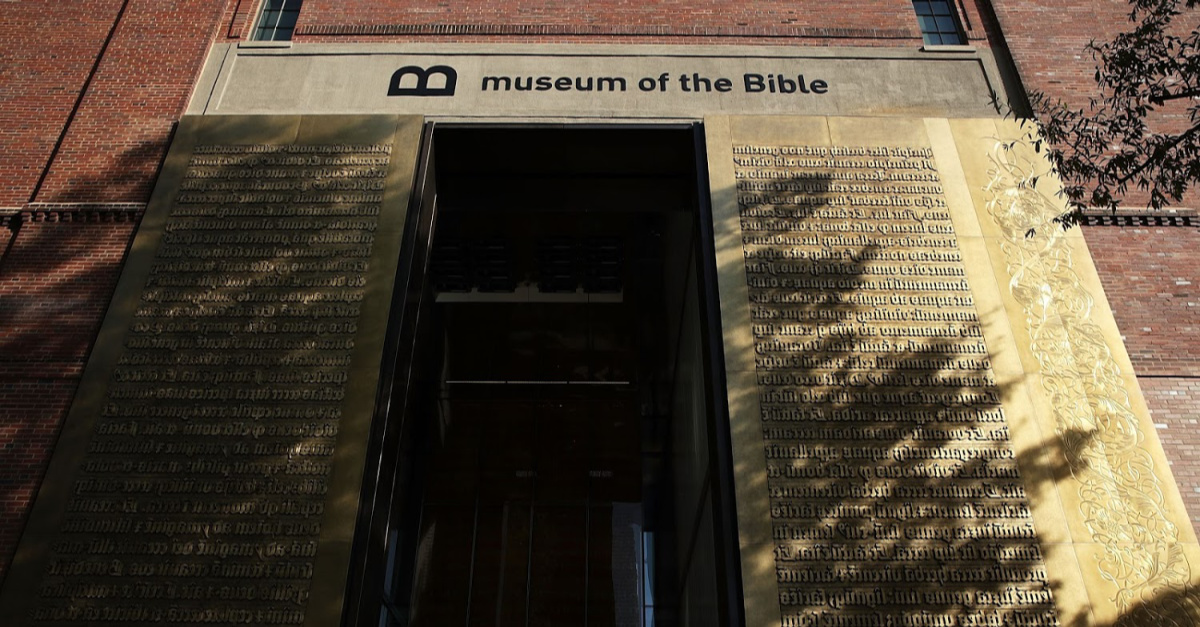 ---
About 11,500 antiquities are being given back to the Iraqi and Egyptian governments by Steve Green, president of Hobby Lobby and chairman of the Museum of the Bible.
According to Christianity Today, "ancient clay seals and fragments of papyrus" housed in the Museum of the Bible were possibly "looted or stolen" and lack "complete documentation."
Green had acquired the antiquities prior to the museum's grand opening in Washington, DC, in November 2017 but admitted in a statement issued on Sunday that he fell short when it came to "appreciating the importance of the provenance of the items I purchased."
In the official statement, Green acknowledged that the Museum's early mistakes that resulted in "a great deal of criticism over the years," which he asserted "was justified."
"The criticism resulting from my mistakes was justified," Green wrote on the Museum's website.
"My goal was always to protect, preserve, study, and share cultural property with the world," he continued. "That goal has not changed, but after some early missteps, I made the decision many years ago that, moving forward, I would only acquire items with reliable, documented provenance.
"Furthermore, if I learn of other items in the collection for which another person or entity has a better claim, I will continue to do the right thing with those items," Green added.
The announcement was made after an investigation funded by the museum discovered 16 fake fragments of the Dead Sea Scroll that were exhibited by the Museum.
Additional cases include the museum returning 13 stolen Egyptian papyrus fragments from the University of Oxford last year.
And in 2017, Hobby Lobby was fined and ordered by the federal government to return thousands of cuneiform tablets along with other antiquities found to have been removed from war-torn Iraq illegally and brought to the United States labeled incorrectly as "ceramic tiles" by a United Arab Emirates-based dealer.
Museum officials hope that its "collection's controversial beginnings" are put to rest.
"We understand that there's been questions all along," said chief curatorial officer Jeffrey Kloha.
He notes of the museum's ongoing conversations from the past two and half to three years "to work through all of the questions, talk to the right people, to look at different options."
In 2017, staff members were told by the museum board to confirm the historicity of every item in the museum's collection, along items personally acquired by Green that did not make its way into the museum's collection.
Kloha adds that 2 years were undertaken by twenty curators and registrars, "checking documentation on the roughly 60,000 objects held in Washington, DC, and in a climate-controlled warehouse owned by Hobby Lobby in Oklahoma City."
The majority of objects are Bible and printed materials with an easily traceable history unlike harder to trace items such as, "mostly tiny clay seal impressions" and papyrus fragments that will be repatriated as they are thousands of years old.
The only exhibited item from the repatriated items is "a clay tablet recounting the Babylonian Epic of Gilgamesh."
"Very few of the papyrus have any kind of literary text at all," Kloha said. "If there's any writing it's typically a documentary item, a receipt, or a letter. The vast majority are small, heavily damaged pieces."
Despite the museum's surrounding controversy, repatriation efforts have been received by various Middle Eastern government officials, in which potential future partnerships can be made.
"We would be very interested in loans that bring some of their items here to the US, to help people here in the US understand the important history in these countries, the contributions that they have made and continue to make, to culture and to society," Kloha said.
Critics of Green and the museum have either placed them "under a cloud of suspicion" or were commended by some scholars of biblical antiquities for working "to make things right."
Christopher Rollston, professor of Semitic languages at George Washington University, considers the matter to be a "part of the past" and that he would take family and friends to the museum.
Lawrence Schiffman, professor of Hebrew and Judaic Studies at New York University, agreed.
"The museum deserves to be praised," Schiffman said. "From the day it opened, the museum told the truth. They have been completely kosher about this."
Related:
All 16 Dead Sea Scroll Fragments at Museum of the Bible Are Forgeries, Investigation Finds
Photo courtesy: ©Getty Images/Alex Wong/Staff
---
Milton Quintanilla is a freelance writer. Visit his blog Blessed Are The Forgiven.