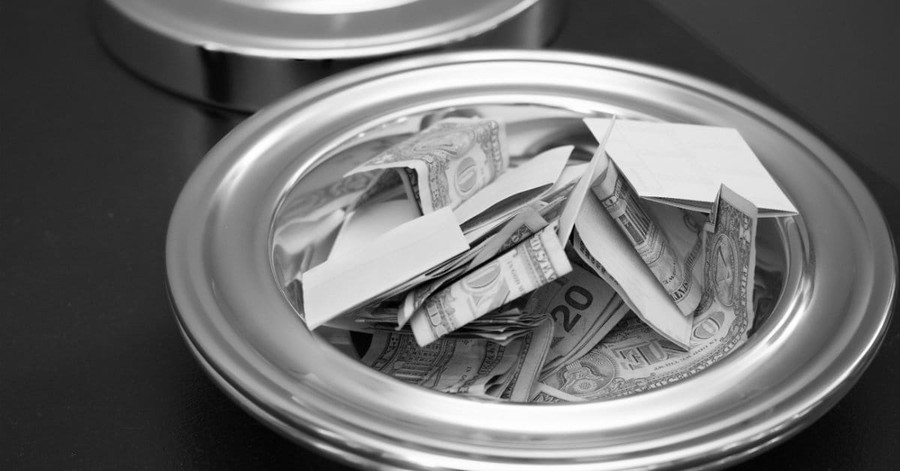 According to a new Barna study, most pastors do not believe Christians are mandated to tithe 10 percent of their income.
The study, titled Revisiting the Tithe & Offering, revealed a minority of Americans who profess to be Christians give 10 percent of their income to their church.
The surveyed pastors held various views on the practice, including 70 percent who said tithing isn't strictly financial and 33 percent who said the traditional10 percent is an acceptable tithe.
Another 21 percent of pastors did not encourage a specific amount of income in tithing, suggesting that it should simply be "enough to be considered sacrificial." Meanwhile, about 20 percent of pastors believe Christians should tithe as much as they are willing.
According to The Christian Post, U.S. adults and Christians who partook in the Barna study did not fully understand the concept of tithing. As Christian Headlines previously reported, about two in five U.S. adults in the study knew the term "tithe" and were able to define it. A similar share said they were familiar with the term.
Conversely, 22 percent were familiar with the term "tithe" but could not define it.
Less than half of practicing Christians in the study could provide a definitive definition for tithing. More than half of believers were more familiar with what tithing is and what it entails, and 99 percent of pastors understood the traditional practice.
The study also showed that 21 percent of Christians had given 10 percent of their income to their local church, while 25 percent did not give to their church at all. Regarding practicing Christians, the study found that 42 percent gave at least the traditional 10 percent of their income to their church.
"Church leaders and Christians may wonder whether it matters if the tithe falls out of the mainstream. After all, church giving should not be reduced to an equation, and heartfelt, reverent generosity can be accomplished with or without deep knowledge of the tithe," the Barna study explained.
"Still, as a fundamental, scriptural idea of Christian stewardship becomes a hazy concept, it appropriately raises questions — about how modern ministries approach funding and resources, and, more importantly, about the broader culture of generosity being nurtured among Christians."
The study is the latest release in Barna's The State of Generosity series in collaboration with Generis and Gloo. The survey was conducted from Nov. 12-19, 2021, using a nationally representative sample of 2,016 U.S. adults.
Related:
Only 43 Percent of Christians Can Define 'Tithing': Barna Poll
Photo courtesy: EBonilla14
---
Milton Quintanilla is a freelance writer and content creator. He is a contributing writer for Christian Headlines and the host of the For Your Soul Podcast, a podcast devoted to sound doctrine and biblical truth. He holds a Masters of Divinity from Alliance Theological Seminary.
---
---