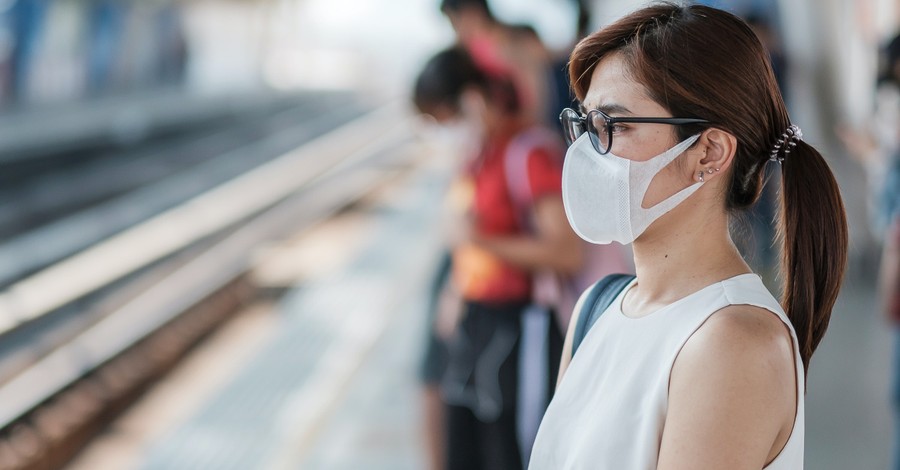 According to a recent poll by The Joshua Fund, most Americans believe that the COVID-19 pandemic and Russia's invasion of Ukraine are signs of biblical prophecies being fulfilled ahead of Christ's return.
The Joshua Fund, a non-profit educational and humanitarian relief organization, commissioned an exclusive national poll that was conducted by McLaughlin & Associates between March 17 and 22. Joel C. Rosenberg, the founder and chairman of The Joshua Fund, broke down the polling data by age, gender, political affiliation, race, region and religion.
Americans, including evangelical Christians, were asked various questions about recent significant world events, including the pandemic and the ongoing war between Russia and Ukraine.
According to CBN News, the poll found that nearly 40 percent of Americans (39.8 percent) believe Russia's invasion of Ukraine is a part of the biblical prophecy where Christ warned of "wars and rumors of wars" in the last days before His second coming.
Just over 40 percent (40.3 percent), however, rejected that notion and 19.9 percent said they were unsure if the Russian invasion was a sign of the End Times.
"Some Christian leaders have speculated that the current war is setting into motion the prophetic war described in the Book of Ezekiel (chapters 38 and 39), widely known among Bible scholars as the 'War of Gog & Magog'," Rosenberg wrote in a blog post.
"My colleagues at The Joshua Fund and I believe it is premature to draw such a conclusion. Ezekiel 38 and 39 do not describe a Russian invasion of Ukraine," he contended. "As I have written about widely – and discussed on the podcast – Ezekiel described a military alliance led by Russia and Iran against a prophetically reborn State of Israel in the 'last days.' This war has never happened in human history, and the prophecy has yet to pass."
Pointing to Christ's warning of "severe plagues" before His return, respondents were also asked if the COVID-19 pandemic was a sign of the End Times.
In response, 4-in-10 Americans (40.1%) agreed that the pandemic was a sign of biblical prophecy being fulfilled, while 41.1 percent disagreed, and 18.7 percent said they did not know.
Referencing a national survey commissioned by The Joshua Fund in March 2020, which was around the same time the virus was spreading across the globe, Rosenberg noted that more Americans are now saying the pandemic and subsequent economic recession are evidence that we are living in the "last days."
"We specifically asked if Americans believed that the coronavirus and the resulting economic meltdown were signs that we are living in what the Bible calls the 'last days'," he explained.
"At that time, we found that 29.4 percent said they agreed. Thus, we have seen a nearly 11-point increase over the last Joshua Fund poll results," The Joshua Fund chairman noted.
The remaining two questions on the poll asked Americans questions about Iran and its possible use of nuclear weapons.
Nearly half of Americans believe that the nuclear deal currently being discussed between the international community and Iranian leaders will make the world "more dangerous" by giving the country "enormous new oil revenues and making it easier for Iran to fund – and hide – its efforts to build nuclear weapons."
On the other hand, 31.3 percent of Americans believe that a new nuclear deal "will make the world safer by truly preventing Iran from building nuclear weapons."
The survey also found that 67.6 percent of Americans believe that "the Iranian regime wants to use nuclear weapons to carry out their repeated threats to 'wipe Israel off the map' and bring about a Second Holocaust." Only 12.5 percent of respondents disagreed that "a nuclear-armed Iran" would pose "a real threat to Israel."
Related:
8 Ways You Can be Ready for Jesus' Return
Hank Hanegraaff Criticizes 'Prophecy Pundits,' Says They're Wrong about Russia, Ezekiel
The Bible 'Predicted Specific Events' about 'Russia's Future,' David Jeremiah Says
Russia's Invasion of Ukraine Is Setting Stage for Attack on Israel, Pat Robertson Says
Does Russia's War on Ukraine Fit in Biblical Prophecy? Pastor Greg Laurie Says it May
Gog and Magog: Who Are They and What Do They Have to Do with the Last Days?

Photo courtesy: ©Getty Images/Panuwat Dangsungnoen
---
Milton Quintanilla is a freelance writer and content creator. He is a contributing writer for Christian Headlines and the host of the For Your Soul Podcast, a podcast devoted to sound doctrine and biblical truth. He holds a Masters of Divinity from Alliance Theological Seminary.
---
---