Milton Quintanilla
| Contributor for ChristianHeadlines.com
| Wednesday, September 29, 2021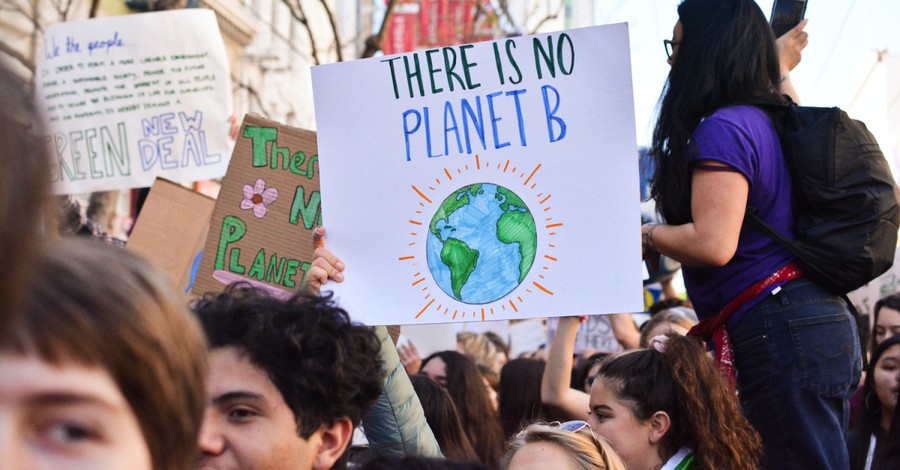 A pastor from Kenosha, Wisconsin, recently announced that he will be fasting from food until Congress passes a $3.5 trillion budget bill as part of President Joe Biden's climate change policy.
In a Facebook post on Saturday, the Rev. Jonathan Barker, who leads Grace Lutheran Church, announced that God was leading him to fast over the climate change bill, which would direct billions of dollars towards the conversion to renewable energy.
"At 4:26 pm this afternoon, I took my last bite of stir fry vegetables and rice and started what I hope will be my last multi-day fast for climate justice," he wrote.
A picture of Barker wearing a "Green New Deal" hat as he ate his last meal before the fast accompanied the post. While he initially wanted to avoid the fast, Barker says that the Lord continued convicting him.
"Like Jonah, I feel like I was running in the exact opposite way God wanted as I put off this fast," he explained. "But this morning, like Jeremiah, when I woke up, God put a fire in my bones I could no longer ignore."
"So this afternoon, as I made lunch, I told Rae what God was calling me to do, and she encouraged me to follow my heart," the pastor continued.
According to The Christian Post, Barker's church is affiliated with the Evangelical Lutheran Church in America, a liberal denomination.
In his Facebook post, Barker described the importance of the climate bill, calling it "a once-in-a-species moment to avoid catastrophic warming."
"The path to limiting global warming to 1.5 degrees is to pass this big climate bill in the United States and then use that as leverage at COP 26 in Glasgow this fall to convince other countries to take strong climate action as well – they have been waiting for us to act," he added.
While Barker hoped that the bill would pass as early as Monday, the proposed legislation failed to pass the Senate after Republican Senators voted against it. Senate Democrats, however, will attempt to pass a bill funding government operations after the fiscal year ends on Thursday.
It is unclear as to whether Barker broke the fast.
In the Facebook post from Saturday, Barker stated that he would closely evaluate how he is feeling each week and determine whether he will continue fasting.
"Also, if I get to 6 percent body fat, I will immediately stop fasting," he added.
"I would appreciate your prayers for miraculous strength for this fast and quick action in passing this climate bill," Barker concluded.
This is not the first time Barker has fasted over climate change. According to Kenosha News, in 2019, the Lutheran pastor embarked on a 12-day fast in support of the Green New Deal.
"Jesus would support the Green New Deal," Barker said at the time. "At the heart of Jesus' teaching, and his ministry, is the command to love our neighbor as yourself. At the heart of the Green New Deal, and in each of its proposals, is loving your neighbor."
Photo courtesy: ©Li An Lim/Unsplash
---
Milton Quintanilla is a freelance writer and content creator. He is a contributing writer for Christian Headlines and the host of the For Your Soul Podcast, a podcast devoted to sound doctrine and biblical truth. He holds a Masters of Divinity from Alliance Theological Seminary.
---
---