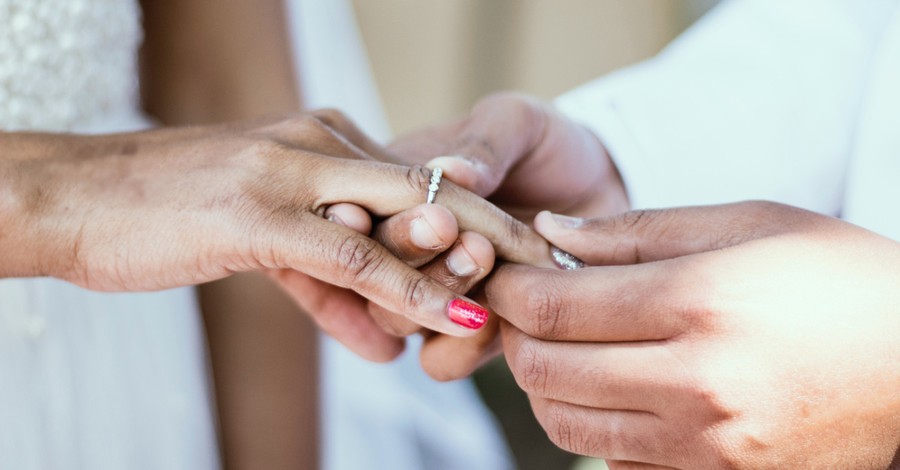 According to a new survey, the number of Americans who believe that high marriage rates contribute to the bettering of society has dropped.
The annual 2021 American Family Survey, which was released Tuesday by Deseret News and the Center for the Study of Elections and Democracy at Brigham Young University, examines Americans' attitudes toward marriages, families and relationships.
The results of the survey found that just 45 percent of Americans believe that society is "better off" when "more people are married." This percentage is reportedly the lowest in the survey's history, according to the summary report. In the 2017 release of the American Family Survey, 56 percent of Americans agreed that with more marriages comes a better society.
The 2021 survey also discovered that just 52 percent of Americans believe that marriage is needed to create strong families. This is a 10 percent drop from 2015.
When asked if they find marriage "old-fashioned and out-of-date," 19 percent of respondents said they agreed, and 64 percent said they disagreed. The percentage of people who think marriage is old-fashioned increased by seven percent from 2015.
The survey further found that people today are becoming slightly "less attached" to marriage as "an institution."
"Though we would not want to imply that marriage is in trouble as an institution, there is slight erosion in its popularity," the researchers said in their analysis of the data.
Hal Boyd, the executive editor of Deseret News, told The Christian Post that statistics show that getting married provides a variety of benefits, and he hopes more people would recognize them.
"Marriage provides stability and life satisfaction, and those who get married often have more longevity and better financial wealth and physical and mental health," he said, adding that marriage also makes life better for children.
Boyd noted that fear of divorce and lack of religious affiliation are two reasons why people avoid marriage. He said that more religious people than secular people get married because of the Bible's teaching on marriage. He added that fewer secular people will likely get married as the world drifts further from religious affiliations.
"Many say they believe in God, but mostly in traditional religious circles is when we see there's an increase in marriage," Boyd said.
The 2021 Family Survey is the 7th annual effort from the Deseret News and the Center for the Study of Elections and Democracy at Brigham Young University. YouGov, who conducted the poll, initially interviewed more than 3,200 Americans between June 5 and July 8. The final results, however, were drawn from 3,000 people.
The survey comes after a recent Pew Research survey which noted that, over the past three decades, more American adults have begun living without a romantic partner. The results found that 39 percent of people were not living with a spouse or partner in 2019, up from 29 percent in 1990.
Regarding marriage, the Pew data indicated that 53 percent of adults were married in 2019 compared to 64 percent in 1990.
Photo courtesy: Benita Elizabeth Vivin/Unsplash
---
Milton Quintanilla is a freelance writer and content creator. He is a contributing writer for Christian Headlines and the host of the For Your Soul Podcast, a podcast devoted to sound doctrine and biblical truth. He holds a Masters of Divinity from Alliance Theological Seminary.
---
---