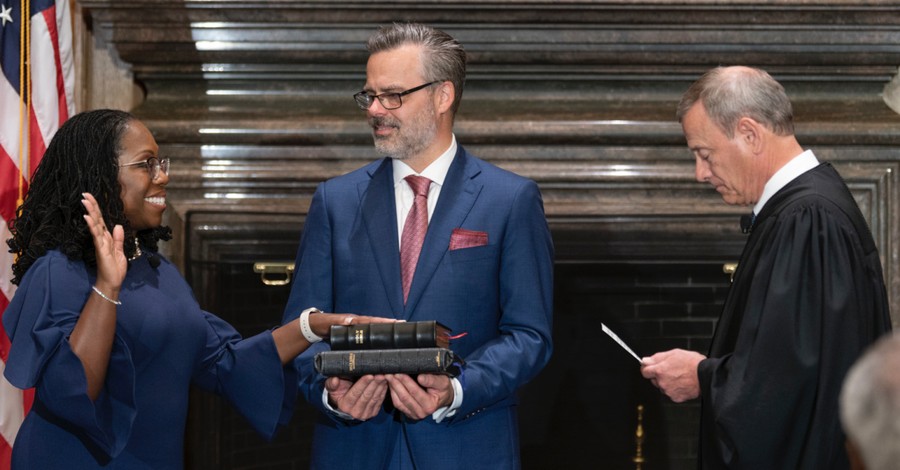 On Thursday, Kentanji Brown Jackson was sworn in as an associate justice on the United States Supreme Court, becoming the first black woman in history to be appointed to the position.
Jackson, who was nominated by President Joe Biden, replaces Justice Stephen Breyer, who retired from the nation's high court on Thursday after nearly 30 years of service.
"On behalf of all the members of the court, I'm pleased to welcome Justice Jackson to the court and to our common calling," Chief Justice John Roberts said during a brief ceremony at the Supreme Court while the rest of the sitting justices applauded.
As reported by ABC News, Roberts administered the constitutional oath to Jackson while Breyer, who Jackson clerked for about 20 years ago, administered the judicial oath.
"With a full heart, I accept the solemn responsibility of supporting and defending the Constitution of the United States and administering justice without fear or favor, so help me God," Jackson said in a written statement. "I am truly grateful to be part of the promise of our great Nation."
She thanked the other justices "for their warm and gracious welcome" and said she was "especially grateful for the time and attention given to me by the Chief Justice and by Justice Breyer."
"Justice Breyer has been a personal friend and mentor of mine for the past two decades, in addition to being part of today's official act," Jackson said. "In the wake of his exemplary service, with the support of my family and friends, and ever mindful of the duty to promote the Rule of Law, I am well-positioned to serve the American people."
In his own statement, Breyer said he was "glad today" – for "Ketanji," "for my fellow Justices," and "for America."
"Her hard work, integrity, and intelligence have earned her a place on this Court," he said. "They gain a colleague who is empathetic, thoughtful, and collegial... Ketanji will interpret the law wisely and fairly, helping that law to work better for the American people, whom it serves."
During the ceremony, Roberts announced that there will be a formal investiture this fall but that Thursday's oaths allow Jackson to commence her duties.
Jackson, who was born in Washington D.C., previously served as a U.S. circuit judge on the Court of Appeals for D.C. She is also a graduate of Harvard University.
Brown will join Chief Justice Roberts, Justices Clarence Thomas, Samuel Alito, Sonia Sotomayor, Elena Kagan, Neil Gorsuch, Brett Kavanaugh, and Amy Coney Barrett.
During Jackson's swearing-in on Thursday, her husband, Dr. Patrick Jackson, held a family Bible and the Harlan Bible, a King James Bible donated to the Supreme Court in 1906, that Jackson placed her hand on as she repeated the oaths.
Her daughters, Alia, 21, and Leila, 17, also attended the ceremony.
Related:
5 Things Christians Should Know about Supreme Court Nominee Ketanji Brown Jackson
Photo courtesy: ©Getty Images/Handout
---
Milton Quintanilla is a freelance writer and content creator. He is a contributing writer for Christian Headlines and the host of the For Your Soul Podcast, a podcast devoted to sound doctrine and biblical truth. He holds a Masters of Divinity from Alliance Theological Seminary.
---
---