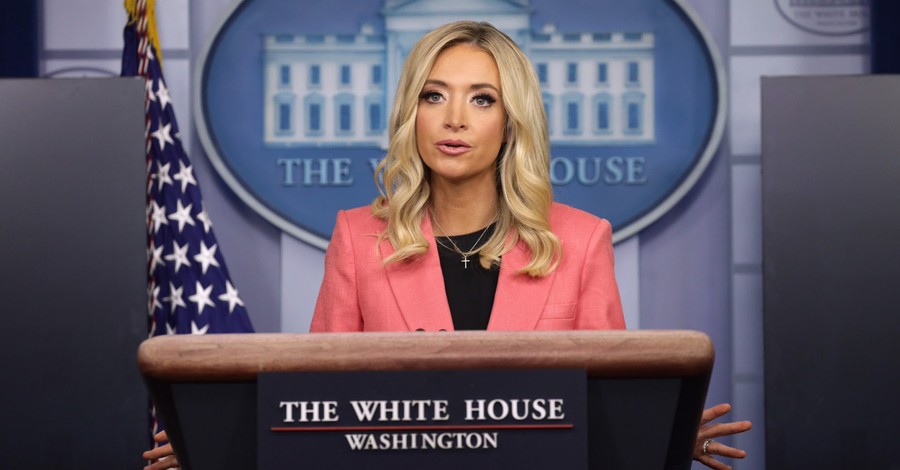 ---
During a press briefing on Wednesday afternoon, White House Press Secretary Kayleigh McEnany accused several democrat leaders of hypocrisy for not following their COVID restrictions, Faithwire reports.
"The United States Constitution matters even during a pandemic," McEnany asserted at the start of the briefing.
McEnany then cited last week's Supreme Court ruling that would lift restrictions placed on houses of worship by New York Governor Andrew Cuomo, noting that the restrictions violated religious freedom.
"While Democrat politicians seek to impose draconian restrictions against their citizens, this past week the Supreme Court of the United States had their say on New York state's capacity restrictions, which restricted the number of attendees in places of worship but not other government deemed essential businesses," she said.
McEnany went on to quote Justice Gorsuch's words on the ruling as he asserted, "It is time, past time, to make plain that while the pandemic poses many grave challenges, there is no world in which the Constitution tolerated color-coded executive edicts that reopen liquor stores and bike shops, but shutter churches, synagogues, and mosques."
"Behind me, you will see images of Democrat hypocrisy on loop," she continued as she showed several images of Democrat leaders breaking their own COVID-19 restrictions.
California Governor Gavin Newsom was shown maskless and eating indoors with several people at a restaurant despite him prohibiting indoor dining in the state. House Speaker Nancy Pelosi was also featured as she walked inside a San Francisco hair salon even though services for California salons were only permitted outdoors.
After mainstream outlets called the 2020 election for Joe Biden, Chicago Mayor Lori Lightfoot is seen celebrating "in the non-socially distant streets of her city."
"And you will see CNN's Chris Cuomo staging his emergence from quarantine in a made-for-television moment, coming out of the basement," McEnany continued. "And this was after Cuomo was spotted breaking his brother, Governor Cuomo's, quarantine rules to go for a bike ride in the Hamptons."
"Quite clearly, these Democrats do not follow their own edicts," she asserted. "Democrats seek control. These images behind me make clear Democrats mindset: rules for thee, but not for me."
Photo courtesy: ©Getty Images/Alex Wong/Staff
Video courtesy: CBN News
---
Milton Quintanilla is a freelance writer. Visit his blog Blessed Are The Forgiven.