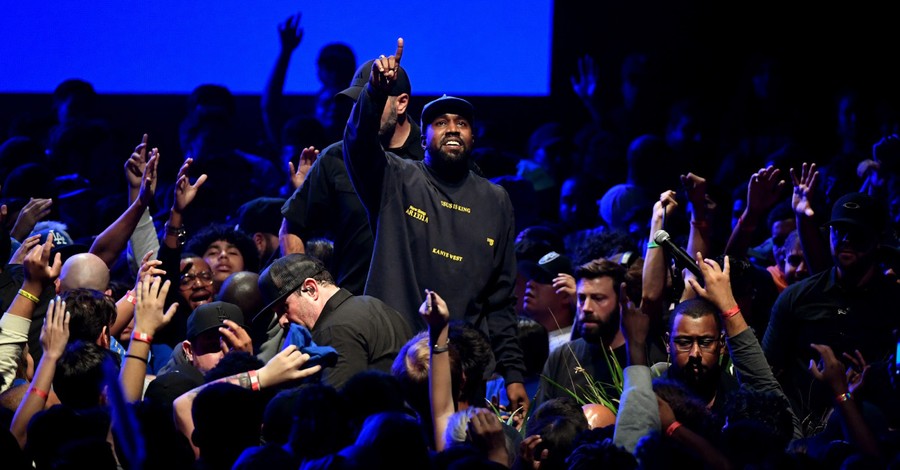 ---
Grammy Award-winning artist Kanye West has new music in the works following his 2019 gospel album Jesus Is Kingand his Sunday Service Choir's companion album Jesus Is Born.
On Monday, the rapper turned gospel artist revealed the cover of his latest single "Wash Us in the Blood" on Twitter using the hashtag #WESTDAYEVER."
WASH US IN THE BLOOD COVER BY ARTHUR JAFAhttps://t.co/Oqvrhku0QE

VIDEO TOMORROW 10 AM EDT#WESTDAYEVER pic.twitter.com/FPOIMwKXwm

— ye (@kanyewest) June 30, 2020
West also revealed that the title of his next album will be God's Country. The album's release date is yet to be announced.
The new song features faith-centered lyrics such as "Holy Spirit come down, Holy Spirit come down, Holy Spirit help now, Holy Spirit help now, Wash us in the blood …"
The music video for "Wash Us in the Blood" is directed by Arthur Jafar, mixed by Dr. Dre and features guest vocals by fellow rapper Travis Scott.
According to Entertainment Weekly, the first image of the music video features smartphone video footage of a police officer shouting at Black Lives Matter protests. Additionally, the video showed black people breathing heavily while wearing COVID-19 protective face coverings.
The music video ends with a clip of West's seven-year-old daughter North West dancing as the artist's Sunday Service Choir rehearses in the background.
"Wash us in the blood of Jesus, Holy Spirit come down, we need You now, wash us in the blood," West sings at the song's close.
West was also featured in April's edition of GQ Magazine, in which songs such as "Washed in the Blood" was mentioned among others in a playlist of 54 tracks. Just as West sang about his faith on his Jesus Is King album, his upcoming songs are considered "worship songs—Christian rap," despite the sonic quality.
West has been highlighted constantly throughout 2019 over his newfound faith in Christ. He has traveled with his Sunday Service Choir across the nation to perform at various locations, including churches.
As Christian Headlines previously reported, In November, West and his Sunday Service Choir performed at Joel Osteen's Lakewood Church in Houston.
"God's been calling me for a long time, and the devil has been distracting me for a long time. When I was in my lowest point, God was there with me and sending me visions and inspiring me," West said before the megachurch that seats nearly 17,000 people.
"Following the Bible can free us all. Jesus can set you free," he declared.
Also in November, West also launched "Nebuchadnezzar," a Biblical opera production of an ancient Babylonian king who is prominently featured in the Old Testament book of Daniel.
Related:
'The Only Superstar Is Jesus,' Kanye West Says During Testimony at Joel Osteen's Church
'Over 1,000' Accept Christ at Kanye West's Sunday Service – It's 'a New Wave of Revival,' Pastor Says
Kanye West Announces Launch of Biblical Opera about King Nebuchadnezzar
Photo courtesy: ©Getty Images/Kevin Winter/Staff
---
Milton Quintanilla is a freelance writer. He is also the co-hosts of the For Your Soul podcast, which seeks to equip the church with biblical truth and sound doctrine. Visit his blog Blessed Are The Forgiven.