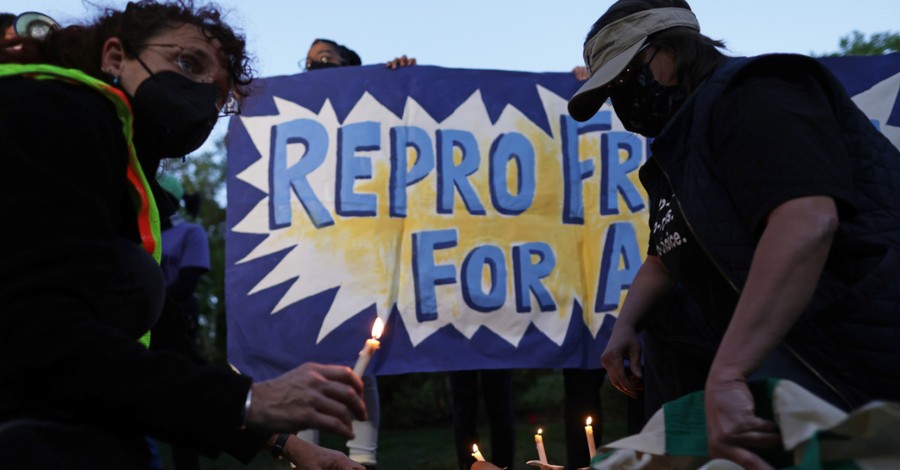 During a pro-abortion protest outside of Justice Samuel Alito's house on Monday night, one of Alito's neighbors staged a counter-protest in the form of a Christian hymn.
Over the weekend, pro-choice advocates demonstrated outside of churches and the houses of conservative justices John Roberts and Brett Kavanaugh. The protests come after a draft opinion revealing that the Supreme Court has enough votes to overturn Roe v. Wade was leaked and published by Politico. The decision, which was drafted by Alito, would give states the choice to determine whether abortion should be accessible.
As reported by CBN News, the demonstrations at Alito's house were more vulgar than usual since he drafted the conservative-majority opinion.
"F*** the Court and the legislature! We are not your incubator!" the protesters chanted.
"What do we want? Justice! When do we want it? Now! If we don't get it … Shut it down!" they continued.
In response to the chants, Alito's neighbor opened his window and took to his piano to play an instrumental version of the hymn "Tis So Sweet to Trust in Jesus."
Alito's neighbor plays "Tis So Sweet to Trust in Jesus" on piano with window open as pro-aborts picket #Alito home.

Quote: "I wanted to do something to counter the noise…There is nothing more steadfast than the joy of worshipping our Savior through precious hymns." pic.twitter.com/8jUk1htSMO

— John Wesley Reid (@johnwesleyreid) May 10, 2022
"I wanted to do something beautiful and thoughtful to counter the noise, the chaos, the sadness of those protesting life in front of an empty house. There is nothing more steadfast and measured than the joy of worshipping our Savior through precious hymns," the neighbor, who asked to remain anonymous, told the Standing for Freedom Center.
During the protests, several speakers delivered remarks supporting abortion. One woman even claimed that the Bible does not condemn abortion.
"So, for all those people who use the Bible and use religion to try and force their ideals on other peoples' bodies, this one's for you," she said. "Take a look in your Bible and see for yourself," she added.
The speaker misquotes scripture to claim the Bible does not condemn abortion. pic.twitter.com/XkDrhlP2lk

— Douglas Blair (@DouglasKBlair) May 10, 2022
The woman then reportedly went on to cite references from the Old Testament that she claimed were instructions for terminating a pregnancy. She also argued that life begins at birth rather than conception.
The nation's high court is scheduled to officially release its draft opinion on Monday, May 16. According to Politico, the justices will meet on Thursday for the first time since the draft opinion leaked.
Related:
Mohler Pushes Back against White House: Americans 'Do Not Favor Unrestricted Access to Abortion'
White Evangelicals Are 2 Times More Likely to Support Overturning Roe v. Wade Than Other Religious Groups
Abortion Supporters Protest Outside of Justices' Homes: 'I'm Not Going to Be Civil'

Photo courtesy: ©Getty Images/Alex Wong/Staff
---
Milton Quintanilla is a freelance writer and content creator. He is a contributing writer for Christian Headlines and the host of the For Your Soul Podcast, a podcast devoted to sound doctrine and biblical truth. He holds a Masters of Divinity from Alliance Theological Seminary.
---
---