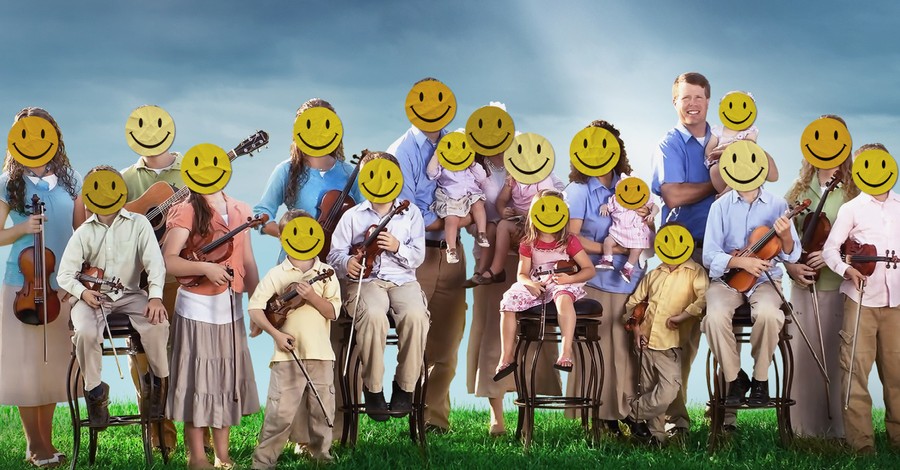 A new docuseries about the Duggar Family and their controversial conservative fundamentalist Christian beliefs was released Friday on Amazon Prime Video.
The docuseries, Shiny Happy People: Duggar Family Secrets, features 32-year-old 19 Kids and Counting star Jill Duggar Dillard and several former members of the conservative Christian organization Institute in Basic Life Principles (IBLP), US Weekly Magazine reports.
The Duggars were prominent IBLP followers and champions.
The series discusses several controversies surrounding the Duggar family, including their controversial religious views under disgraced pastor Bill Gothard and the arrest and imprisonment of the Duggars' oldest son, Josh.
The Duggars rose to national prominence through their TLC reality TV series 19 Kids and Counting, which ran from 2007 to 2015. The show was canceled in 2015 after it was revealed that Josh molested four of his sisters and one babysitter as a teenager. He is currently serving time in a Texas prison for possession of child pornography. He will be released in 2032.
"We wanted to use the Duggars as a societal touchpoint and not focus solely on them, because they were the gateway in terms of knowing who they were for the average American to bring us into something that's unknown," the series co-director Julia Willoughby Nason (LulaRich, Fyre Fraud) explained, according to The Guardian.
"I think more and more [fundamentalist Christianity] is becoming more mainstream, especially since Trump got elected – there's this huge underbelly and infrastructure in American culture of authoritarianism," Nason continued.
In the docuseries, Jill, who was molested by her brother, said she would handle her brother's abuse differently today, but at the time, she felt forced to downplay his actions for her family's sake.
"I believe strongly that victims should always be protected. Victims should always be cared for," she said.
It's not something I'm proud of," she added.
Jill noted that she regretted doing a 2015 interview with her sister Jessa with Megyn Kelly because she wanted to keep the controversy private.
"In hindsight, I wouldn't have done the Megyn Kelly stuff," she said in the docuseries. "I felt like I was in a place again of, like, bearing the burden and the weight ... you feel obligated to help."
Jill's husband, Derick Dillard, said his wife was "basically being called on to carry out a suicide mission" by participating in the interview.
Earlier this year, Jill's sister, Jinger Duggar Vuolo, released her book, Becoming Free Indeed: My Story of Disentangling Faith from Fear, where she also discussed her controversial religious upbringing and how the Gospel brought her out of it.
All four episodes of Shiny Happy People: Duggar Family Secrets are available on Amazon Prime Video.
Photo courtesy: ©Prime Video, used with permission.
---
Milton Quintanilla is a freelance writer and content creator. He is a contributing writer for Christian Headlines and the host of the For Your Soul Podcast, a podcast devoted to sound doctrine and biblical truth. He holds a Masters of Divinity from Alliance Theological Seminary.
---
---