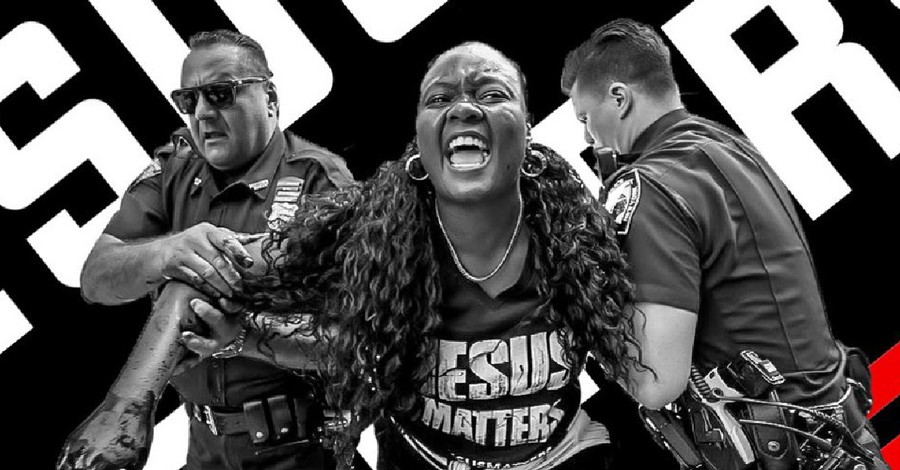 Two black Christian women are standing up against the Black Lives Matter organization by covering up its murals that have been painted in several New York City locations.
The Christian Post reports that on Saturday, activists Bevelyn Beatty and Edmee Chavannes attempted to paint over the Black Lives Matter mural outside Trump Tower. Both women arrived in a sports utility vehicle with numerous cans of black paint, alongside several other women.
A Facebook live video on Beatty's page showed them pouring the paint over the mural's yellow letters. As of Wednesday, the now-viral video has amassed over 1.6 million views, with 20,000 likes and 40,000 shares.
According to the video's description, Beatty wrote that the Black Lives Matter Movement is "a domestic terrorist organization" who does not "care about black lives."
Instead of using the hashtag 'Black Lives Matters', the activists are using the hashtag 'Jesus Matters' in making a statement.
"They support the killing of more than 600K Black Babies every year!" she added.
"We're not standing with Black Lives Matter. We want our police. Refund our police," Beatty said in the video.
"Jesus Matters! Jesus Matters!" she exclaimed as she smeared the paint over the mural.
"Black Lives Matters is a demon. It's a devil!" Chavannes added. "It's destroying this nation!"
As the NYPD came to arrest the women, several onlookers were shouting obscenities at them for their defacement of the mural. One officer had slipped on the paint and was later taken away in an ambulance, according to CBS New York.
After Beatty and Chavannes were taken away by the cops, a member of the group who filmed the incident told a police officer concerning their cause.
"We are here to exhort our country to start taking it back, to stop with the nonsense, that all lives matter, blue lives matter," the member said. "We don't agree with 'defund the police.' We are here to be a voice because the left has the loudest voice right now and we have had enough."
Both women were arrested with charges of criminal mischief but were released several hours later.
But Beatty and Chavannes continued their defacements throughout the weekend as they painted over Black Lives Matter murals in Harlem and in Brooklyn.
Despite being taken into custody, Beatty said that she and Chavannes were treated "like princesses, with love and kindness" by the cops.
"You've got to read between the lines and use your noodle. The police were in 100% agreement with us," she said in an update on Sunday. "We were the voice that they couldn't have. We were the stand that they couldn't take at that moment. The Lord just blessed what happened yesterday."
"They treated us so good," she added.
Beatty and Chavannes are the founders of At The Well Ministries, a non-profit organization that is focused on "sharing Jesus. One city at a time."
The ministry's Facebook page notes that the police officer who slipped on the paint is "doing OKAY!"
"He had a hard fall but is doing very well and fine," they said.
In a video on Beatty's YouTube channel, she stated that she will file a class-action lawsuit against the founders of the Black Lives Matter for anyone who was "directly affected" by the movement and the riots.
"Sometimes you gotta pay fire with fire", she asserted. "I know a lot of you can't come out with us. You can't paint, you can't protest, but guess what? You can sue, and we will help you do it."
Photo courtesy: Bevelyn Beatty Facebook
Video courtesy: Bevelyn Betty YouTube Channel
---
Milton Quintanilla is a freelance writer and content creator. He is a contributing writer for Christian Headlines and the host of the For Your Soul Podcast, a podcast devoted to sound doctrine and biblical truth. He holds a Masters of Divinity from Alliance Theological Seminary.
---
---