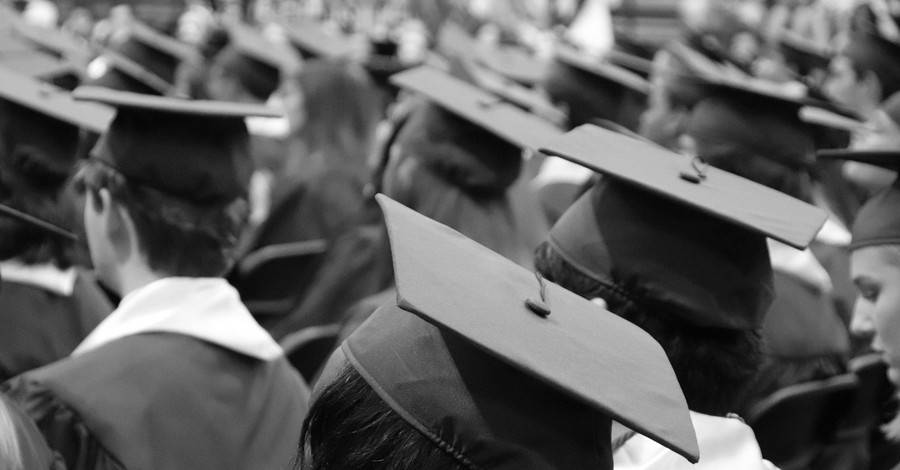 An Idaho high school senior was reportedly banned from walking at his graduation last Saturday due to comments he made about gender during an assembly.
Kellogg High School senior Travis Lohr told KAYU-TV that he was no longer allowed to walk at his graduation after he went off script during an assembly speech for underclassmen last week.
"Guys are guys and girls are girls; there is no in-between," Lohr recounted saying. "I think a lot of people thought that my statement was against people or against groups, and it wasn't targeted at any groups."
At the time, Lohr was supposed to "impart words of wisdom" to younger students at the high school before his remarks, the Shoshone News Press reports.
Due to the Family Educational Rights and Privacy Act (FERPA), the school district cannot go into detail regarding the incident surrounding Lohr.
Students, including Lohr, reportedly had their remarks vetted before delivering their speeches. Lohr claimed his comments on gender were not.
The student was also accused of participating in a senior prank involving toilet paper, a dead turkey and scribbled messaging on brick walls before the ceremony.
"They informed me that they think I'm going to have an outburst at graduation. I get the senior prank thing — but that was more of a group thing," Lohr told Shoshone News Press. "I haven't had a problem all year. I just think my message was taken the wrong way."
After Lohr was barred from graduation, other students reportedly walked out and staged protests in his defense. According to CBN News, while the school district initially postponed Saturday's graduation out of a concern for student safety, the ceremony ended up going on as planned.
In a statement on June 2, the Shoshone County Sheriff's Office had informed the school district of concerns "regarding the safety of students, staff and families due to several outside groups and agitators."
"We regret having to make this very difficult decision," the statement added. "But the safety of our staff, students, their families and local law enforcement is our top priority."
In a recent interview with Fox News's Fox & Friends, Lohr said he did not get to walk at Saturday's graduation despite protests urging the administration to reverse the decision.
"For this to happen over what I said … it seems as though people speak like I did, and the way that I did, it's not right," he said. "It seems frowned upon. You can be punished for it."
Photo courtesy: ©McElspeth/Pixabay
---
Milton Quintanilla is a freelance writer and content creator. He is a contributing writer for Christian Headlines and the host of the For Your Soul Podcast, a podcast devoted to sound doctrine and biblical truth. He holds a Masters of Divinity from Alliance Theological Seminary.
---
---