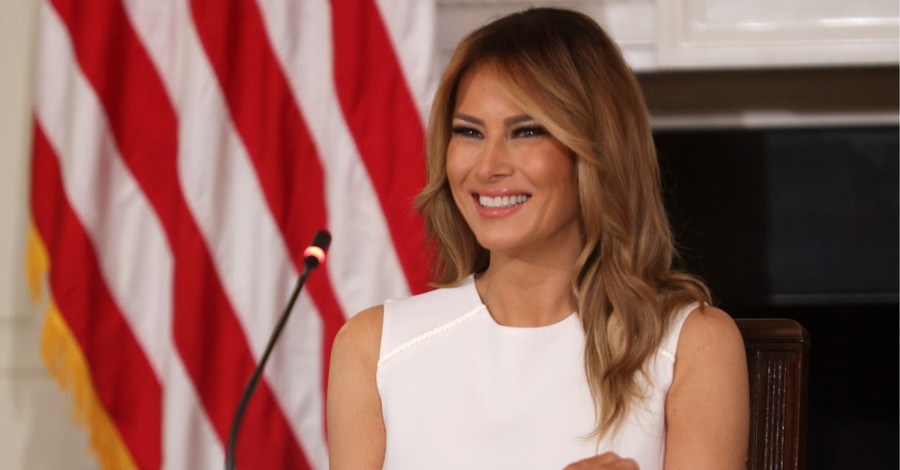 First Lady Melania Trump is speaking out on her personal experience and recovery from COVID-19 after she and her husband, President Donald Trump, tested positive in early October.
In an official statement, Melania explained that following the diagnosis, she immediately thought of their 14-year-old son, Barron Trump, who initially tested negative. A later test, however, came back positive but he showed no symptoms. Fortunately, the teenage Trump would test negative again.
"In one way I was glad the three of us went through this at the same time so we could take care of one another and spend time together" she wrote in the statement. "He has since tested negative."
Regarding her experience with COVID, the First Lady explained that she had "minimal symptoms" of the disease, including body aches, a cough and headaches, and extreme fatigue.
"They hit me all at once and it seemed to be a roller coaster of symptoms in the days after," she added.
Trump attributed her recovery to "a more natural route" as she took "vitamins and healthy food." She also expressed gratitude to the "wonderful caretakers around us" including White House Physician, Dr. Sean Conley and his team.
"As the patient, and the person benefiting from so much medical support, I found myself even more grateful and in awe of caretakers and first responders everywhere. To the medical staff and the residence staff who have been taking care of our family—thank you doesn't say enough."
Over the course of her recovery, the first lady explained how she had "a lot of time to reflect" on her family as well as the "hundreds of thousands of people across our country who have been impacted by this illness that infects people with no discrimination."
"We are in unprecedented times—and with the election fast approaching, it has been easy to get caught up in so much negative energy," Trump noted.
On the positive side, she thought of the people she met across the nation and the world "and the goodness and compassion that exists if you seek it out."
"Our country has overcome many hardships and much adversity, and it is my hope COVID-19 will be another obstacle we will be able to tell future generations we overcame—and learned from in the process," Trump asserted.
She encouraged everyone to "continue to live the healthiest life" possible, such as having a balanced diet and complete well-being.
Like the President, the First Lady announced that she has now tested negative and seeks to return to her duties in the near future.
"Along with this good news, I want people to know that I understand just how fortunate my family is to have received the kind of care that we did. If you are sick, or if you have a loved one who is sick—I am thinking of you and will be thinking of you every day," Trump said. "I pray for our country and I pray for everyone who is grappling with COVID-19 and any other illnesses or challenges."
"Thank you to everyone who reached out and offered well wishes and prayers for our family. You remain in ours as well," she concluded.
Photo courtesy: ©Getty Images/Alex Wong/Staff
---
Milton Quintanilla is a freelance writer and content creator. He is a contributing writer for Christian Headlines and the host of the For Your Soul Podcast, a podcast devoted to sound doctrine and biblical truth. He holds a Masters of Divinity from Alliance Theological Seminary.
---
---