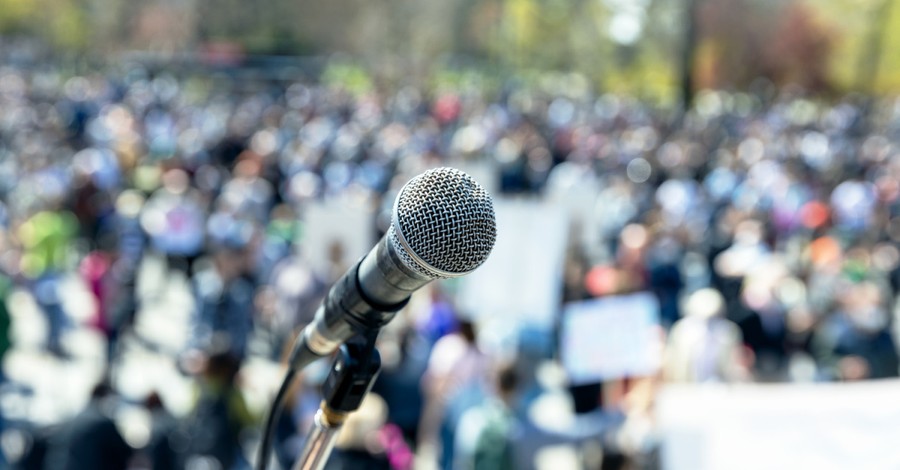 Hundreds of Christians marched on Washington D.C. this weekend to raise awareness for the persecuted church worldwide.
The third-annual March for the Martyrs was held at the National Mall on Saturday and featured live worship and messages from religious leaders. The event also included a 1.2-mile march that started at the National Mall and ended at the Museum of the Bible, where an evening prayer event was held.
As reported by The Christian Post, For the Martyrs Founder Gia Chacon, Chaldean Catholic Priest Fr. Simon Esshaki and evangelists Jacob Coyne and Shane Winnings all delivered speeches about how Christians globally are willing to die for their faith.
During her speech, Chacon highlighted Chaldean Catholic Priest Ragheed Ganni, who was killed by Islamic terrorists in 2007 after he refused to shut down his church in Iraq.
"After a Sunday mass, as he just finished a service and he walked outside, and gunmen said, 'why didn't you listen to us?' And they threatened him and some other deacons," Chacon explained to those in attendance. "When asked why he did not close the church, Ganni's last words were, 'how could I close the house of God?'"
She also recounted conversations she's had with Iraqi and Syrian refugees about the "atrocities that they faced because of their faith."
"Whole villages in a single night, hundreds of thousands of Christians pushed out of their homes and killed in front of their families," Chacon said.
"ISIS or Islamist militants would come into their homes and charge them with the question, 'Are you a Christian?' And if they said yes, it ultimately meant death or being pushed out of their home," she continued. "And these brave Christians, in the middle of the night, when they knew that ISIS was coming, when they knew that ultimately, they would be met with either death or torture, did they back down? Did they say, 'well, if they come to our door, then the easier thing will just be to convert?'"
Chacon said that she is thankful that these Christians chose not to "say outwardly that we don't believe in Jesus, that we'll convert and maybe we can live in here in safety." Instead of renouncing their faith and staying in their homes, the Christians fled in the middle of the night.
"They fled because having Jesus to them meant having everything, and even if they lost everything, their family, their brothers and sisters, their moms and dads … if they could keep Jesus, that was more than enough for them, so they fled."
According to the March of the Martyrs website, the group is self-described "as a diverse movement— consisting of Christians of all ages, from all backgrounds, and from all over the United States who have come together as one voice for the persecuted Church."
"We are on a mission to bring Christian Persecution to the forefront of the fight for Human Rights," the group added. "Our message is clear: Christian Persecution will no longer be ignored, persecuted believers are not forgotten, and Jesus Christ still has the victory."
Related:
Hundreds Expected to Participate in 3rd Annual March for the Martyrs this Weekend
Photo courtesy: ©Getty Images/Mihajlo Maricic
---
Milton Quintanilla is a freelance writer and content creator. He is a contributing writer for Christian Headlines and the host of the For Your Soul Podcast, a podcast devoted to sound doctrine and biblical truth. He holds a Masters of Divinity from Alliance Theological Seminary.
---
---