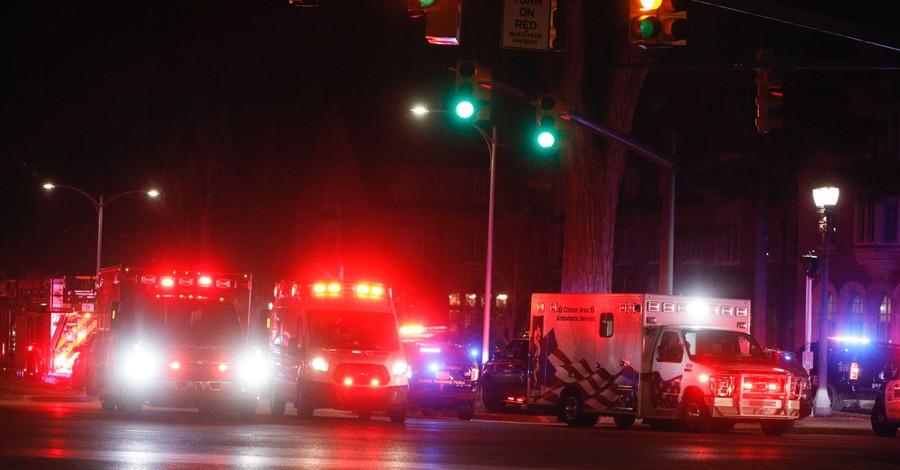 On Monday night, a gunman opened fire at Michigan State University in East Lansing, Michigan, killing three people and wounding five others before fatally shooting himself.
The shooter, now identified as 43-year-old Anthony McRae, fired off gunshots at multiple locations across MSU's campus, including Berkey Hall, an academic building, and at the MSU Union, an area where students come to eat and study.
"This truly has been a nightmare we're living tonight," said campus police department interim deputy chief Chris Rozman.
Police described McRae as a short black man wearing red shoes, a denim jacket and a baseball hat. The suspect was not believed to be a student or employee or have any affiliation with MSU.
"We have no idea why he came to campus to do this tonight. That is part of our ongoing investigation," Rozman said.
As reported by the Associated Press, Rozman noted that two people were killed at Berkey, and a third person was killed at the MSU Union. Additionally, five people were wounded and were taken to Sparrow Hospital in critical condition.
Dominik Molotky, a senior student at MSU, told ABC News that he was in class Monday night when he heard a gunshot in the hallway.
"I was sitting next to the nearest door and thank god that my fight-or-flight response kicked in because, right when that first gunshot went off, I booked it to the far corner of the class," Molotky told the outlet.
Immediately after, the shooter entered the classroom and fired "three to four more rounds."
"I was ducking and covering," Molotky recalled. "I think one of the students in my class got hit."
After 30 seconds to a minute of silence following the gunfire, Molotky and his classmates broke a window to escape.
"There was glass everywhere," he added. "We broke open the window and climbed out of there, and I booked it back to my apartment."
Monday night's shooting is the latest in a string of mass shootings that have taken place in 2023 across the United States. Last month, there were several shootings in California, including one where a gunman killed ten people during a Lunar New Year festival.
Photo courtesy: ©Getty Images/Bill Pugliano/Stringer
---
Milton Quintanilla is a freelance writer and content creator. He is a contributing writer for Christian Headlines and the host of the For Your Soul Podcast, a podcast devoted to sound doctrine and biblical truth. He holds a Masters of Divinity from Alliance Theological Seminary.
---
---