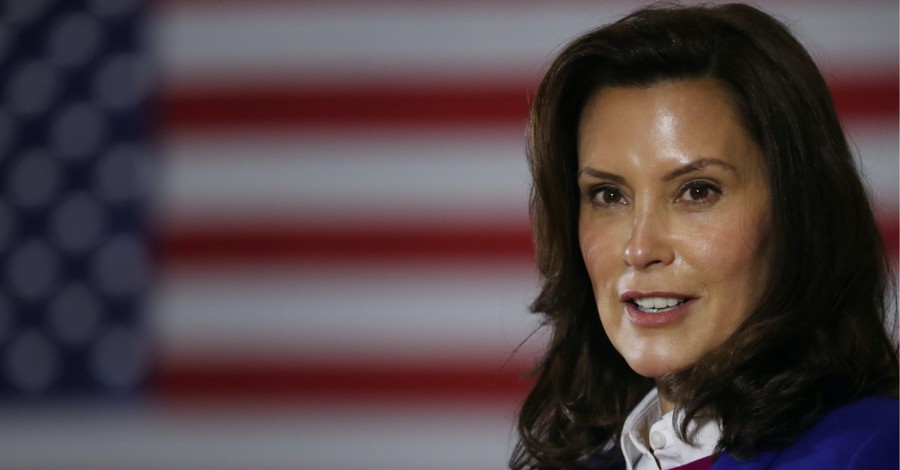 ---
On Sunday, Democratic Gov. Gretchen Whitmer of Michigan contended that if people want to return to church, they should vote for Democratic nominee Joe Biden in the 2020 Presidential Election.
"If you're tired of lockdowns or you're tired of wearing masks or you wish you were in church this morning or watching college football, or your kids were [in] in-person instruction, it is time for change in this country, and that's why we've got to elect Joe Biden," she said on NBC's Meet The Press on Sunday morning.
Whitmer, who recently was under a threat of a kidnapping plot, denounced President Trump for inciting "domestic violence" as his supporters chanted "lock her up" during a rally on Saturday.
"The president is at it again and inspiring and incentivizing and inciting this kind of domestic terrorism," she told host Chuck Todd. "It is wrong. It's got to end. It is dangerous, not just for me and my family, but for public servants everywhere who are doing their jobs and trying to protect their fellow Americans. People of goodwill on both sides of the aisle need to step up and call this out and bring the heat down."
According to ABC News, the FBI has arrested 14 men in their alleged attempt to kidnap the Michigan governor.
Whitmer has also been vehemently criticized over her COVID-19 lockdown policies and her hypocrisy for not upholding them herself.
The Christian Post reports that Whitmer's executive order prohibits Michigan residents from traveling to in-state vacation homes. Additionally, stores were prohibited from selling certain items including paint, furniture, carpets, flooring and plants.
During a Black Lives Matter protest in June, Whitmer was seen marching with protestors without adhering to her own social distancing guidelines.
In early October, according to the National Review, Michigan Attorney General Dana Nessel announced that she will no longer enforce Whitmer's lockdown orders as the state Supreme Court had rendered it unconstitutional.
Photo courtesy: ©Getty Images/Chip Somodevilla/Staff
---
Milton Quintanilla is a freelance writer. He is also the co-hosts of the For Your Soul podcast, which seeks to equip the church with biblical truth and sound doctrine. Visit his blog Blessed Are The Forgiven.